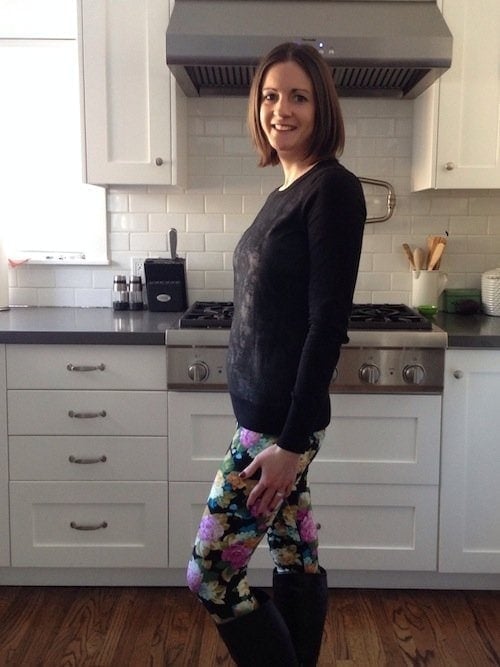 I survived the first trimester of my pregnancy! Here is a little update!
* First of all, let's talk about my floral leggings. I think pregnancy has made me crazy. I would normally never wear anything this bold, but they are SO comfortable I can't take them off.
* Do you see my little baby bump? It's there!
* Cravings: bagels, grapefruit, gnocchi, PB&J, sweet potatoes, pancakes, grilled cheese, Trader Joe's Raisin Bran, sparkling water, berries, and Mexican food.
*Aversions: mint everything-mint gum makes me gag, pretty much every vegetable, most desserts, and yogurt.
* My first trimester has been rough, but I am finally starting to feel like a normal human being. I am taking Zofran to help take the edge off. It has been my lifesaver.
* My workouts have been very sad, but I am finally back on the elliptical on most days. I am also doing push-ups and hand weights.
* I've gained about 3-4 pounds. All of my clothes still fit. Thank goodness for floral leggings:) I did have to go bra shopping. The joy of pregnancy:)
* I haven't been sleeping very well. I usually wake up at 1 or 3 in the morning. I try to fall back to sleep, but if I can't, I go downstairs and watch Netflix.
* Having a 2 year old has made this pregnancy a little more difficult. I can't stay in bed all day, I have to get up to take care of Caleb. Luckily, he has been pretty easy going. He is super excited there is a baby in mommy's tummy! And Josh has been a great hubby…even when he was on crutches he was waiting on me!
* Cooking for the blog has been interesting. At first, I couldn't even step foot into the kitchen. Josh had to make all of the recipes. I would get off the couch to take pictures and write the posts on my laptop, but that was it. I am finally getting a little of my kitchen mojo back. I've made a few recipes that I've loved, but I am a little hesitant to post them because I can't tell if my pregnancy cravings are making me crazy. I can't tell if a recipe is good or if I am just craving it. Most of them have passed the Josh and Caleb test so I will probably post them. But if you start seeing some weird recipes, please forgive me!
* We have been eating at Whole Foods A LOT! Food never sounds good so when Josh asks what I want to eat, I can never decide. So we usually end up at Whole Foods. I love all of the options! I can always find something to eat!
* This is super embarrassing, but I've been snuggling with one of Caleb's stuffed animals at night. I can't believe I just told you that. I never had a pregnancy pillow with Caleb and thought about getting one this time, but for now Caleb's doggy is doing the trick:)
* I am using Palmer's Cocoa Butter to prevent stretch marks. It worked with Caleb so I hope it does this time around! My fingers are crossed!
I am entering the 2nd trimester tomorrow! Yay! I really hope the nausea goes away and stays away!