jump to recipe
Flourless Peanut Butter Chocolate Ganache Sandwich Cookies
Flourless Peanut Butter Chocolate Ganache Sandwich Cookies-flourless peanut butter cookies filled chocolate ganache and a creamy peanut butter filling. 
Tomorrow is National Peanut Butter Lover's Day, pretty much the best day ever! I am going to celebrate ALL day long. I am kicking off the day with Baked Peanut Butter Apple Oatmeal, for lunch I will enjoy a simple Peanut Butter, Banana, and Honey Sandwich, and for dinner I will eat Cucumber Noodles with Peanut Sauce.
Wait, you think I am done? NO WAY! Dessert is a MUST on National Peanut Butter Day! I am going to make Flourless Peanut Butter Chocolate Ganache Sandwich Cookies. A mouthful, right? You just wait until you try them! Your mouth will be VERY happy!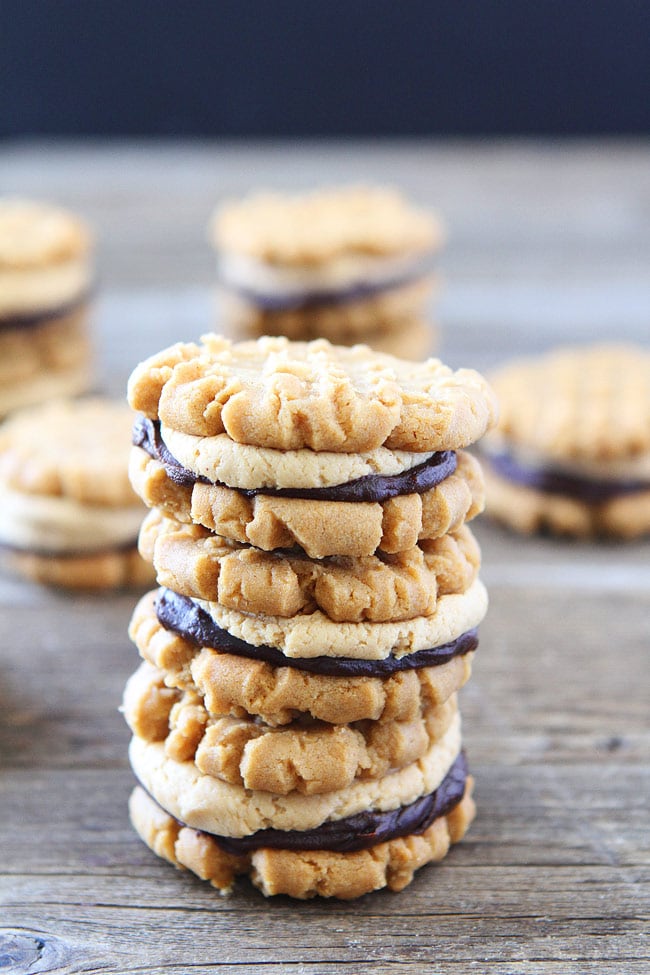 OTHER RECIPES
Peanut butter cookies are delicious on their own, but add chocolate ganache and a creamy peanut butter filling and you have a HEAVENLY peanut butter cookie! You might even shed a tear, these cookies are that good!
The peanut butter cookies are flourless. That's right, no flour is needed. They are gluten-free and SO easy to make. Once the cookies are baked and cooled, the real fun begins.
I take a cookie and spread silky chocolate ganache on the bottom. Next, I add a layer of creamy, dreamy peanut butter frosting. Put another peanut butter cookie on top, slightly press together, and VOILA…cookie heaven!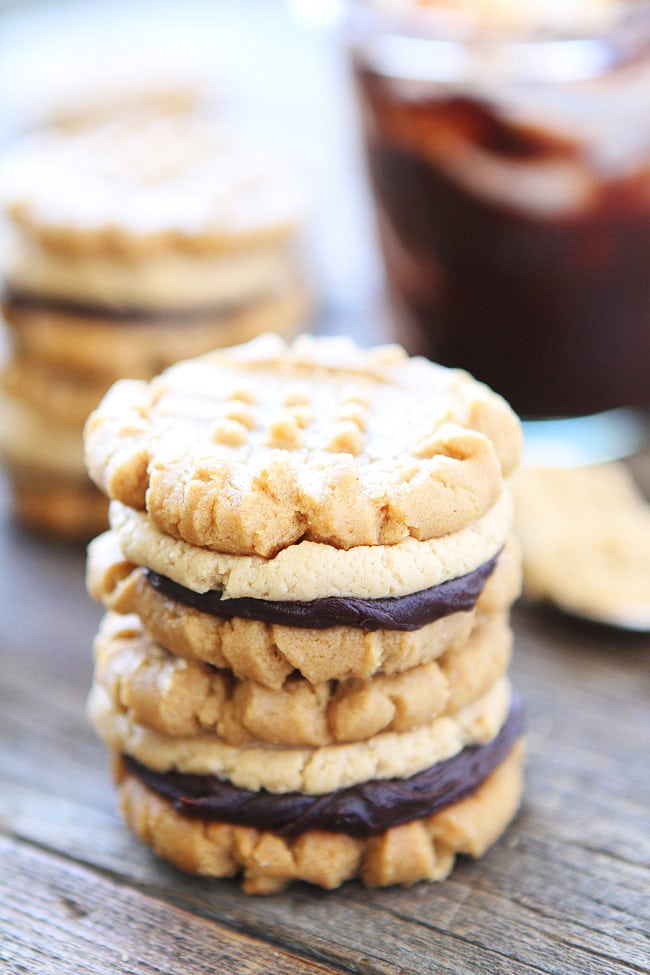 The peanut butter cookies are thick, slightly crispy, and go so well with the chocolate ganache and peanut butter filling. Peanut butter and chocolate together equals extreme happiness!
Make sure you have a glass of cold milk nearby because you will need it to wash down these peanut butter sandwich cookies.
Celebrate National Peanut Butter Lover's Day with me tomorrow and make Flourless Peanut Butter Chocolate Ganache Sandwich Cookies. They are the perfect peanut butter cookies! And if you can't wait until tomorrow, I completely understand. You have my permission to get the party started NOW!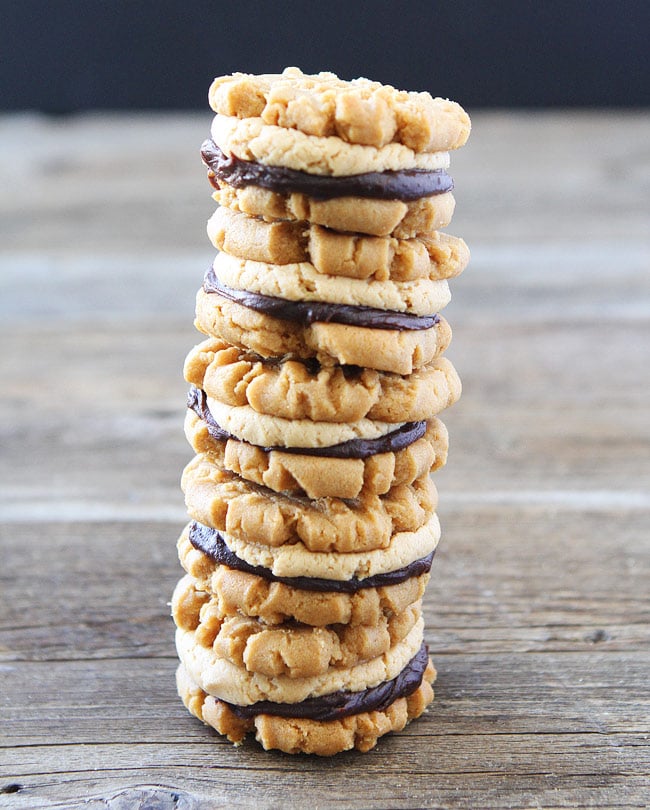 Flourless Peanut Butter Chocolate Ganache Sandwich Cookies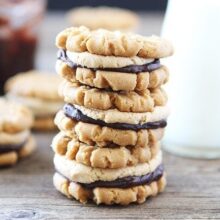 The chocolate ganache and creamy peanut butter filling makes these peanut butter cookies extra special!
Yield: 14 sandwich cookies
Prep Time: 25 minutes
Cook Time: 10-12 minutes
Ingredients:
For the Cookies:
1 cup creamy peanut butter
1/2 cup granulated sugar
1/2 cup light brown sugar
1 large egg
1 teaspoon vanilla extract
1 teaspoon baking soda
1/4 teaspoon salt
For the Chocolate Ganache:
1/2 cup chocolate chips
1/4 cup heavy cream
For the Peanut Butter Filling:
1/4 cup unsalted butter, at room temperature
1/2 cup creamy peanut butter
1 cup powdered sugar
1 tablespoon milk
1/2 teaspoon vanilla extract
Directions:
Preheat the oven to 350 degrees. Line a large baking sheet with a Silpat baking mat. Set aside.
In the bowl of a stand mixer, mix the peanut butter and sugars together until creamy and smooth, about 2-3 minutes. Add the egg, vanilla, and mix until combined. Add the baking soda and salt and mix until combined.
Spoon dough into balls, about 1 tablespoon of dough for each cookie. Place them on the prepared baking sheets, about 2 inches apart. Smash dough balls with a fork, creating a criss cross. Bake for 8-10 minutes. Don't overbake. Remove cookies from oven and let them sit on the baking sheet for 2 minutes. Move to a wire rack and cool completely.
While the cookies are cooling, make the chocolate ganache. Place the chocolate chips in a medium bowl. Heat the cream in the microwave, in an microwave safe bowl, for 30-60 seconds, or until cream is hot, but not bubbling. Pour hot cream over chocolate chips and let sit for 1 minute. Stir until the chocolate melts and you have a smooth and silky ganache. Set aside.
Next, make the peanut butter frosting. In the bowl of a stand mixer, beat the butter and peanut butter together until smooth. Slowly add in the powdered sugar. Mix until smooth. Add the milk and vanilla and mix until the frosting is creamy and smooth. If you need to add a little more powdered sugar or milk to reach your desired consistency, you can. You want the frosting to be thick.
To assemble the sandwich cookies, take one cookie and spread ganache on the inside of the cookie, about 1 1/2 teaspoons. Next, either spread on the peanut butter frosting with a spoon or put the frosting in a pastry bag and pipe the frosting onto the ganache. I like to pipe the frosting. I use about 1 tablespoon of frosting. Top with another cookie and gently squeeze so the ganache and frosting meet the edge of the cookies. Continue until all of your cookies are sandwiched!
Note-these cookies will keep in an airtight container on the counter for 2-3 days.
All images and text ©
.
Follow twopeasandpod on Instagram and show us what recipes you are making from our blog! Use the hashtag #twopeasandtheirpod! We want to see what you are making in your kitchen!