Tonight the madness will end. Who will win the big dance-Michigan or Louisville? I didn't pick either team, my bracket got messed up a long time ago. I am not sure who I will cheer for, probably Michigan. I have to route for the Big Ten team. I just hope it's an entertaining game. I've spent a lot of hours watching basketball over the past few weeks and I hope the final game is a good one.
I asked Josh if he wanted anything special for dinner and of course he said pizza. He said pizza is a must for championship night. I am ok with that. You can't beat a good game of basketball and pizza. We are making our new favorite pizza-Greek Pizza. If you are a fan of Greek Salad, you will love this pizza. It has all of the same ingredients and flavors, but instead of a salad you get pizza! Kind of awesome, right?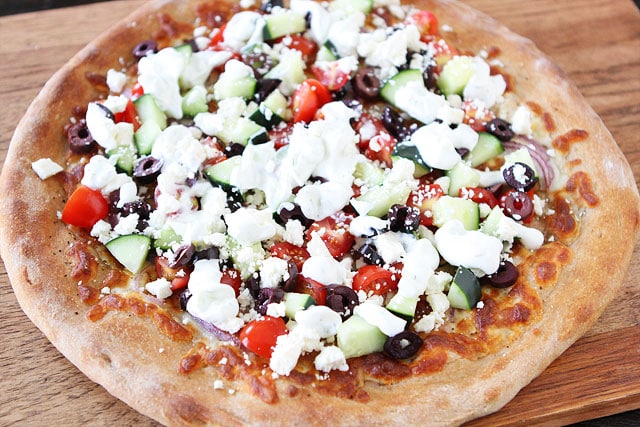 I am totally cheating tonight and using Trader Joe's whole wheat pizza dough. You can make the dough from scratch, we usually do, but tonight I am keeping it easy so we can focus on the game! The pizza crust gets topped with olive oil, mozzarella cheese, and red onion. Bake until the cheese is melted and the crust is golden brown.
When the pizza comes out of the oven sprinkle on all of the fun Greek toppings-cucumber, tomatoes, Kalamata olives, and feta cheese. Oh-and don't forget the tzatziki sauce. It is amazing on this pizza-don't skip it. If you've never made tzatziki sauce before, try out our favorite recipe. Don't worry, it's so easy and super tasty. It's a staple in our house. You can whip it up while the pizza is in the oven.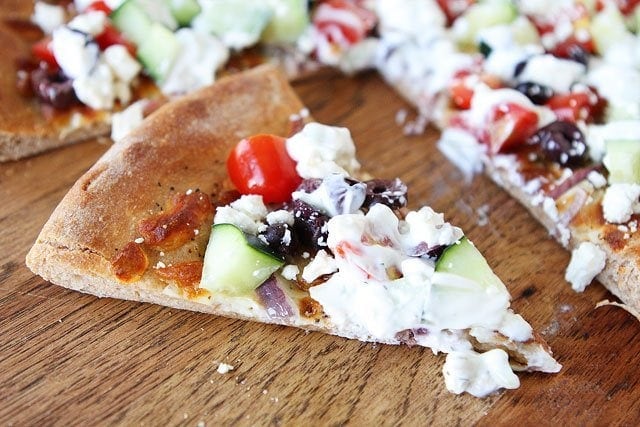 This Greek Pizza is fresh, flavorful, and a fun way to mix up pizza night. Give it a try! It's perfect for Meatless Monday AND championship Monday! Head on over to Tasty Kitchen for the recipe and step-by-step photos! Enjoy the pizza and the game!