Green Chile Cheddar Cheese Cornbread
Green Chile Cheddar Cheese Cornbread-moist cornbread with green chiles and cheddar cheese. This easy homemade cornbread goes great with a bowl of chili or soup.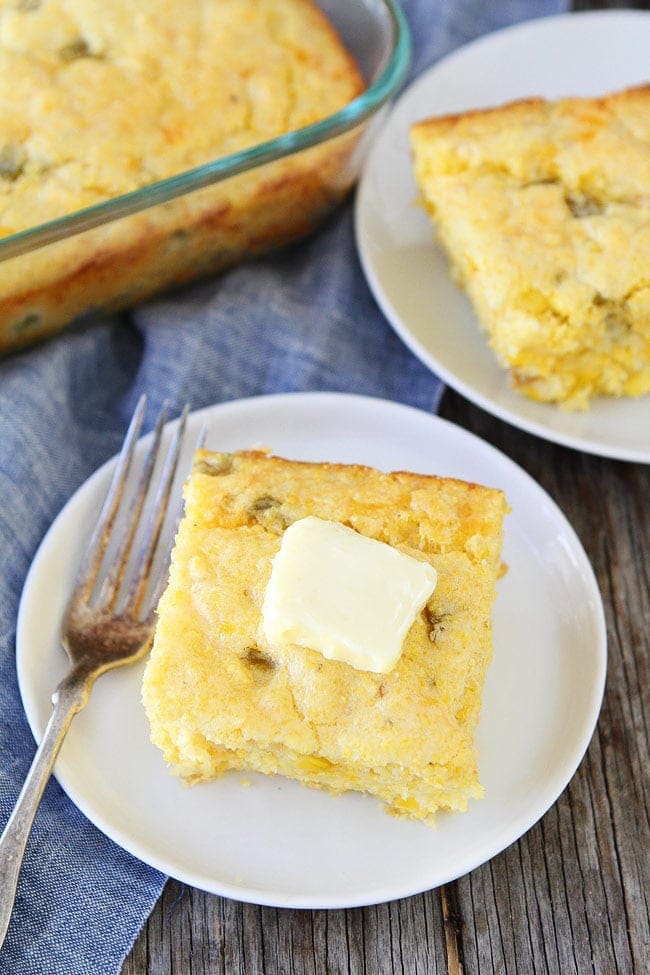 This has been the shortest week and the longest week ever. The week flew by because I was so busy, but at the same time it felt like it was dragging and never going to end because I was so busy. Does that even make sense? Maybe this week was all just a blur for me.
Well, it is Friday and the weekend is finally here. I survived. Sort of. I have barely slept, I have eaten way too many cookies, and I think I only washed my hair once this week. I did shower though so there is that. Oh, and I did make Green Chile Cheddar Cheese Cornbread so there is that too.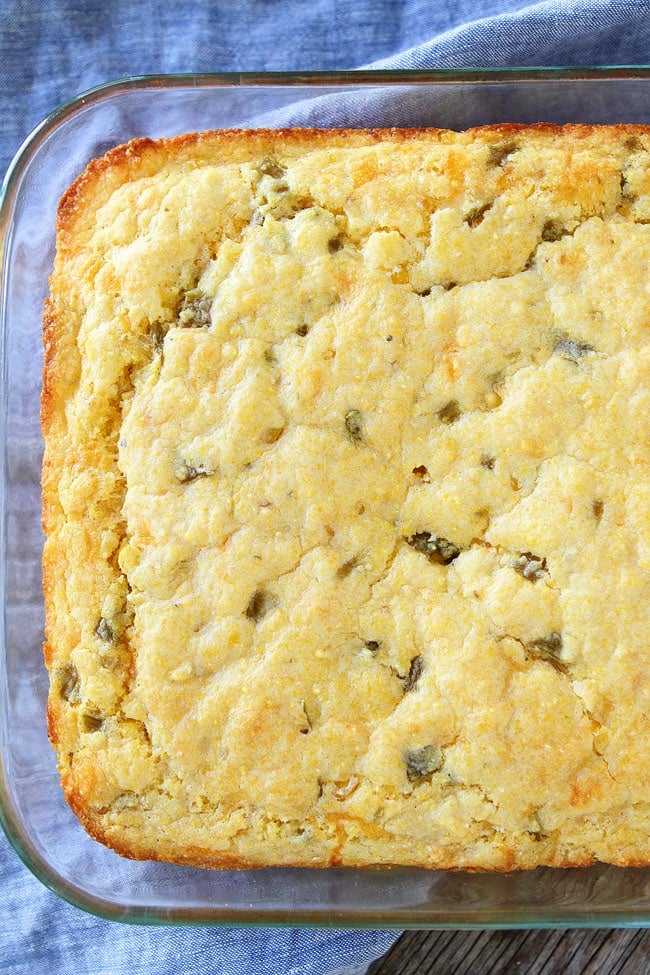 Josh knew I had a stressful week so he volunteered to make dinner. He made our favorite chili recipe and when I smelled it simmering away on the stove I got super excited and super hungry.
I put my work away and went into the kitchen to see if Josh needed any help. Since Josh is a super husband and super dad, he already had the chili done and the kitchen was spotless. He was coloring with the boys at the table. What a guy!
I knew my boys would love cornbread with their chili so I decided to bake up a pan of cornbread while they colored. I was going to make my favorite Easy Cornbread recipe, but I decided to jazz it up a little. I added green chiles and cheddar cheese to my favorite recipe and it was so yum! It was the perfect side to our chili dinner. We all enjoyed dunking our cornbread into our big bowls of chili. It was the perfect fall meal.
The next time you make chili or soup, make a pan of easy Green Chile Cheddar Cheese Cornbread to go with! You will be glad you did.
Enjoy your weekend! TGIF!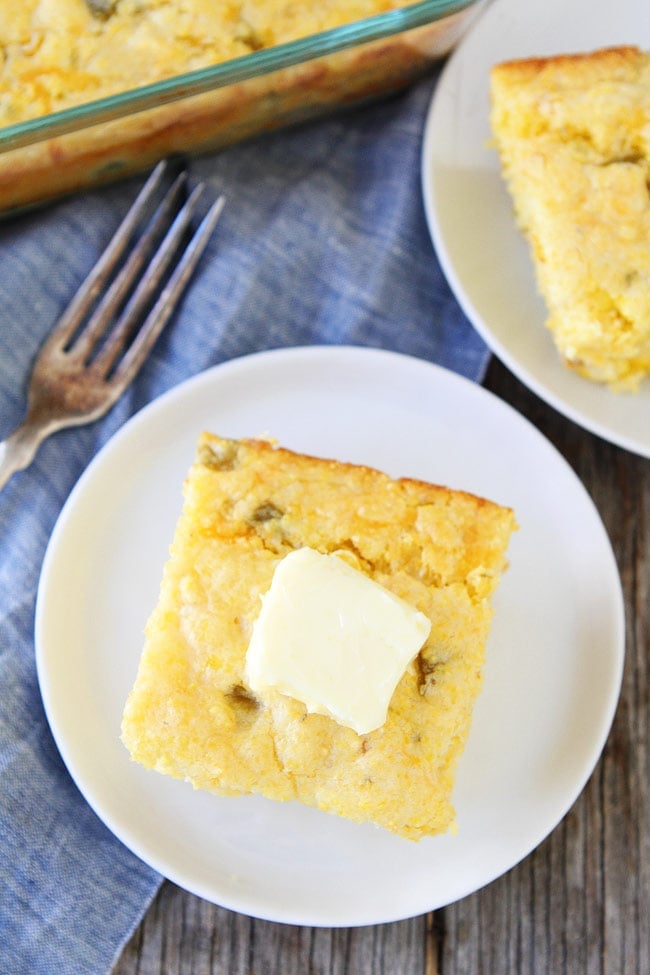 Green Chile Cheddar Cheese Cornbread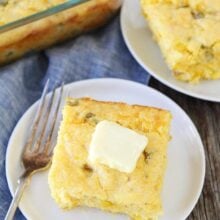 Cornbread with green chiles and cheddar cheese. This easy cornbread goes great with soup, chili, or any meal.
Yield: Serves 12
Prep Time: 10 minutes
Cook Time: 32 minutes
Total Time: 42 minutes
Ingredients:
1 cup all-purpose flour
1 cup coarse cornmeal
1/4 cup granulated sugar
2 1/2 teaspoons baking powder
1/4 teaspoon baking soda
1/2 teaspoon salt
1 cup buttermilk
3 tablespoons unsalted butter, melted and cooled to room temperature
3 tablespoons canola or vegetable oil
2 large eggs, slightly beaten
1 cup frozen corn
1 (4 oz) can green chiles
1 cup shredded cheddar cheese
Directions:
Center a rack in the oven and preheat the oven to 400°F. Spray an 8×8 Pyrex baking dish with nonstick cooking spray and set aside.
In a large bowl, whisk together the flour, cornmeal, sugar, baking powder, baking soda, and salt. Set aside.
In a medium bowl, whisk together the buttermilk, melted butter, oil, and eggs. Pour the liquid ingredients over the dry ingredients and stir until combined. The batter will be lumpy. Stir in the corn kernels, green chiles, and cheddar cheese. Pour batter into prepared pan.
Bake cornbread for 32-34 minutes, or until the top is golden brown and a toothpick comes out clean after inserted into the center. Let cornbread cool in pan for 15 minutes before cutting. Cut into squares and serve.
All images and text ©
Two Peas & Their Pod
.
Follow twopeasandpod on Instagram and show us what recipes you are making from our blog! Use the hashtag #twopeasandtheirpod! We want to see what you are making in your kitchen!