Vegetarian Quinoa Chili
Vegetarian Chili with Quinoa – a hearty vegan chili even meat lovers will love! Loaded with black beans, red kidney beans, tomatoes, and lots of veggies in addition to protein-rich quinoa, this is the best vegetarian chili recipe!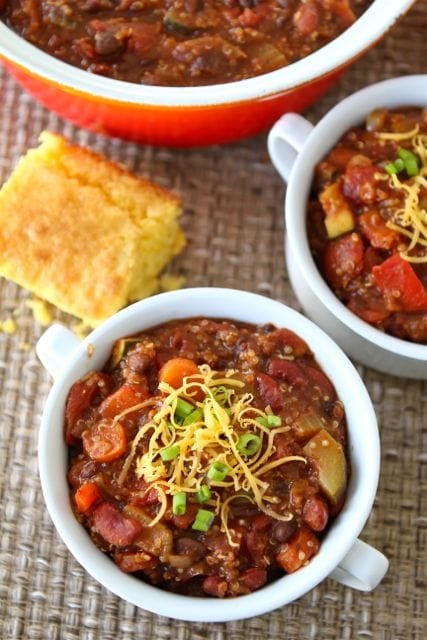 Vegetarian Quinoa Chili is no Laughing Matter..
Or maybe it is. Caleb loves this Vegetarian Quinoa Chili! No, we didn't give him a bowl to eat, but he loves the word quinoa. I was holding Caleb when I told Josh we were having Quinoa Chili for dinner and he started laughing. I asked Caleb if he liked Quinoa Chili and he started giggling like crazy. Every time I would say quinoa, he would crack up…so of course, I said it one too many times:) Now that I think of it, quinoa is kind of a funny word. I am glad my Vegetarian Quinoa Chili made Caleb so happy because it certainly made our bellies and taste buds happy.

OTHER RECIPES
Vegan Chili Meat Lovers will Love
This chili is hearty and very filling. It is vegetarian, vegan, and gluten-free, but meat lovers will enjoy it as well. This vegan chili has black beans, red kidney beans, tomatoes, and lots of vegetables-onion, carrots, celery, green pepper, red pepper, and zucchini. We threw in a jalapeño, chili powder, and cumin for added spice. It really makes the best vegetarian chili!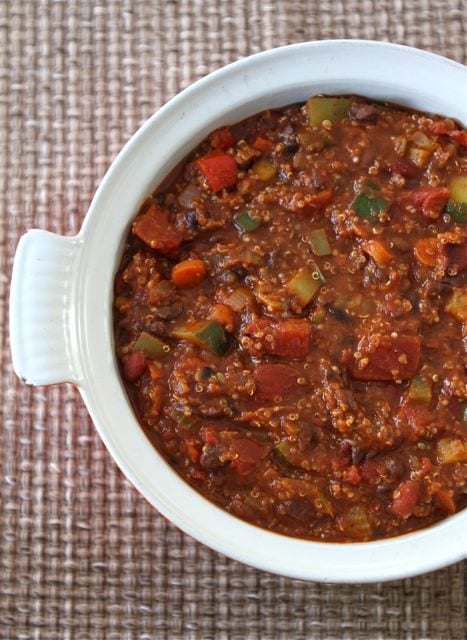 Protein-Packed Vegetarian Chili
The beans and quinoa team up to make this chili a protein powerhouse! I love the texture the quinoa adds to the chili. You can top the chili with green onions, cheese, sour cream/Greek yogurt, avocado slices, chips, crackers, or serve cornbread on the side. The chili is good, if not better, the second day. We enjoyed leftovers for a few days and loved it every time. And if you can't eat it all, put the chili in the freezer for a rainy day-it freezes really well.
Best Vegetarian Chili Recipe, Hands Down
This is my new favorite chili recipe.  If you are looking for a new chili recipe to try this winter, make a big pot of Vegetarian Quinoa Chili. It will warm you up and fill you up. This vegan chili is also perfect for the upcoming Super Bowl. It is easy to make and your guests will love it. I know we are going to serve this quinoa chili at our Super Bowl party.
I can't wait until Caleb is old enough to taste this vegetarian chili, but until then, I am fine with him just giggling at the name. I am so glad he loves quinoa:) Today is Caleb's 4 month birthday! Happy 4 months to our sweet little pea!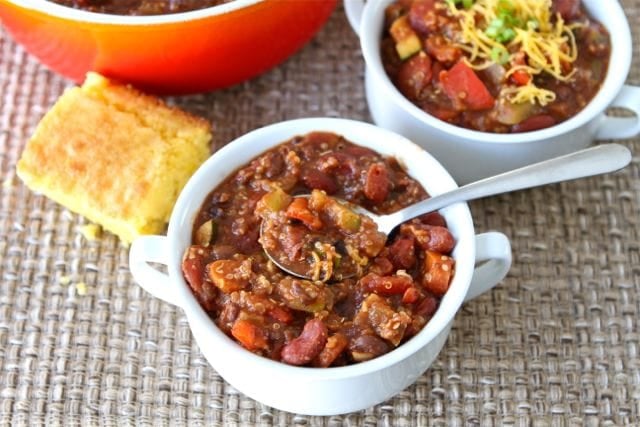 Vegetarian Quinoa Chili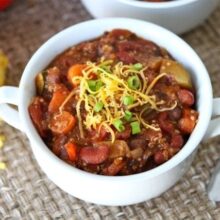 This hearty chili is made with beans, vegetables, and quinoa. Meat lovers and vegetarians will love this chili!
Yield: Serves 10-12
Prep Time: 10 minutes
Cook Time: 45 minutes
Total Time: 55 minutes
Ingredients:
1/2 cup quinoa, rinsed
1 cup water
1 tablespoon olive oil
1 small onion, chopped
3 cloves garlic, minced
1 jalapeno pepper, diced
1 large carrot, peeled and chopped
2 celery stalks, chopped
1 green bell pepper, chopped
1 red bell pepper, chopped
1 medium zucchini, chopped
2 (15 ounce) cans black beans, drained and rinsed
1 (15 ounce) can red kidney beans, drained and rinsed
3 (15 ounce) cans diced tomatoes
1 (15 ounce) can tomato sauce
2-3 tablespoons chili powder, depending on your taste (we used 3)
1 tablespoon ground cumin
Salt and black pepper, to taste
Optional toppings: green onions, avocado slices, cheese, sour cream, Greek yogurt, chips, crackers, etc.
Directions:
In a medium sauce pan, combine the quinoa and water. Cook over medium heat until water is absorbed, about 15 minutes. Set aside.
In a large pot, heat the olive oil over high heat. Add the onion and cook until tender, about 5 minutes. Stir in garlic, jalapeño, carrot, celery, peppers, and zucchini. Cook until vegetables are tender, about 10 minutes.
Add the black beans, kidney beans, tomatoes, and tomato sauce. Stir in the cooked quinoa. Season with chili powder, cumin, salt, and black pepper. Simmer chili on low for about 30 minutes. Serve warm.
Note-garnish the chili with green onions, avocado slices, cheese, sour cream/Greek yogurt, chips, crackers, if desired. This chili freezes well.
All images and text ©
.
Follow twopeasandpod on Instagram and show us what recipes you are making from our blog! Use the hashtag #twopeasandtheirpod! We want to see what you are making in your kitchen!
If you like this Vegetarian Quinoa Chili, you might also like: