jump to recipe
Grilled Ratatouille Pasta Salad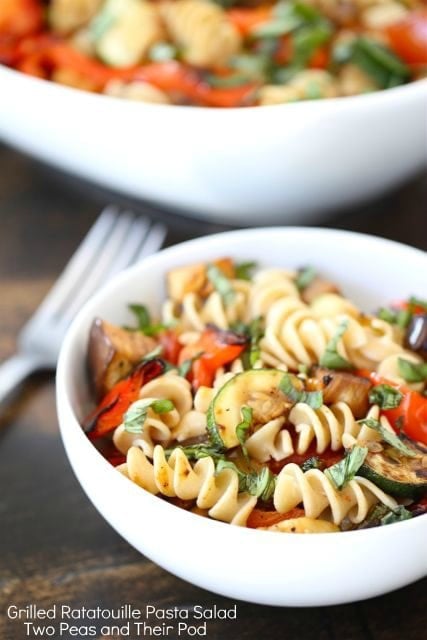 I am not ready for summer to be over, but I am ready for it to cool down. It is still hot, hot, hot in Utah. I try not to turn on the oven, but I can't help myself. There are cookies that NEED to be baked:) We have been grilling out for dinner almost every night. One of our favorite summer meals is this Grilled Ratatouille Pasta Salad.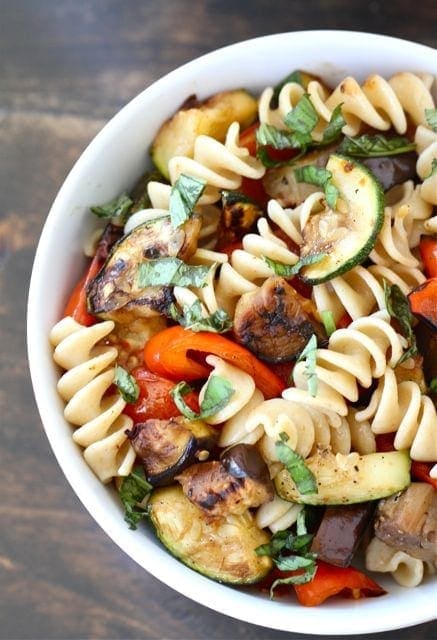 This pasta salad is simple to make and you don't have to turn on the oven. All of the vegetables are cooked on the grill. I use zucchini, eggplant, red pepper, and tomatoes-all of the veggies that are in abundance right now. Grill the vegetables until tender and toss with your favorite pasta. I use whole wheat Rotini-I love the curly little noodles.

OTHER RECIPES
I give the pasta salad a splash of balsamic vinegar and drizzle of olive oil before serving. And don't forget the fresh basil! Basil makes the world a better place and is the perfect ending to this fresh pasta salad.
Make this Grilled Ratatouille Pasta Salad. It is perfect for an easy summer lunch or dinner. It also travels well which makes it great for picnics or potlucks! I like to make a big bowl of pasta salad so we can enjoy leftovers the next day. It is tasty served immediately, when the veggies are still warm from the grill, but it is just as tasty served chilled.
Grilled Ratatouille Pasta Salad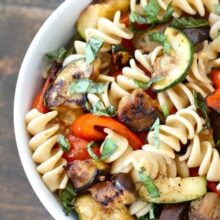 Yield: Serves 4
Prep Time: 15 minutes
Ingredients:
1/2 pound pasta, I used whole wheat Rotini

1 medium zucchini, cut into 1 inch pieces

1 red bell pepper, halved, stemmed, and seeded, cut into 1 inch pieces

1 small red onion, chopped

1 small eggplant, cut into 1 inch pieces

4 large tomatoes, cut into quarters

4 cloves garlic

Olive oil, for brushing the vegetables

Salt and pepper, to taste

Olive oil and balsamic vinegar, for drizzling over the salad

1/4 cup chopped fresh basil
Directions:
1. Bring a medium pot of salted water to a boil, cook pasta according to package instructions. Drain the pasta and rinse with cold water. Set aside.
2. Heat a grill to medium-high heat. Lightly brush vegetables with olive oil and season with salt and pepper. Place the vegetables and garlic cloves on a grill pan or in a grill basket. Grill until vegetables are browned and tender. Remove from heat and let cool to room temperature. Finely chop the garlic cloves.
3. Add grilled vegetables and garlic to the cooked pasta. Drizzle with olive oil and balsamic vinegar. Stir and season with salt and pepper, to taste. Sprinkle with basil. Serve at room temperature or chilled.
All images and text ©
.
Follow twopeasandpod on Instagram and show us what recipes you are making from our blog! Use the hashtag #twopeasandtheirpod! We want to see what you are making in your kitchen!
If you like this Grilled Ratatouille Pasta Salad, you might also like: