UPDATE: This giveaway is now CLOSED! The winner is "Connie the Cookie Monster" (#1879). Congratulations! Thanks to everyone who entered!
Today is our last giveaway of the holiday season and we are going out with a big bang! We teamed up with our friends at KitchenAid to offer you an AMAZING KitchenAid giveaway. One lucky reader will win a KitchenAid 13-Cup Food Processor, a 7 Qt KitchenAid Stand Mixer, AND a KitchenAid 5 Speed Hand Blender. I think I just heard you scream with excitement:) I know I am jumping with joy! We love all of our KitchenAid appliances and these are 3 of our very favorites! We are SO excited about this giveaway!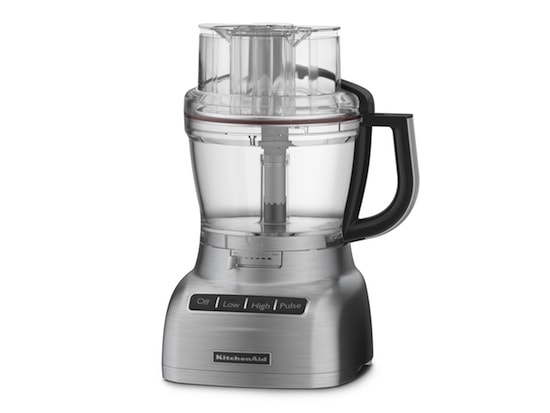 The KitchenAid 13-cup Food Processor is awesome! We use ours all of the time to shred cheese and zucchini, make galette dough, make dips, and more. The 13-cup KitchenAid food processor really does everything. It slices, shreds, kneads, chops, and purees. It is a dream machine! And it has the first-ever externally adjustable slicing lever, which makes adjusting from a thick to think slice a breeze! It also has a 3-in-1 Ultra Wide Mouth Feed Tube that accommodates foods of all sizes. The Food Processor is also BPA free and dishwasher safe. It comes in red, chrome, silver, black, and white.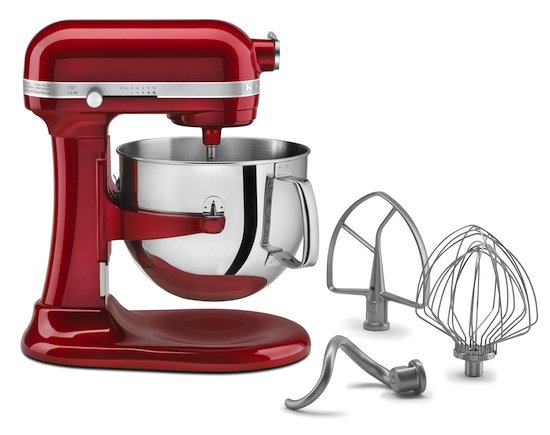 My KitchenAid 7-quart Bowl-Lift Residential Stand Mixer is my very best friend. My KitchenAid mixer has helped me make numerous batches of cookies. We have already shared so many memories together. Our mixer is part of our family:) Caleb is also very fond of our mixer. Every time he hears it turn on he crawls as fast as he can to watch.
The 7 Qt Mixer has a 1.3 HP Motor with 10 different speeds. It can mix, whip, and knead like no other machine on the market. It can hold over 8 pounds of dough and make 14 dozen cookies! And it whips cream in a matter of seconds. There is no better kitchen appliance, in my opinion:) The mixer comes with a dishwasher safe Powerknead™ Spiral Dough Hook, coated metal Flat Beater, and Stainless Steel 11-Wire Elliptical Whip. The mixer comes in red, white, black, and silver.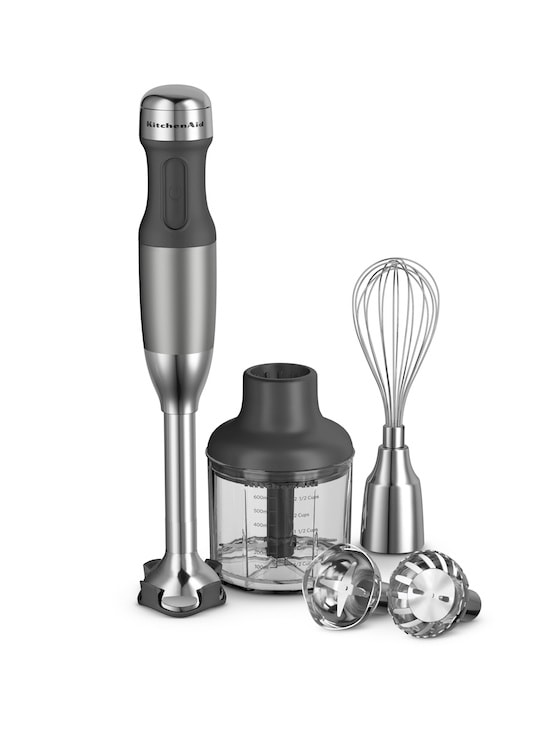 And last, but not least, the KitchenAid 5 Speed Hand Blender. This blender might be small, but it is mighty! It blends, chops, purees, shreds, minces, mixes, and whisks…all in the palm of your hand. It is easy to use too! You can easily change between different types of stainless steel blades with no hassle or tools. We use it all of the time for pureeing soups. You can stick the hand blender right into the soup pot! It is easy to clean because all of the attachments and accessories are dishwasher safe. And it comes with a storage case so you can keep all of the components together. This is a must have kitchen tool! It comes in black and silver.
To enter to win a KitchenAid 13-Cup Food Processor, 7 Qt Stand Mixer, and Hand Blender, leave a comment on this post, telling us "What is your favorite holiday recipe?"
Bonus Entries
1. Join Two Peas and Their Pod and KitchenAid on Facebook. Leave a separate comment letting us know you did so.
2. Follow @TwoPeasandPod and @KitchenAidUSA on Twitter. Leave a separate comment letting us know you are following.
3. Subscribe to Two Peas and Their Pod. Leave a separate comment letting us know you subscribe via RSS.
4. Follow Two Peas and Their Pod on Pinterest. Leave a separate comment letting us know you follow.
5. Tweet the following statement about this giveaway. Enter to win a @KitchenAidUSA 7 Qt Stand Mixer, 13-Cup Food Processor & Hand Blender hosted by @TwoPeasandPod: http://bit.ly/YR9MXv. Leave a separate comment letting us know you tweeted.
The giveaway is open until Monday, December 17th at 11:59 p.m. MST. The giveaway is only open to U.S. residents. Be sure a valid email address is included with your comment(s). Winner will be chosen randomly and announced on this post. We will email the winner and if the winner doesn't respond in 48 hours, a new winner will be chosen. The winner will choose their appliance colors and all prizes will be shipped by KitchenAid. Good luck!
Disclosure: This giveaway is being provided by our friends at KitchenAid, but our opinions are our own.