jump to recipe
King Arthur Flour Fudge Brownie Recipe
This easy brownie recipe is simply the best! It makes brownies that are fudgy, thick, and loaded with chocolate. What's not to love?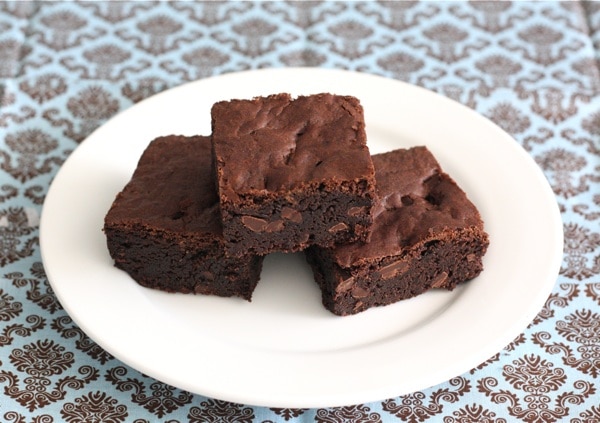 Best of Both Worlds Brownie Recipe
There is always a big debate surrounding what makes up the perfect brownie recipe.  Cakey or fudgy brownies? These brownies are fudgy, but still rise up to please the cakey lovers.  The addition of cocoa and chocolate chips make these fudge brownies extra rich and chocolaty. The shiny, crackly top also makes these brownies pretty to serve and fun to bite into. Best of all, this is an easy brownie recipe that is simple to make.

OTHER RECIPES
We made King Arthur Flour's Fudge Brownies for our Super Bowl party and our guests were impressed. They loved these homemade fudge brownies and so did I.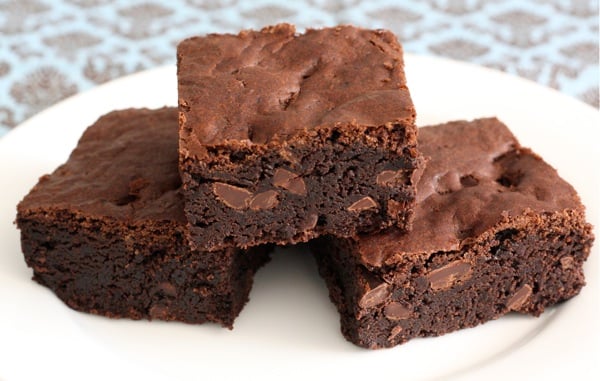 If you are looking for a new brownie recipe to try or if you want to wow your special Valentine, try King Arthur Flour's Fudge Brownies, they will not disappoint!
King Arthur Fudge Brownies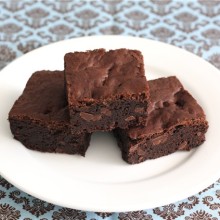 Yield: Makes 24 brownies
Cook Time: 30 minutes
Ingredients:
1 cup (2 sticks) unsalted butter
2 1/4 cups sugar
1 1/4 cups Dutch-process cocoa
1 teaspoon baking powder
1 teaspoon salt
1 teaspoon espresso powder (optional)
1 tablespoon vanilla extract
4 large eggs
1 1/2 cups all purpose flour
2 cups chocolate chips
Directions:
Preheat the oven to 350°F. Grease a 9″ x 13″ pan and set aside.
In a medium-sized microwave-safe bowl, or in a saucepan set over low heat, melt the butter, then add the sugar and stir to combine. Return the mixture to the heat (or microwave) briefly, just until it's hot (about 110°F to 120°F), but not bubbling; it'll become shiny looking as you stir it. Heating this mixture a second time will dissolve more of the sugar, which will yield a shiny top crust on your brownies.
Transfer the sugar mixture to a medium-sized mixing bowl, if you've heated it in a saucepan. Stir in the cocoa, baking powder, salt, espresso powder, and vanilla.
Whisk in the eggs, stirring until smooth.
Add the flour and chocolate chips. Stir until smooth.
Spoon the batter into prepared pan. Bake the brownies for about 30 minutes, until a cake tester inserted into the center comes out clean, or with just a few moist crumbs clinging to it. The brownies should feel set on the edges, and the center should look very moist, but not uncooked. Remove them from the oven and cool on a rack before cutting and serving.
Follow twopeasandpod on Instagram and show us what recipes you are making from our blog! Use the hashtag #twopeasandtheirpod! We want to see what you are making in your kitchen!
If you like these Fudge Brownies, you might also like: