jump to recipe
Chocolate Chip Zucchini Brownies
Zucchini Brownies are rich, chocolaty, and a favorite summer dessert! You will never know they are made with zucchini!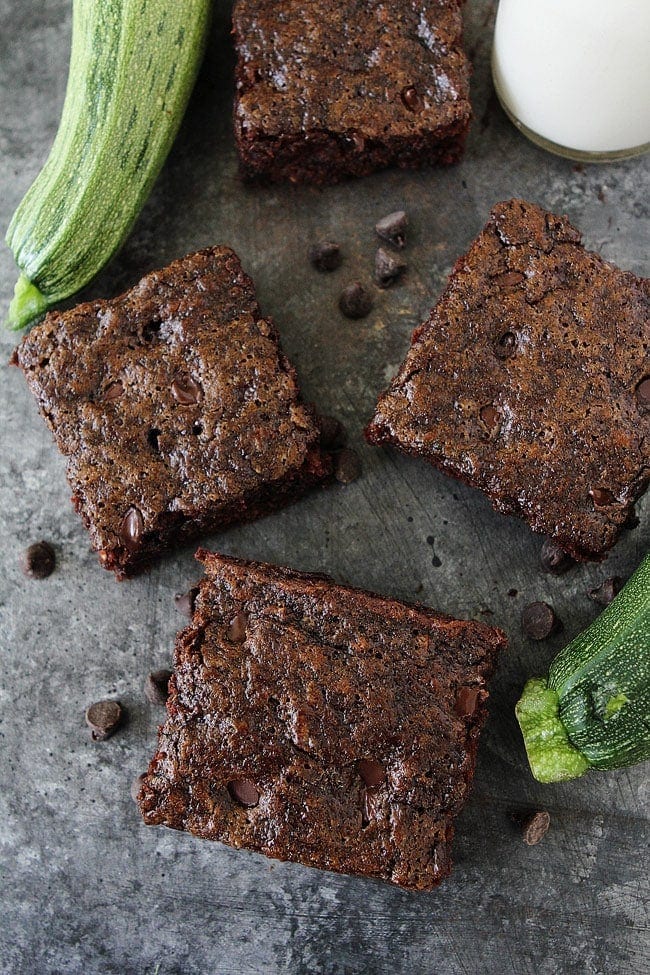 Zucchini season is not over yet.  Our good friends gave us a zucchini the size of a baseball bat from their garden. I am trying to come up with creative ways to use our humongous zucchini. I love zucchini bread, zucchini cookies, but I wanted to try something new. Last night we needed a dessert to watch the opening NFL football game, so I made chocolate chip zucchini brownies.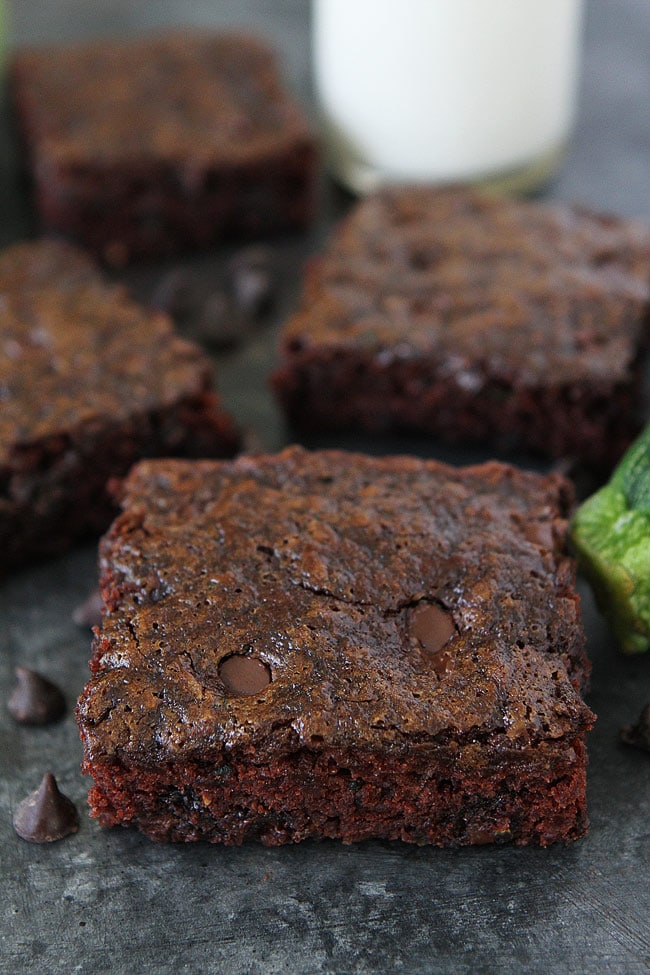 The friend's we are living with until our kitchen remodel is finished aren't the biggest zucchini fans. When I brought the zucchini inside, they kindly told me to pack it in my suitcase:) Yesterday, they left the house to run a few errands-I knew it was my chance to bake with my zucchini. I wasn't sure how long they would be gone, so I asked Josh to help me. We made zucchini brownies in record time. The kitchen was spotless when they came home.

OTHER RECIPES
When I cut the brownies for dessert, they knew there was something different about these brownies. The green zucchini peeked through the chocolate too well. Darn! Oh well, it didn't matter, they were good sports and tried the brownies. To our surprise, and theirs, they actually enjoyed them. The brownies are rich, chocolaty, and moist-what's not to like?
If you are still looking for ways to use up your garden zucchini, give these chocolate chip zucchini brownies a try!
Make sure you check out our favorite zucchini recipes here!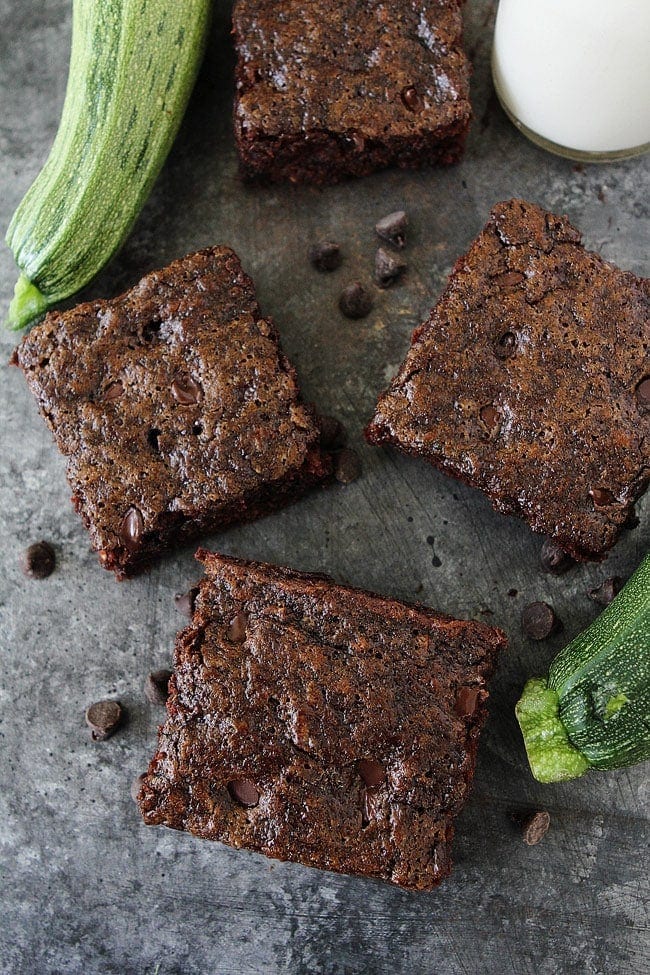 Chocolate Chip Zucchini Brownies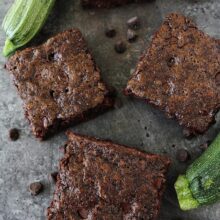 Rich and fudgy brownies made with zucchini, but you will never know it. They are SO good!
Yield: 16-24 brownies
Prep Time: 10 minutes
Cook Time: 30 minutes
Total Time: 40 minutes
Ingredients:
1 1/2 cups granulated sugar
1/2 cup canola oil or vegetable oil
2 cups all-purpose flour
1/4 cup unsweetened cocoa
2 cups shredded zucchini (don't squeeze out the moisture)
2 teaspoons vanilla extract
1 teaspoon salt
1 1/2 teaspoons baking soda
1 1/4 cups semi-sweet chocolate chips (divided)
Directions:
Preheat oven to 350 degrees F. Grease an 9×13 baking pan with cooking spray, set aside.
In a stand mixer, combine sugar, oil, and flour, combine until mixture resembles wet sand. It will be dry looking and that is ok. While mixing, on low, add cocoa, shredded zucchini, vanilla extract, salt and baking soda. Mix until well combined. The mixture will moisten once the zucchini is added. Stir in one cup of the chocolate chips.
Pour brownie batter into prepared pan and sprinkle with remaining chocolate chips. Bake for 28-32 minutes or until a toothpick comes out clean and the brownies are set.
Cool completely on a wire rack. Cut brownies into squares and serve.
All images and text ©
.
Follow twopeasandpod on Instagram and show us what recipes you are making from our blog! Use the hashtag #twopeasandtheirpod! We want to see what you are making in your kitchen!
If you like these zucchini brownies, you might also like: