Our kitchen remodel is well underway. In order to create our dream kitchen, we had to change the entire layout of our house. Our project is not small, but it will be worth it. Josh is doing most of the work, with some help along the way. Josh's brother, Ben, came to visit from California and has been a huge help this past week. He is a machine. They have made a lot of progress.
In less than a week, the guys have: done a lot of demolition, updated the electrical and plumbing-they had help with this, removed the back wall of our house, put in a new beam to hold up our house, put the back wall back on our house, remove the walls between the kitchen and dining room, framed the basement/laundry room, put sheet rock up, removed the staircase, and moved the staircase. Whew! I am tired just typing it all. They really have been working non-stop, minus several trips to Home Depot.
Here are some photos of the work. Beware, these pictures are not pretty!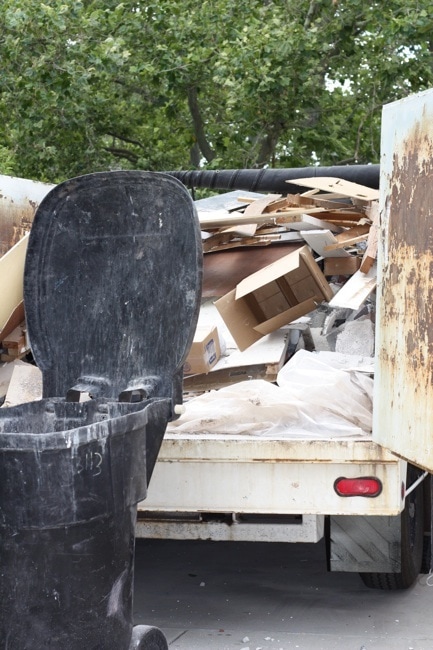 They filled an entire dumpster this week. Josh was going to try and put it all in our garbage can-good thing we have Ben here. He knocked some sense into Josh:)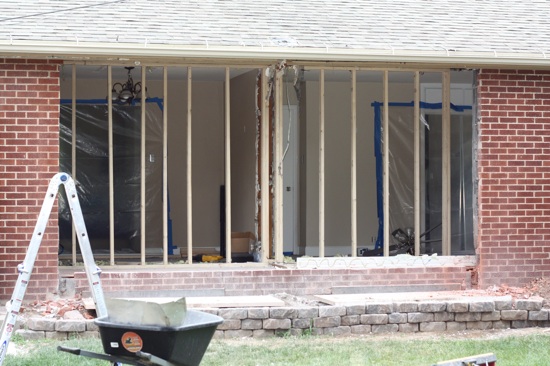 They removed the back wall of our house to put in the new beam. We are also adding French doors and windows in the dining room. More light for food photos:)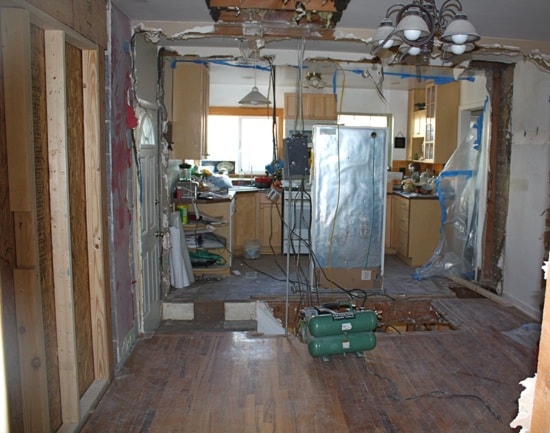 A wall used to be in between the kitchen and dining room. Not anymore! I already love how open it is.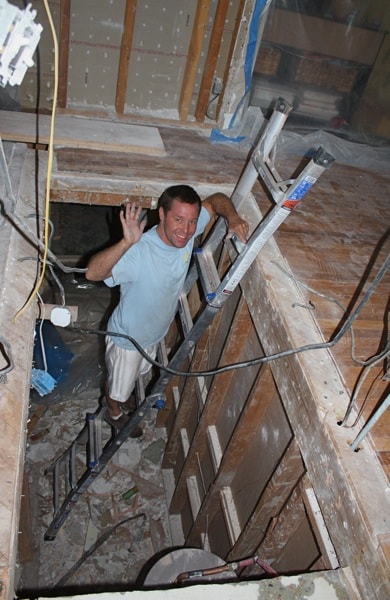 Our stairs used to be here. We had to move them to make the kitchen and dining room one big room.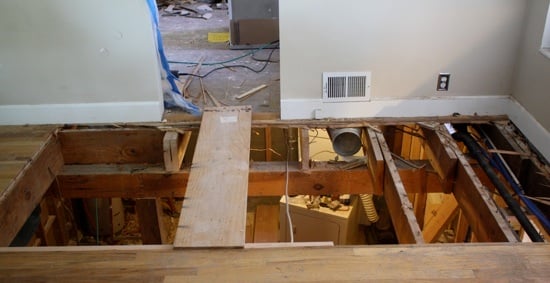 This is the hole for the new stairs. They are finishing them up today!
It was an interesting week-we had no water at times, then only cold water, no gas, we were sleeping in the living room, we had house guests for one night-they were good sports, and we were working full time jobs. We couldn't of done any of this work without Ben, our project manager. He kept us on task and has been a huge help. We are grateful he wanted to come help us out for a week.
Our kitchen was out of commission for most of the week. We did enjoy sweet corn, grilled sweet potatoes, watermelon, sandwiches, tomato feta salad, and cereal. We have to keep it simple these days. I am thinking we deserve a night out tonight. Sushi anyone? 🙂
We will keep you updated on our kitchen remodel project. Josh hopes to have it done by the end of August, so I am planning on the end of September.