Hello blog friends, this is Josh, the other half of Two Peas and Their Pod. I usually stay "behind the scenes" when it comes to the blog, but I wanted to write a post today. Often I am asked, if I really like eating all of the vegetables and salads we prepare, and the answer is, YES! I love a good piece of meat, but I also enjoy vegetables. We recently made a tomato feta salad that was most delicious and beyond easy.
As most of you know, we just started a kitchen remodel. I am doing most of the work-don't worry, I have built houses before and I know what I am doing. Construction, especially the demolition, is fun for me. Maria is not as excited about the remodel as I am, well, she is excited about the finished kitchen, but not so much the dust. She is hanging in there though.
So while we are remodeling you will see easy recipes on our blog. Most of our recipes are easy anyways, so don't expect too much change, but we will minimize our work in the kitchen for a few months. I am sure Maria will use the oven as long as she can, she can't go without baking cookies for very long.
This salad is a great example of a simple summer meal. It is fresh, easy, and tastes really good. You can't beat fresh garden tomatoes with basil. We are on a feta kick at our house, so we topped the tomatoes with feta too. I could eat this salad every day. I might try adding bacon sometime, but this salad is really good by itself.
Oh-don't forget about our feta giveaway. You have until Sunday night to leave a comment. Just visit our giveaway page. It's a pretty sweet package. Have a great weekend!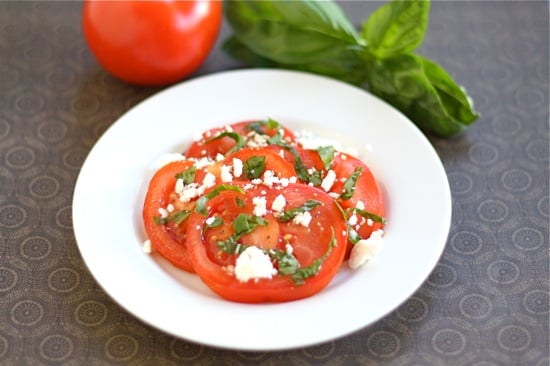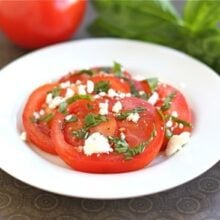 Tomato Feta Salad
Instructions
Place the sliced tomatoes on a platter or plate. Drizzle tomatoes with balsamic vinegar. Sprinkle the chopped basil over the tomatoes. Crumble feta cheese over tomato salad. Season with salt and pepper, to taste.
Have you tried this recipe?
Leave a comment below and share a photo on Instagram. Tag @twopeasandpod and hashtag it with #twopeasandtheirpod
If you like this tomato feta salad, you might also like:
Sweet Corn Salad from Two Peas and Their Pod
Cucumber Feta Salad from Two Peas and Their Pod
Tomato Salad with Red Onion, Dill, and Feta from The Kitchn
Cucumber and Tomato Salad with Garbanzo Beans, Feta, and Herbs from Kalyn's Kitchen