Lemon Blueberry Trifle-lemon cake, lemon curd, whipped cream, and blueberries are layered to create an amazing dessert!
What do you do when it is 100 degrees outside? You turn on the oven and bake lemon cupcakes. Ok, maybe not the best idea, but I was in the mood to bake and was craving my lemon cupcakes. Well, the heat tuckered me out and I lost motivation to make the frosting. I was going to just spoon lemon curd over the cupcakes and call it good, but I had a ton of blueberries to use up, so I made Lemon Blueberry Trifles instead.
I am so glad my lemon cupcake craving turned into Lemon Blueberry Trifles because these little trifles are heavenly and the perfect summer dessert.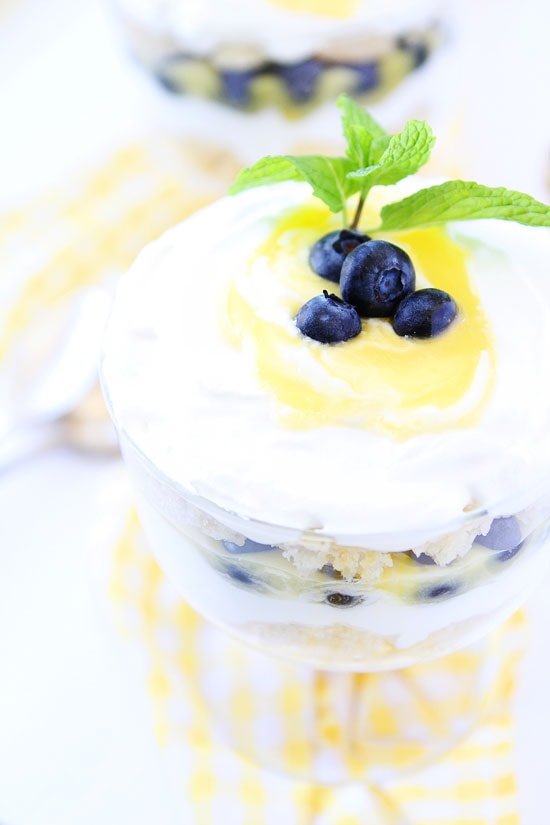 You don't need any fancy decorating skills to make these simple trifles. It's easy once you have all of your ingredients ready. First, cut up the cooled cupcakes or tear them into pieces. I know you just baked these pretty cupcakes and you are demolishing them, but I promise, it will be worth it. The end result will be beautiful and delicious! And you can sample the cupcake pieces along the way. That is the best part:)
If you want to bake a cake instead of cupcakes, you can! Just adjust the baking time and cut the cake into pieces after it has cooled.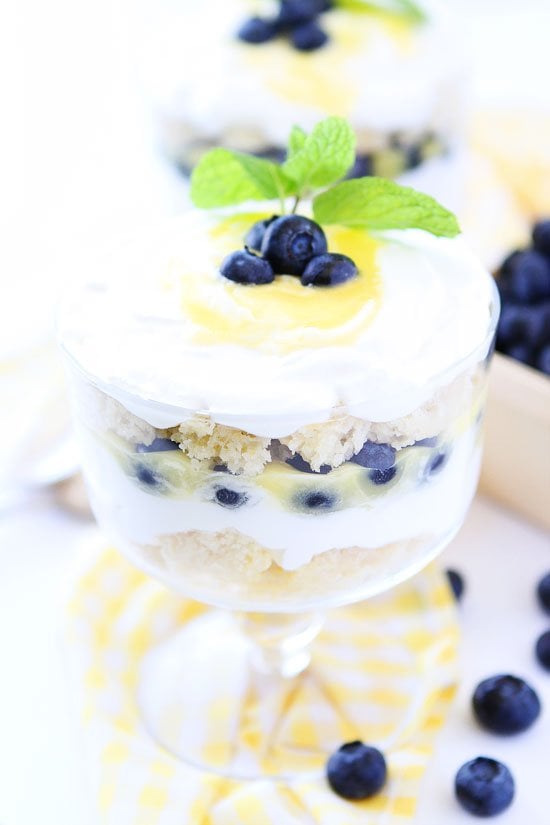 Once you have your cake pieces, get your lemon curd ready. I like to use my homemade Lemon Curd, but you can also use store bought if you are feeling lazy. FYI-Trader Joe's makes a great lemon curd.
Next, whip up some heavy cream until you have light and fluffy whipped cream!
Get out your fresh blueberries and you are ready to assemble!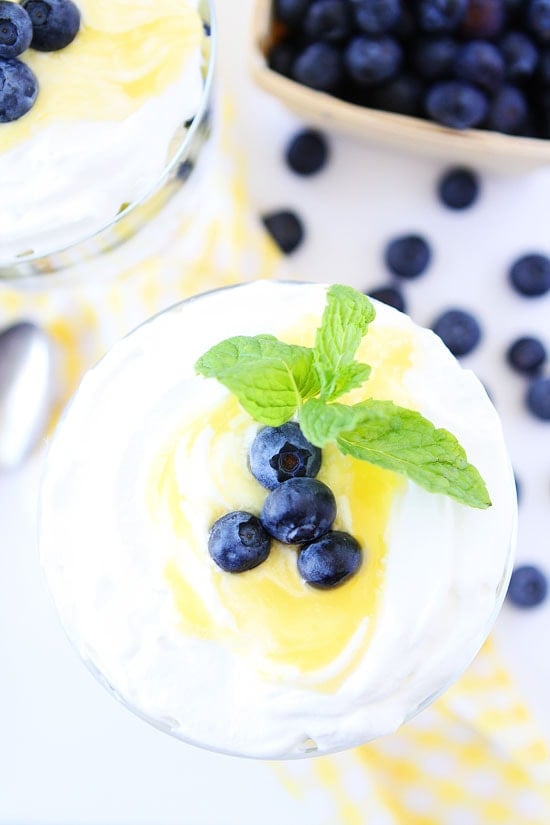 I like to use mini trifle dishes because I want my own dessert. I don't like to share:) You can use a big trifle dish if you want to take the trifle to a potluck or party. I guarantee it will be a showstopper! Everyone will ooh and aah over the trifle and beg to start with dessert first:)
Ok, back to assembling the trifles or big trifle. All you have to do is layer the cake pieces, lemon curd, whipped cream, and blueberries. That is it! I like to end with whipped cream, a dollop of lemon curd, a few blueberries, and a sprig of mint for garnish! You can serve the trifles right away, I didn't wait to spoon into mine, or you can make the trifles in advance. I have a hard time waiting to eat dessert, but I actually think the trifles are better if you give them time to chill. I've made them a day in advance and they were excellent. These trifles are a great dessert for entertaining because you can get them done ahead of time.
Lemon Blueberry Trifles are dreamy little desserts! Make them for the 4th of July or for your next summer party! They are sure to be a hit! And remember, you can make one big trifle, this dessert tastes great big or small:) You can't go wrong!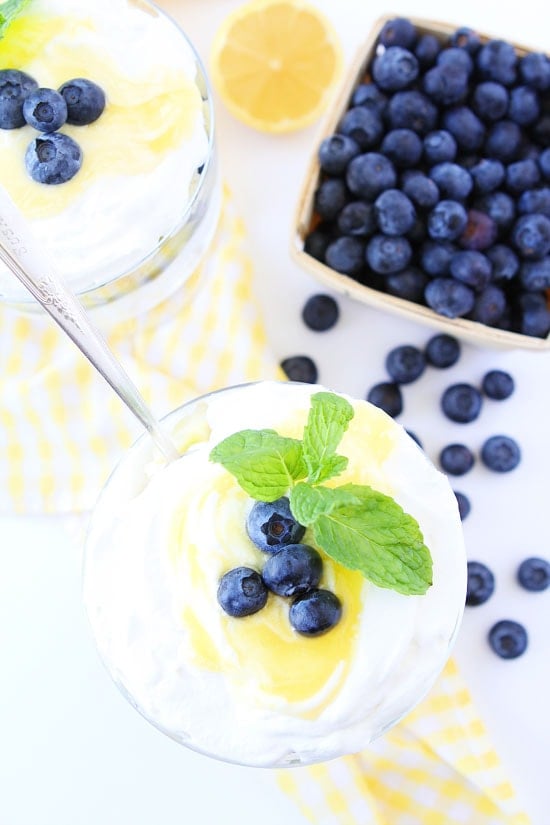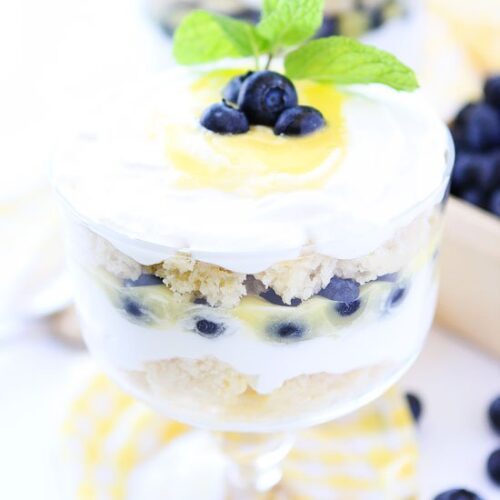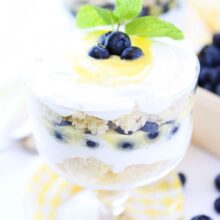 Lemon Blueberry Trifle
Layers of lemon cake, whipped cream, lemon curd, and blueberries! This beautiful dessert is always a hit!
Instructions
First, bake the lemon cupcakes. I use my

lemon cupcake

recipe, but note, I don't fill them with lemon curd. Let the cupcakes cool and cut or tear them into 1-inch pieces. If you want to bake a cake with the cupcake recipe, you can do that too. Just adjust the baking time and cool the cake before cutting into pieces.

While the cupcakes are baking, make the

lemon curd

. You can use store bought lemon curd, if you wish.

Make the whipped cream. In the bowl of a stand mixer, using the whisk attachment, beat together the cream, powdered sugar, and vanilla until soft peaks form, about 3 minutes.

To assemble the trifles, select mini trifle dishes. Alternatively, use a large trifle dish or flat-bottomed glass bowl. Arrange a single layer of the cake cubes in the bottom of the dish. Spoon whipped cream, lemon curd, and blueberries over the cake layer. Repeat, finishing with a layer of the whipped cream. Cover with plastic wrap and refrigerate until ready to serve. The trifles can be made up to 24 hours in advance. The flavors will marry in the refrigerator and I think they taste better after they have been chilled for at least a few hours.

Just before serving, garnish the trifle with a dollop or lemon curd, extra blueberries, and a sprig of mint! Serve!

Note-you will need about 1 ½ cups lemon curd. The measurements are loose in this recipe because it depends on the size of trifles you make. Just make sure you layer! You can also use other berries-strawberries, raspberries, and blackberries are good too! If you don't have a stand mixer, you can make the whipped cream with a hand mixer.
Have you tried this recipe?
Leave a comment below and share a photo on Instagram. Tag @twopeasandpod and hashtag it with #twopeasandtheirpod
Follow us on Instagram and show us what recipes you are making from our blog! Use the hashtag #twopeasandtheirpod! We want to see what you are making in your kitchen!
Are you on snapchat? Follow twopeasandpod for a behind the scenes look at Two Peas and Their Pod!