Lemon Chia Seed Pancakes with Roasted Strawberries-a stack of these pancakes will brighten your morning!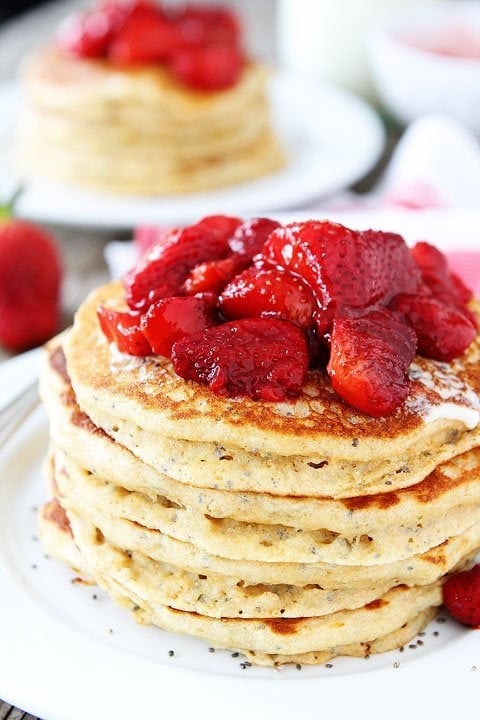 I'm excited to share that in 2014 we are partnering with Land O Lakes® Butter as part of Kitchen Conversations. Kitchen Conversations is all about sharing recipes and tips and includes some amazing food bloggers including my friends Ree Drummond from The Pioneer Woman, Jenny from Picky Palate, Bridget from Bake at 350, Brenda from A Farmgirl's Dabbles, Sommer from A Spicy Perspective, Julie from The Little Kitchen, Jessica from The Novice Chef, and Joanne from Fifteen Spatulas. It's quite the crew!
My first recipe for Kitchen Conversations is all about simple goodness. To me, pancakes are the definition of simple and good. We've been eating a lot of pancakes at our house. Pregnancy has me craving pancakes like crazy. I eat them for breakfast, as a snack and for dinner. Josh and Caleb were humoring my craving for awhile, but I think they were getting sick of having pancakes all the time. I went three whole days without eating pancakes, but then I caved. I told them too bad, I am making pancakes.
My boys were on board with my pancake idea because I made special pancakes, Lemon Chia Seed Pancakes with Roasted Strawberries. They were so good, they couldn't resist. 🙂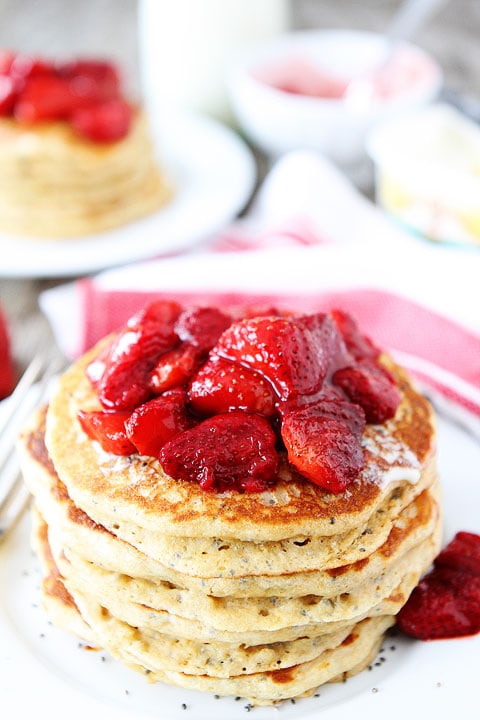 Josh ended up helping me make my pancakes. He gathered all of the pancake ingredients while I focused on the strawberries.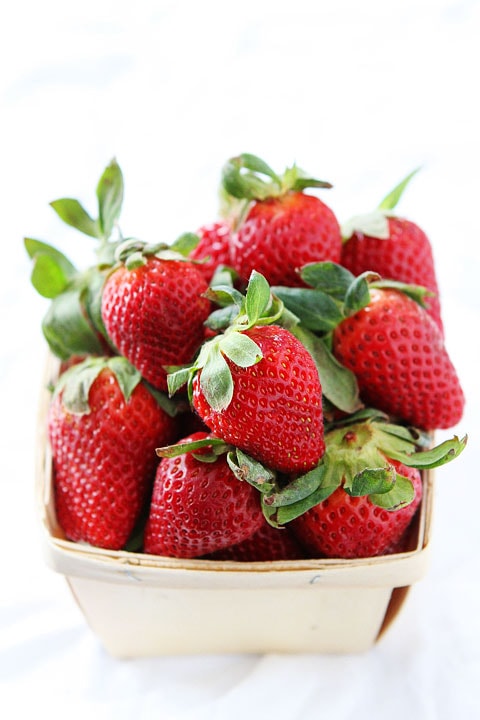 I bought a basket of strawberries at the store because they looked super sweet. Well, they weren't very sweet, but I didn't let them ruin my day. I decided to roast them to bring out the flavor.
I squeezed fresh lemon juice over the strawberries and sprinkled them with turbinado sugar.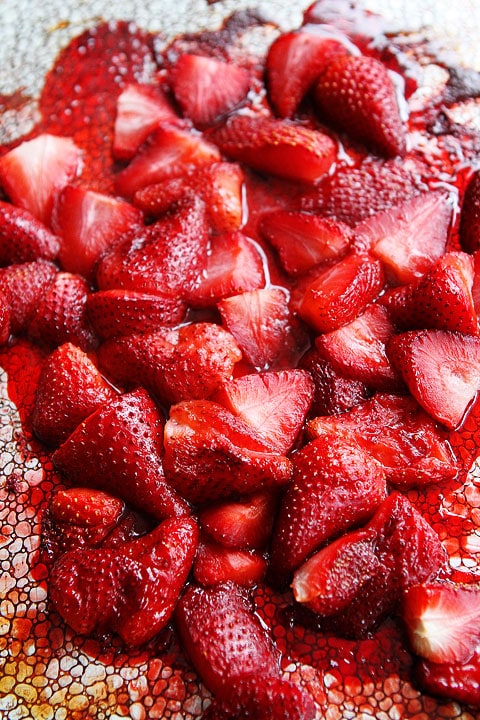 I roasted them in the oven until they were nice and juicy! Mmmm! Now they were perfect!
Josh had a stack of Lemon Chia Seed Pancakes ready for me by the time I pulled the strawberries out of the oven.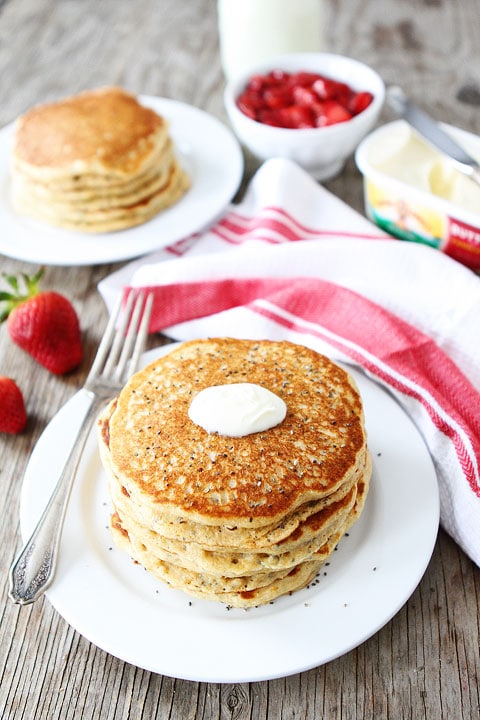 I topped my stack of pancakes with Land O Lakes® Butter with Canola Oil. I love this butter product because it has only three ingredients: sweet cream, canola oil and salt. Plus, I love how easy it is to spread! It melted into the hot pancakes and made them extra tasty!
Next, I added a few big spoonfuls of roasted strawberries. I also sprinkled a few extra chia seeds on top. If you haven't tried chia seeds before, you are in for a real treat. They are similar to poppy seeds, but are a great source of fiber, protein, omega fatty acids, and calcium. I like to add chia seeds to my oatmeal, yogurt, smoothies, and pancakes! I've even made Chia Seed Jam! You've gotta try chia seeds and you've gotta try these pancakes. They are SO good!
And now I am craving pancakes all over again! Good thing I put some Lemon Chia Seed Pancakes in the freezer! I think I will eat a stack today!
Think spring and make Lemon Chia Seed Pancakes with Roasted Strawberries. They are heavenly!
And come back on Wednesday because I will be sharing my trip to The Pioneer Woman's Ranch!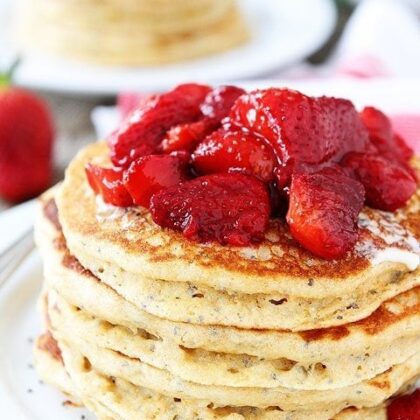 Lemon Chia Seed Pancakes with Roasted Strawberries
Light and fluffy lemon pancakes with chia seeds and topped with roasted strawberries. A great way to start any day!
Ingredients
For the Roasted Strawberries:

1

lb.

fresh strawberries

hulled and cut in half

1

tablespoon

fresh lemon juice

1

tablespoon

sugar in the raw

For the Lemon Chia Seed Pancakes:

2

cups

white whole wheat flour

2

tablespoons

granulated sugar

Zest of 2 large lemons

2

teaspoons

baking powder

1

teaspoon

baking soda

1/2

teaspoon

salt

2

cups

buttermilk

1/4

cup

Land O Lakes® unsalted melted butter

cooled

1

tablespoon

fresh lemon juice

1

teaspoon

vanilla extract

1/4

cup

chia seeds

Land O Lakes® Butter with Canola Oil

for serving
Instructions
1. Preheat the oven to 375 degrees F. In a medium bowl, combine the strawberries, lemon juice, and sugar. Toss to combine. Pour strawberries on a greased baking sheet and roast for 20 minutes. Stir the strawberries and roast for an additional 7-10 minutes, until the strawberries are soft and juicy.

2. While the strawberries are roasting, make the pancakes. In a small bowl, combine the sugar and lemon zest. Rub together with your fingers until lemon is fragrant.

3. In a large bowl, whisk together flour, sugar/lemon mixture, baking powder, soda, and salt. In a small bowl, whisk together buttermilk, eggs, melted butter, lemon juice, and vanilla. Add wet ingredients to the flour mixture and stir just until combined. Do not over mix. Gently stir in the chia seeds.

3. Heat a griddle or pan to medium low heat. Coat with cooking spray. Drop about a ¼ cup of batter onto heated skillet. Cook until surface of pancakes have some bubbles and a few have burst, 1 to 2 minutes. Flip carefully with a spatula, and cook until browned on the underside, 1 to 2 minutes more. Continue making pancakes until the batter is gone. Serve warm with Land O Lakes® Butter with Canola Oil and roasted strawberries.
Have you tried this recipe?
Leave a comment below and share a photo on Instagram. Tag @twopeasandpod and hashtag it with #twopeasandtheirpod
Disclosure: this post is in partnership with Land O' Lakes and the Kitchen Conversations program. All our opinions are our own.