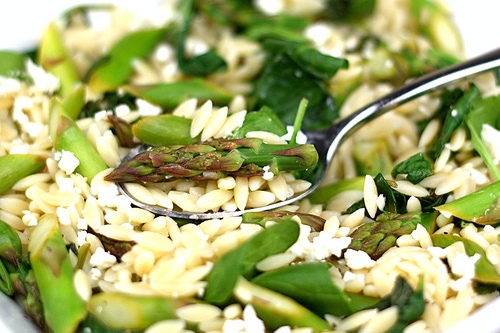 We have been really busy lately, but this weekend we were able to kick back and relax, and for me, that meant spending most of my time in the kitchen. Once I started, I couldn't stop. It was so much fun. Josh was a good sport too-he helped me create some fabulous recipes and did a lot of dishes:) One of my favorite creations was the lemon orzo salad we made on Saturday for lunch.
Orzo is a pasta that is similar to rice in shape, but a little thicker and larger. I love making pasta salads with it. Even though it was cold and snowy outside, I was in the mood for fresh, healthy, spring foods. I incorporated lemon, asparagus, and spinach-ingredients that scream spring to me.  I sprinkled feta cheese on top of the salad and it was the perfect touch.
This salad is simple and fresh. I loved the crunchy asparagus with the tender, lemony orzo. The spinach added additional green goodness too. Make this salad for a light lunch or serve it as a side dish to any spring meal. You will be amazed by how easy it is to make and how delicious it is to eat.
On a side note, who is watching the big game tonight? We are. I think I might cheer for the under dogs, Butler, but I have a feeling Duke will win. Josh is making his famous hot wings. Should be a fun game.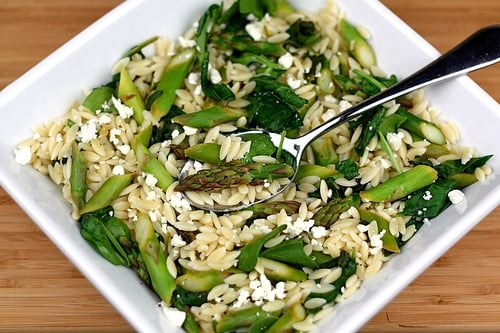 Lemon Orzo Salad with Asparagus, Spinach, and Feta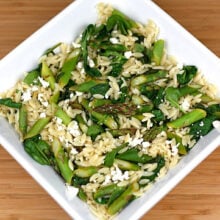 Ingredients
1

cup

orzo

Salt-about 1/2 tsp. for boiling water

2

cloves

garlic

finely chopped

1

teaspoon

olive oil

8

asparagus spears

cut into 1 inch pieces

1

cup

packed fresh spinach

Juice of 1 large lemon

1/3

cup

feta cheese

Salt and pepper

to taste
Instructions
In a medium sauce pan, bring 4 cups of water to boil. Add the salt. Stir in orzo. Cook until tender, about 10 minutes. Drain orzo and set aside.

In a small sauce pan, saute garlic in olive oil. Add in asparagus pieces. Saute for 3-4 minutes. Stir in spinach. Cook until asparagus is tender and the spinach shrinks down.

Put the orzo in a medium bowl and add in the vegetables. Squeeze fresh lemon juice over the orzo and vegetables. Stir. Season with salt and pepper. Taste-add more lemon juice if you wish. The lemon I used was huge, so I only needed to use one lemon. If you need more juice, go ahead.

Sprinkle feta cheese over the top of the salad. Serve warm. (I also liked the salad cold.)