Lemon Rosemary Shortbread Cookies-crisp, buttery cookies that are perfect for tea time or any time!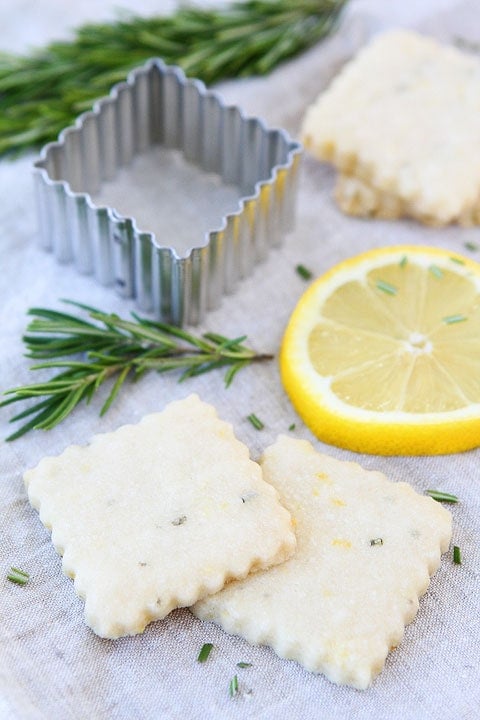 Last summer Josh built a raised herb garden in our backyard. We planted a variety of herbs and flowers. The beds were covered with snow for most of the winter. Our snow finally melted so I went outside to get some fresh air. I noticed that our rosemary was still alive and going strong. I guess it didn't mind the snow! I snipped a few rosemary sprigs and went inside to tell Josh about our brave little plant.
I used the rosemary to make a batch of Lemon Rosemary Shortbread. I was in the mood to bake and more importantly in the mood to eat cookies:)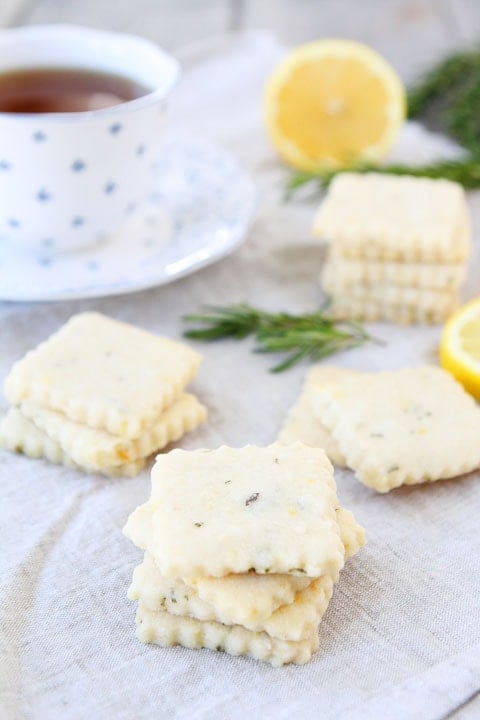 I love shortbread cookies because they are super easy to make and because of the obvious…LOTS of butter!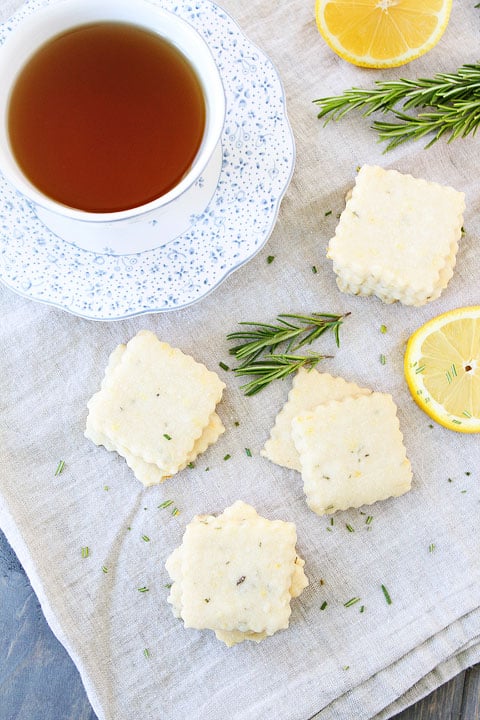 The cookies are crisp, buttery, and slightly sweet. The lemon and rosemary add a nice twist to the classic shortbread cookie. I love biting into a cookie and getting a hint of citrus with the savory rosemary! A match made in heaven!
The shortbread cookies may look plain and simple, but they are full of flavor!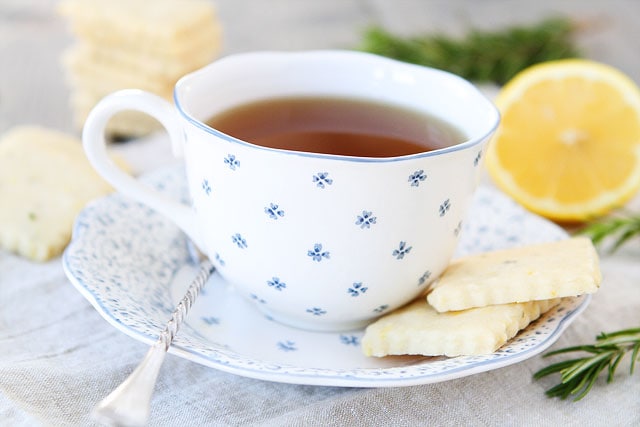 I pretended I was living in the olden days and made a cup of hot tea to enjoy with my Lemon Rosemary Shortbread. I didn't put on a frilly dress and white gloves, but I still felt special as I sipped my tea and nibbled on my perfect little cookies. It was the perfect afternoon snack.
Lemon Rosemary Shortbread cookies are good for tea time or any time! Make a batch today! These cookies are delightful and will brighten your day!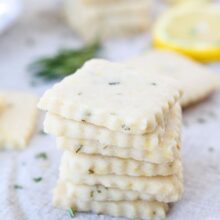 Lemon Rosemary Shortbread
Lemon Rosemary Shortbread Cookies are the perfect cookie for afternoon tea or any time! We love these crisp and buttery cookies!
Instructions
In a small bowl, whisk the flour, salt, lemon zest, and rosemary. Set aside.

In the bowl of a stand mixer, beat the butter and powdered sugar until smooth and creamy, about 3 minutes. Beat in the vanilla extract and lemon juice. Slowly add in the flour mixture and mix until just combined. Form the dough into a disk shape and wrap in plastic wrap. Chill the dough for at least 1 hour or until firm.

When ready to bake, preheat oven to 325 degrees F. Line a large baking sheet with parchment paper or a Silpat and set aside.

On a lightly floured surface, roll out the dough into a ¼ inch thick square. Cut into squares, rounds, or shape of your choice using a lightly floured cookie cutter. Place shortbread cookies on the prepared baking sheet and bake for 10-12 minutes, or until cookies are very lightly browned around the edges. Remove cookies from baking sheet and cool completely on a wire rack.

Note-Shortbread cookies with keep in an airtight container for about a week or they can be frozen.
Have you tried this recipe?
Leave a comment below and share a photo on Instagram. Tag @twopeasandpod and hashtag it with #twopeasandtheirpod