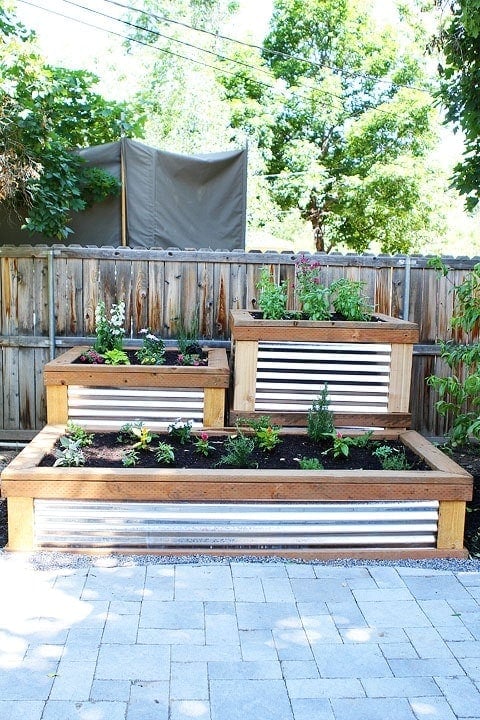 I thought Josh would be finished with projects after he remodeled our kitchen, but he loves having a project. This summer he has been doing a lot of yard work. He planted a huge vegetable garden with our neighbors, built a chicken coop, and last week he made a raised herb garden.
I told Josh I wanted an herb garden, but I was thinking a few pots of herbs. Well, Josh never does things on a small scale. He built a masterpiece raised herb garden. It is amazing! We teamed up with Lowe's on this DIY project and are thrilled with the results.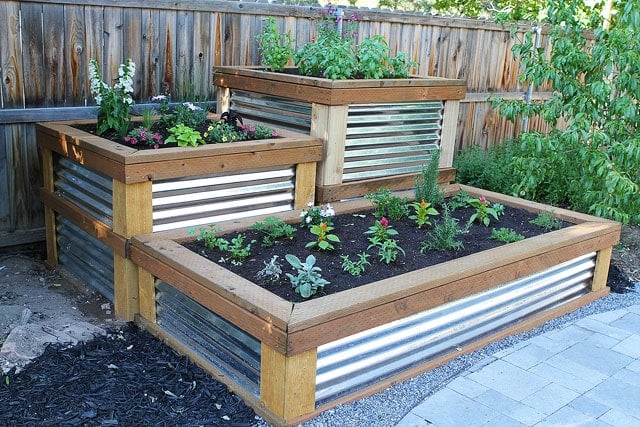 To build the raised herb garden, Josh bought pressure treated 2×4's, 2×6's, and 4×4's. He built the frame out of the pressure treated wood. He used corrugated steel roof paneling to side the raised beds. To trim the sides, Josh used cedar fencing. Josh bought all of these materials at Lowe's.
Luckily, Josh's brother Ben was in town to help. They built the raised herb garden in two days. They are machines! I am lucky to have a handy husband and a brother-in-law who likes to work while he is on vacation:)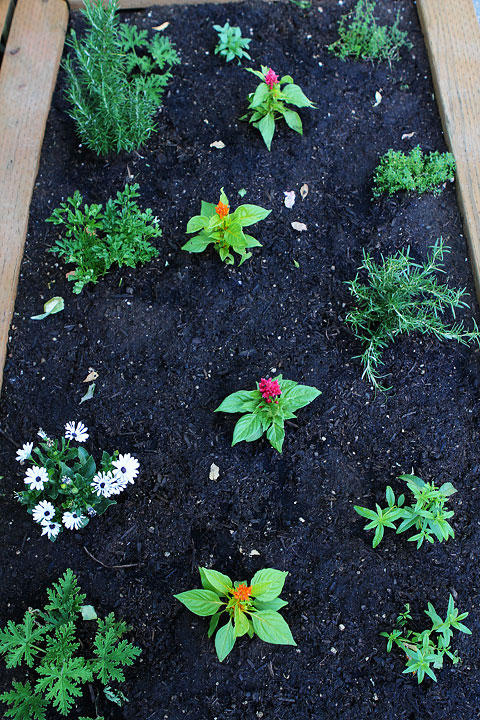 We filled the raised garden beds with herbs and flowers. We planted lemon verbena, thyme, rosemary, sage, chives, lavender, cilantro, parsley, basil, thai basil, and flowers.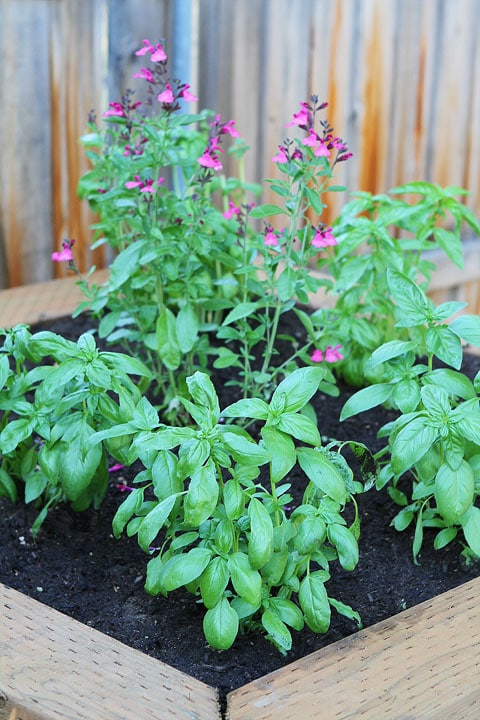 We filled one bed with just basil. I see a lot of pesto in our future! Basil is my favorite herb.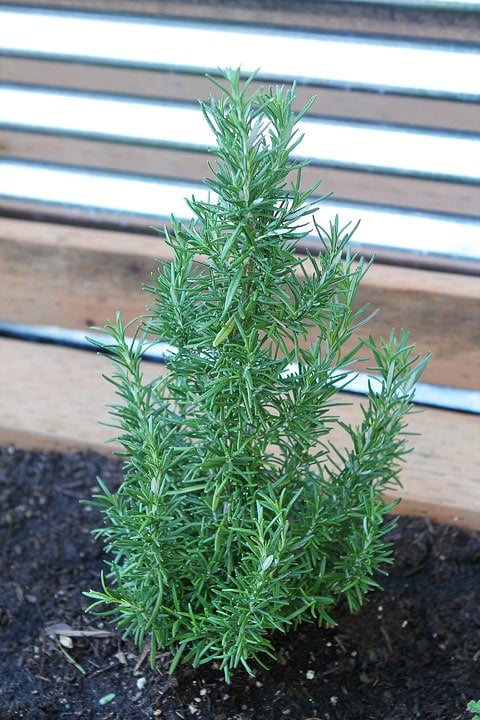 We planted two large rosemary plants. Plenty to make Rosemary Sea Salt Pretzels and Garlic Rosemary Parmesan Popcorn.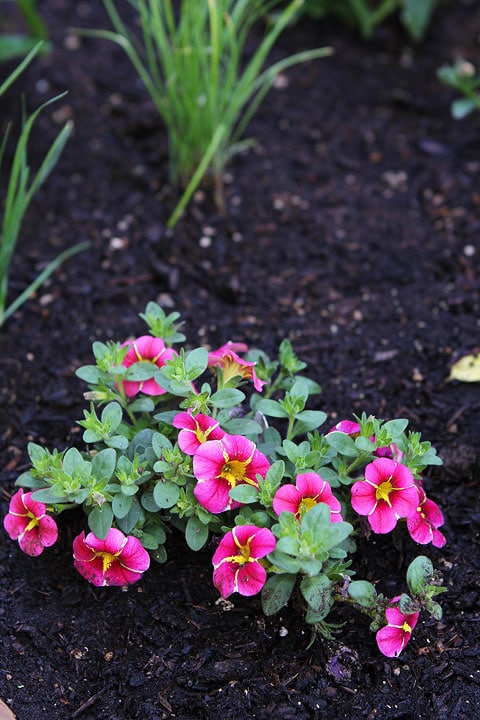 Love these pink flowers. They are supposed to grow and spread down the front of the garden bed.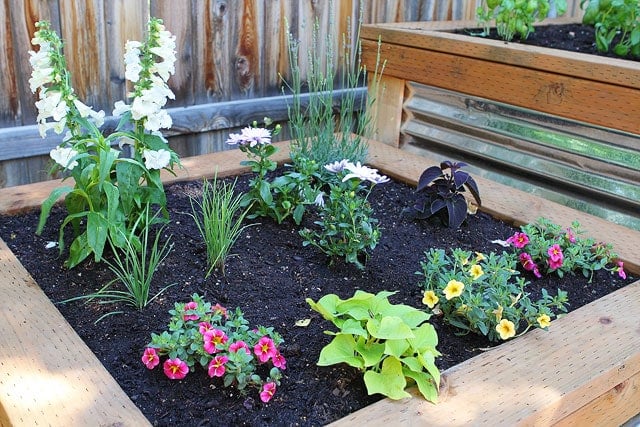 I am not sure what all of the flowers are, but I know they are pretty and they make me happy! 🙂
I love that the lowest garden bed is also a bench. It is nice to have extra seating along the patio when we have guests. I am so glad Josh added the corrugated metal. It really jazzes up the garden beds. The raised herb garden really adds to our patio space. I love it!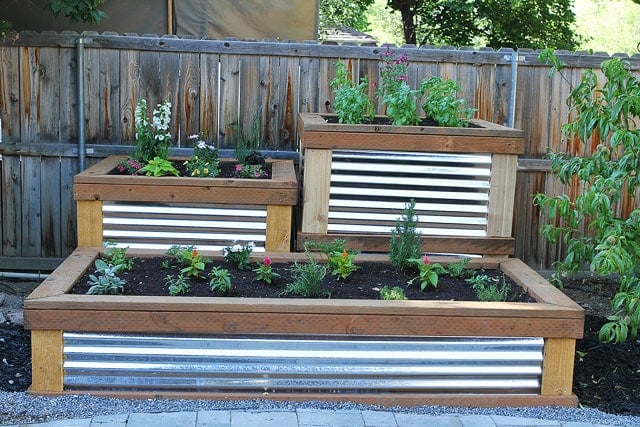 Hats off to Josh for creating such a beautiful raised herb and flower garden. I can't wait to put the herbs to good use!
Disclosure: Lowe's provided most of the materials for us to create this beautiful raised herb garden, but our opinions are our own!