McCall, Idaho is the perfect spot for a family vacation. The resort town is a great place to visit anytime of the year. Add this gorgeous place to your travel bucket list!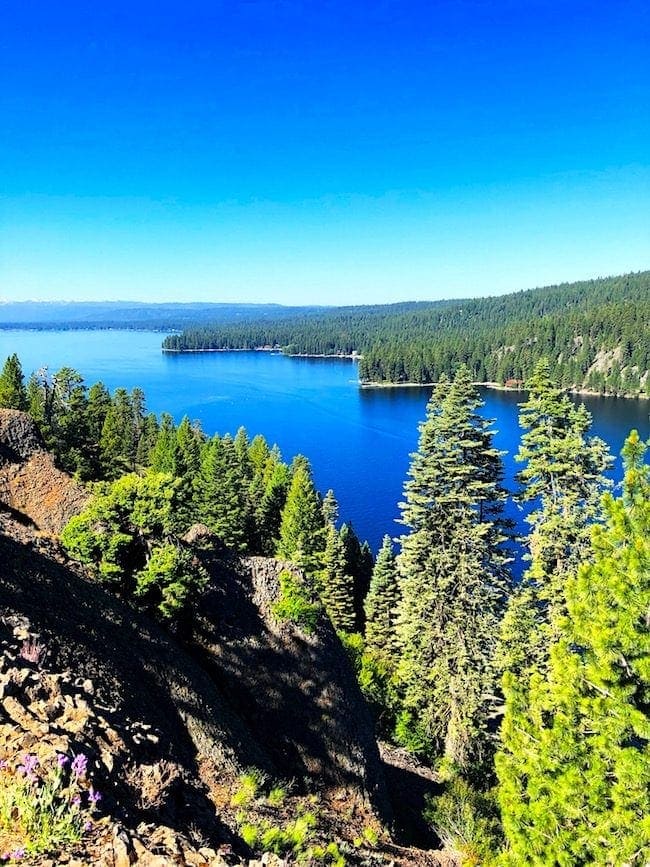 McCall, Idaho
Last week, we went to McCall, Idaho for a family vacation and had the best time. We went to McCall a few years ago and instantly fell in love. It is one of our favorite places!
McCall is a resort town, about 100 miles north of Boise. The drive is really pretty from Boise to McCall, making the drive worth it:) We drove from Salt Lake City and it took us about 7 hours total. You can fly into Boise and drive or McCall has a small airport.
Payette Lake, Ponderosa State Park, and Brundage Mountain are located in McCall. McCall is an all-season tourist destination for outdoor recreation. The resort town is known for its Winter Carnival, extended winters, summer lake life, and one of the highest average snowfalls in the state. We have only been in the summer, but Josh and the boys want to go in the winter to ski!
Where to Stay in McCall
The Shore Lodge is our favorite hotel in McCall. It is located right on Payette Lake and is very family friendly. The Cove spa is also amazing at The Shore Lodge. We highly recommend staying there!
If you need more room, you can rent a condo or house, just book WAY in advance because places in McCall book up quickly! It is a popular place!
Things to Do in McCall
Rent a boat and enjoy Payette Lake. Southwest Idaho hooked us up with Cheap Thrills to rent a boat and they were fabulous! They also rent waverunners and snowmobiles during the winter time. We loved riding around on the lake, it was beautiful and so fun!
Go biking! Bike around town or hit up the trails!
Tour the McCall Fish Hatchery. Our boys love going to see the fish!
Go to Brundage Mountain and ride the lift and hike around for gorgeous views of McCall. If you go in the winter, go skiing or snowboarding.
Visit Ponderosa State Park. You can camp or hike around. It is so pretty!
Go to the McCall Farmers Market to enjoy fresh local produce, flowers and locally produced meats.

Attend the McCall Winter if you go in late January or early February. It is one of the town's favorite events!
Favorite Restaurants in McCall
Rupert's-located at Hotel McCall. Fine dining, don't skip dessert!
My Father's Place-a favorite burger and shake place! There is usually a line, but that is a good thing, you know it's going to be good:)
The Narrows Steakhouse-located at the Shore Lodge. Fine dining and a great view of Payette Lake.
Stacey's Cakes-love this bakery! Make sure you stop in for cinnamon rolls, scones, muffins, cookies…all the things!
Ice Cream Alley-a MUST visit! The ice cream is very affordable and they serve up the BIGGEST scoops!
Family Vacation
McCall is the perfect place for a family vacation. It is gorgeous, there are tons of family friendly activities, lots of great restaurants, and the people are so nice!
This year we vacationed with Josh's brother's family and the boys loved spending time with their cousins. Here are some photos from our trip! Enjoy and let me know if you have any questions about McCall! We highly recommend going!