Knock, knock? Who's there. Orange. Orange who? Orange you glad I made you Orange Ricotta Chocolate Chip Muffins? Sorry for the corny joke. I hope you will forgive me after you taste one of these delightful Orange Ricotta Chocolate Chip Muffins.
We had a big tub of ricotta cheese in our fridge that needed to be used up before our vacation. I made stuffed shells, ricotta cookies, and still had enough left to make one more thing. I was in the mood for a little morning baking…and a morning treat, so I made Orange Ricotta Chocolate Chip Muffins.
I am so glad I hate wasting food. I could have let the ricotta cheese sit in our fridge and grow mold while we are in Maui, but instead I created these glorious Orange Ricotta Chocolate Chip Muffins. I may have eaten one too many, so sorry if you saw me and my muffin top on the beach..ha! These babies were so worth it! And don't worry we will be sharing our Maui experience soon. We got home yesterday and are exhausted. We want to go back already:)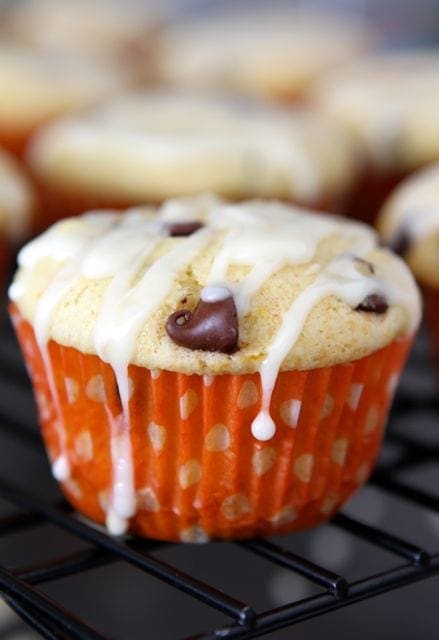 These muffins are on the verge of being a dessert since they have chocolate chips and a sweet glaze. But since they are technically muffins, you can enjoy them for breakfast. Orange is in the title too, so that cancels out the chocolate and glaze in my book. These are made to be eaten as soon as you climb out of bed. They are too good to wait for dessert time.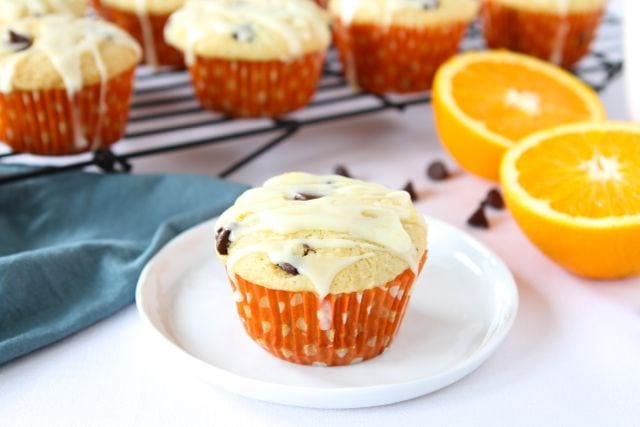 If you haven't baked with ricotta cheese before, you are missing out. It produces the most amazing results. These muffins are rich, tender, and dotted with chocolate chips. I added orange zest and fresh orange juice to the muffin batter, but I wanted a little more burst of orange so I drizzled the muffins with a sweet orange glaze. The chocolate and orange combo is incredible.
If you are trying to use up your ricotta cheese, start with these Orange Ricotta Chocolate Chip Muffins. And if you don't have any ricotta cheese, go grab some to make these marvelous muffins!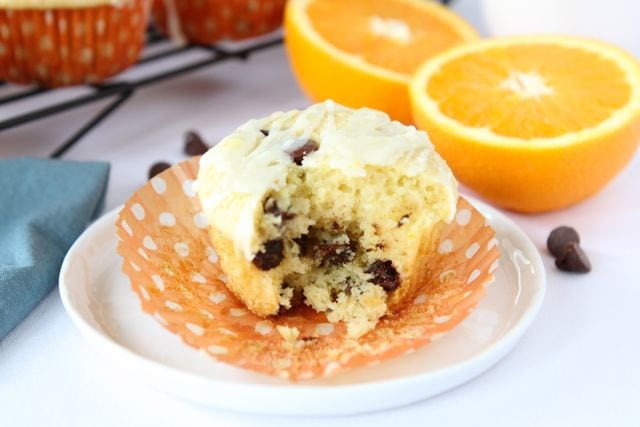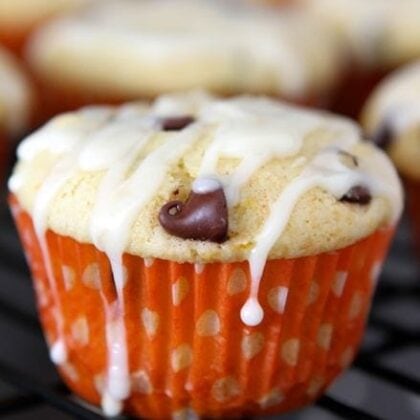 Orange Ricotta Chocolate Chip Muffins
Instructions
1. Preheat oven to 350 degrees F. Line 12 muffin cups with paper liners. Set aside.

2. In a medium bowl, whisk together the flour, baking powder, baking soda, and salt. Set aside. In a small bowl, add the sugar and orange zest. Rub the orange zest and sugar together with your fingers.

3. Using an electric mixer, beat the butter and sugar and orange zest mixture together until light and fluffy, about two minutes. Add the ricotta cheese and beat until smooth. Beat in the egg, orange juice, and vanilla extract.

4. Add the dry ingredients and mix until just blended. Stir in the chocolate chips. Using an ice cream scoop or large spoon, divide the batter evenly between the 12 muffin cups.

5. Bake muffins for about 18-20 minutes, or until the tops are slightly golden brown. Let muffins cool completely.

6. While the muffins are cooking, make the glaze. In a medium bowl, whisk together powdered sugar, orange zest, and orange juice. Drizzle glaze over muffins. Let the muffins sit until glaze hardens.

Note-we've made these muffins with low-fat and full fat ricotta cheese. Both work nicely so take your pick:)
Have you tried this recipe?
Leave a comment below and share a photo on Instagram. Tag @twopeasandpod and hashtag it with #twopeasandtheirpod
If you like these Orange Ricotta Chocolate Chip Muffins, you might also like: