Today is the first day of school for the kids in our neighborhood. I am a little jealous. I kind of miss the back to school butterflies. I wish I could go back to school sometimes, well, at least for a week:) I miss picking out new school clothes, buying school supplies, decorating my locker, and catching up with friends. In honor of the first day of school, I made peaches n' cream muffins. These muffins are a great breakfast treat for such an important day.
I grew up in a small town in Illinois, actually it isn't even a town, it is a village. On main street, there is one small cafe, a dentist office, post office, library, and that's about it. There is not even a stop light. My graduating class had about 60 students. Everyone knows everyone.
We lived in the country, about seven miles from "town." We looked forward to going back to school so we could see our friends. We felt isolated during the summer since we lived so far from town. Sure, we invited friends over and went to our friends houses' to play, but not as often as we would have liked. I got pretty tired of hanging out with my brother and sister all summer long. So back to school time was always exciting.
Because we lived in the country, we had to ride the bus to school. We stood by our mailbox every morning, waiting for the big yellow bus to come around the corner. My brother, sister, and I would usually play games, talk, kick rocks, or pet the neighbor's horses to kill the time. Once we got on the bus, we had about a thirty minute ride until we got to school. The bus had to pick up all of the other country kids before heading into town.
At the beginning of the school year, we had assigned seats, which I hated. But by the end of the year, we could sit wherever we wanted. On the way home from school, we always tried to sit in the very back. The country roads were not paved and the back of the bus was extra bumpy. It felt like we were riding a roller coaster all the way home. We loved hitting the big pot holes. It felt like our heads were going to touch the ceiling of the bus because we were bouncing so high.
I will never forget riding the bus to school. We had some good times on the magic school bus! When my brother turned sixteen, we rode to school with him, but sometimes I would take the bus home, for old times sake.
Start the school year off right by making a batch of peaches n' cream muffins. The muffins are light and have a special cinnamon cream cheese filling. The fresh peaches add bursts of juicy, fruity deliciousness. The cinnamon sugar dusts the muffin tops with the perfect amount of sweetness. The peach muffins smell incredible while baking too. If your kids are having a hard time waking up in the morning, just pop these muffins in the oven. They will hurry down to the breakfast table in no time and I guarantee they will leave with smiles on their faces:)
We hope these peaches n' cream muffins make the first day of school a special one. Enjoy and hurry up-you don't want to miss the bus:)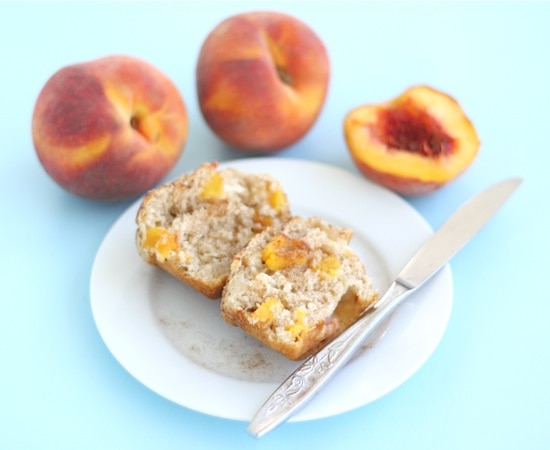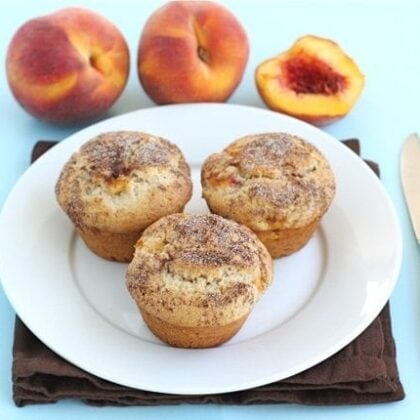 Peaches 'N Cream Muffins
Ingredients
1 1/2

cups

all-purpose flour

1/2

teaspoon

salt

2

teaspoons

baking powder

1/2

teaspoon

cinnamon

1/2

cup

sugar

1/4

cup

canola oil

1/3

cup

milk

1

teaspoon

vanilla extract

1

cup

fresh peaches

peeled and chopped

Cream cheese filling:

6

tablespoons

cream cheese

at room temperature

1

tablespoon

sugar

1/4

teaspoon

cinnamon

Cinnamon and sugar-for sprinkling on muffins before baking
Instructions
1. Preheat oven to 400 degrees. Line a muffin tin with paper liners or grease well. Set aside.

2. In a medium bowl, whisk together the flour, salt, baking powder, and cinnamon. Whisk in the sugar.

3. In a separate medium bowl or in a large glass measuring cup, mix canola oil, egg, milk, and vanilla together. Use a fork or whisk and combine well.

5. Incorporate the wet ingredients into flour mixture. Add slowly and gently stir, you don't want to over mix. The batter will be thick. Carefully fold in the peaches.

6. In a small bowl, mix together the cream cheese, sugar, and cinnamon. Mix until creamy and smooth. Fill each muffin cup half way with batter. Next, add a small spoonful of cream cheese filling to each muffin cup. Cover the cream cheese filling with the remaining batter. Sprinkle each muffin with cinnamon and sugar.

7. Bake muffins for 17-20 minutes, or until muffins are golden brown and a toothpick comes out clean. Remove the muffins from the pan and let cool on a cooling rack.
Have you tried this recipe?
Leave a comment below and share a photo on Instagram. Tag @twopeasandpod and hashtag it with #twopeasandtheirpod
If you like these peaches n' cream muffins, you might also like:
Blueberry Lemon Cream Cheese Muffins from Two Peas and Their Pod
Plum Coffee Cake Muffins from Two Peas and Their Pod
Ginger Peach Muffins from White On Rice Couple
Blackberry Peach Crumb Topped Muffins from Picky Cook