Peppermint Bark Chocolate Chex Mix-easy to make and perfect for holiday parties, gift giving, and snacking!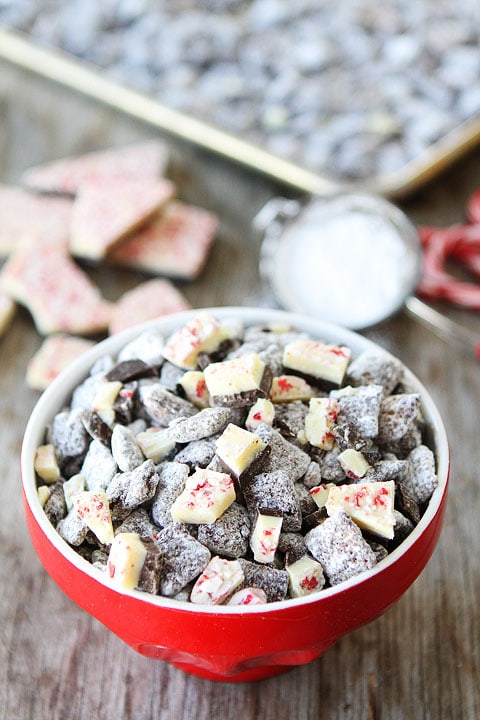 Christmas is next week! NEXT week! That is crazy! I am excited for the holiday, but sooooo not ready! I need more time to get everything done. Maybe I will ask Santa if I can borrow a few elves. I could use some extra help. I've tried to put Caleb to work, but it usually doesn't save me any time. We have fun though…and that is why I'm running behind.
If you are running behind like me and are looking for an easy holiday treat to make for neighbors, friends, and family, I have the perfect recipe for you-Peppermint Bark Chocolate Chex Mix. It's super easy to make…and super easy to eat. I won't tell you how many handfuls I've eaten. I won't tell you because I lost count! Let's just say A LOT!

Our Chocolate Coconut Chex Mix is one of my favorite treats. I decided to mix things up by making a holiday version. I omitted the coconut and invited crushed candy canes and peppermint bark to the party!
I poured melted chocolate over Rice Chex cereal and stirred in crushed candy canes. I coated the cereal with powdered sugar. Our kitchen looked like we had a major snow storm! Sugar is my favorite kind of snow:)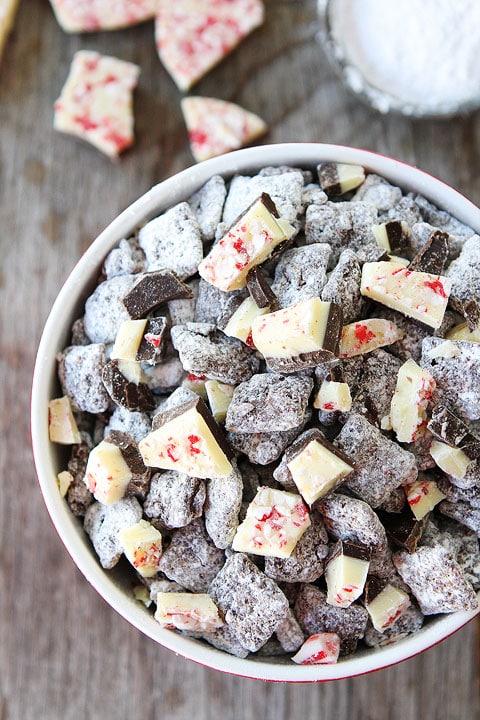 I let the Chex Mix set for about 15 minutes and then I stirred in chopped up peppermint bark. Oh, yeah! This Chex Mix is loaded with chocolate peppermint goodness!
After eating numerous handfuls, I put the Peppermint Bark Chocolate Chex Mix in cute bags and tied them up with ribbon. Josh delivered the bags to our neighbors! Such a fun, easy, and delicious holiday gift!
I am kind of sad we gave all of our Peppermint Bark Chocolate Chex Mix away so I am going to make another batch this weekend. It will be the perfect treat for us to munch on while we watch holiday movies! I am sure Caleb will want to watch Polar Express for the millionth time, but I am in the mood for Home Alone 2. 🙂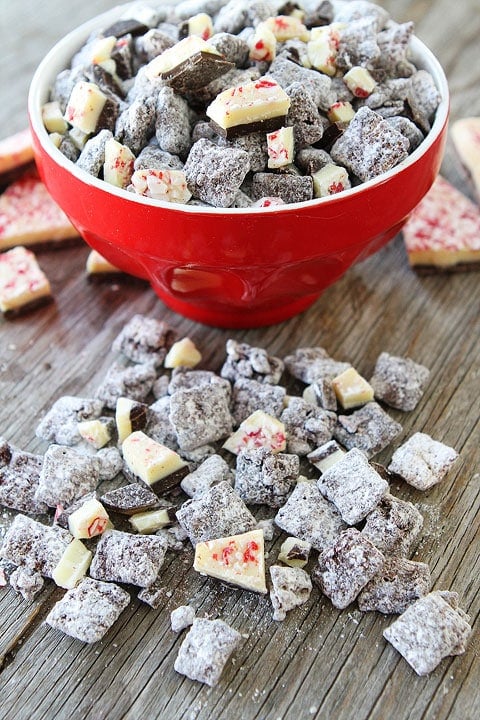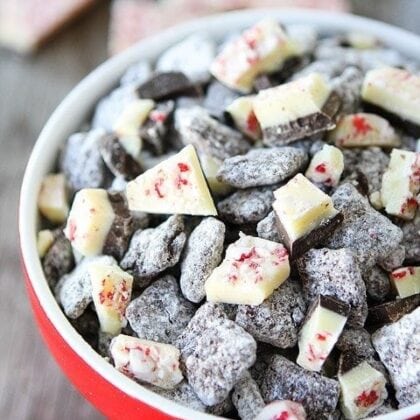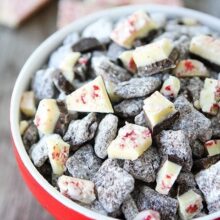 Peppermint Bark Chocolate Chex Mix
Peppermint Bark Chocolate Chex Mix-make a big batch to share with your family and friends!
Instructions
1. Pour the Chex cereal into a large bowl. Set aside.

2. In a medium microwavable bowl, melt the chocolate chips. Heat for 1 minute then stir. Heat for an additional 30 seconds and stir again. Continue with additional 30 seconds until completely melted and chocolate is smooth. Pour the chocolate over the Chex cereal. Gently stir until cereal is well coated. Stir in the crushed candy canes until the cereal is evenly coated.

3. Pour the cereal onto a large baking sheet. Sprinkle cereal with powdered sugar until well coated. Let the Chex Mix sit until chocolate is dry, about 15 minutes. Add the chopped peppermint bark and serve!

Note-you can store the Peppermint Bark Chocolate Chex Mix in an air tight container for 3-4 days. It never lasts long in our house:)
Have you tried this recipe?
Leave a comment below and share a photo on Instagram. Tag @twopeasandpod and hashtag it with #twopeasandtheirpod