Last week we had our good friend over to celebrate his birthday. Josh cooked the creamy lemon chicken dinner by himself, so I offered to make dessert. I baked a cake to keep things traditional.
We love citrus fruits-especially when they come in dessert form:) We usually do lemon or lime cakes, but we had an abundance of pink grapefruit in the refrigerator (it was on sale 8 for $1-score) so this time I created a pink grapefruit cake. I wanted the cake to have a strong grapefruit "punch" so I added a good amount of grapefruit zest into the cake. For the best results, rub the zest with the granulated sugar before adding it to the rest of the ingredients. The grapefruit scent really comes alive when you do this.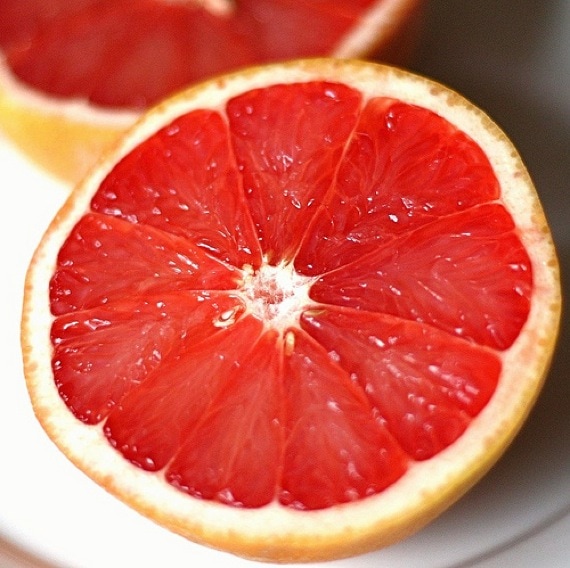 I wanted the cake to be really moist-I hate dry cake, so I used homemade Greek yogurt and canola oil. I didn't even need a mixer for this cake, it was so easy to put together. I poured the batter into a 9 inch round cake pan and baked it for 25 minutes. I am not a big frosting person, but wanted to top the cake off with something special, so I made a grapefruit syrup and glaze to intensify the flavors. The syrup seeped into the cake, locking in the grapefuity goodness! The glaze made the cake shine like the sun on a hot summer day.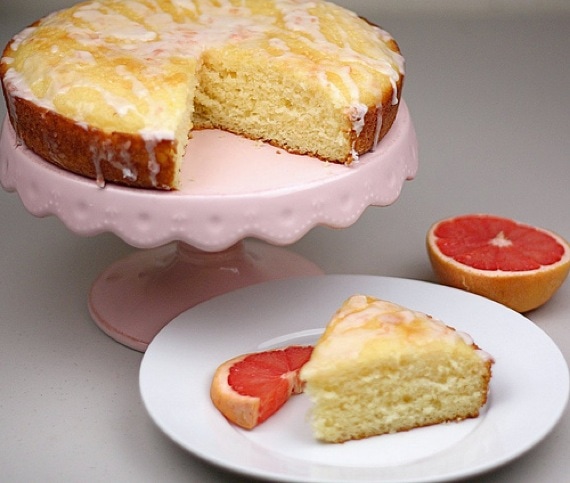 I was a little worried this cake would be too "girly" for the guys, but they loved it! The grapefruit flavor wasn't too tart, it was just right. This grapefruit cake is perfect for any celebration.I think it would be perfect for a baby or bridal shower. I plan on making this cake again and again!
Thanks for all of your concern about my neck. I am feeling much better, not 100%, but better. I was able to run on Saturday, it felt great to be up and moving. Have a great Monday!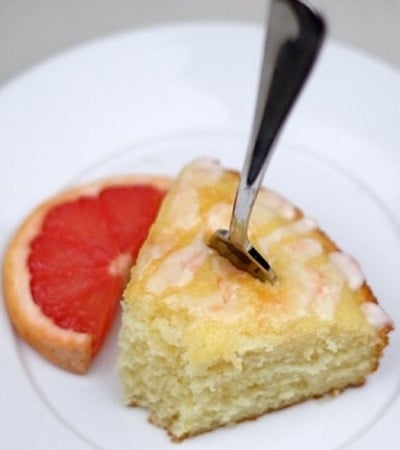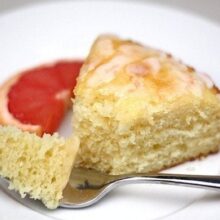 Pink Grapefruit Yogurt Cake
Ingredients
3/4

cup

plain Greek yogurt

1

cup

granulated sugar

Zest of 1 ½ pink grapefruits

1 1/2

cups

all purpose flour

2

teaspoons

baking powder

1/4

teaspoon

salt

1/2

teaspoon

vanilla

1/3

cup

canola oil

Grapefruit Syrup

1/4

cup

freshly squeezed grapefruit juice

2

T

granulated sugar

Grapefruit Glaze

1/3

cup

powdered sugar

2-3

T

freshly squeezed grapefruit juice
Instructions
Preheat the oven to 350F. Spray a 9-inch round cake pan with cooking spray. Dust lightly with flour too. Set pan aside.

In a medium bowl, whisk together the flour, baking powder, and salt. Set aside.

In a small bowl, add the grapefruit zest to the sugar. Rub together with your fingers until fragrant. In a large bowl, mix together the yogurt, sugar, and zest with large spoon or spatula. Whisk in the eggs-you can do all three at once. Mix until smooth and then add in the vanilla and stir again.

Add the flour mixture to the wet ingredients. Mix just until flour is incorporated.

Add the oil and mix well. It might take a minute to get the oil mixed in, but it will.

Pour the batter into your prepared cake pan. Bake for 25-30 minutes, until your cake tester comes out clean and the cake springs back when lightly touched in the center.

Cool on a cooling rack for about 15 minutes and then remove from the pan. While the cake is cooling make the syrup and glaze.

For the syrup, in a small sauce pan add the grapefruit juice and sugar. Whisk over medium heat until the sugar dissolves.

For the glaze, in a medium bowl, whisk together the powdered sugar and grapefruit juice. If it is too thick, add more juice, if it is too runny, add more sugar.

Poke little holes into the cake with a toothpick. Spoon the grapefruit syrup over the cake and let it soak in. Let the cake cool to room temperature and then add the glaze. Drizzle over the top of the cake.
Have you tried this recipe?
Leave a comment below and share a photo on Instagram. Tag @twopeasandpod and hashtag it with #twopeasandtheirpod
If you like this cake, you might also enjoy:
Blueberry Lemon Loaf Cake from Two Peas and Their Pod
Coconut Lime Cake from Two Peas and Their Pod
Three Citrus Bundt Cake from Becks & Posh
Gluten Free Orange Cake from Elana's Pantry
Lemon Drenched Lemon Cake from Joy the Baker