Quinoa Fruit Salad with Honey Lime Dressing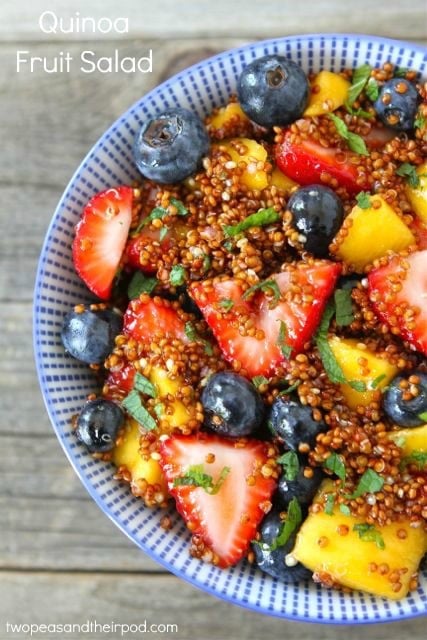 I am a fruit fanatic, especially in the summer. I eat fruit with every meal and snack on various fruits throughout the day. When it is hot outside, sometimes all I want to eat is fruit. My latest obsession is this Quinoa Fruit Salad with Honey Lime Dressing. It is light and refreshing and perfect for a hot summer day.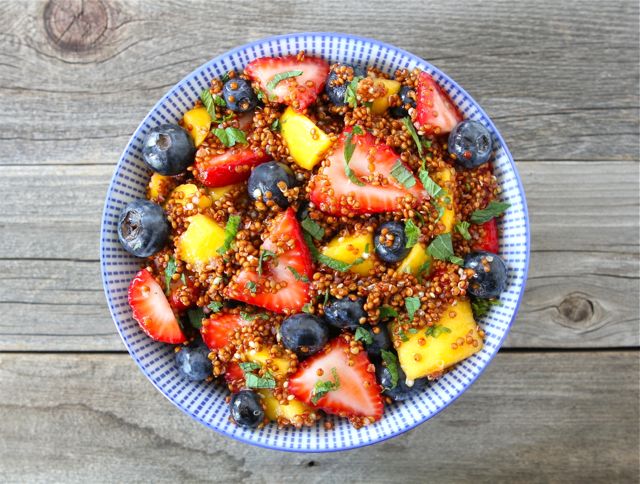 For this particular Quinoa Fruit Salad, I used blueberries, strawberries, and mango. Feel free to use whatever fruit you like-peaches, blackberries, raspberries, kiwi, and pineapple are great options. I like to mix it up with whatever fruit I have in the fridge. I also used red quinoa, but any variety of quinoa will work. I just like the pop of color the red quinoa adds to the salad.
The Honey Lime Dressing is easy to whisk together and is the perfect ending to the colorful Quinoa Fruit Salad. I also added in a touch of fresh mint because our backyard is being taken over by mint…and it adds a refreshing kick.
If you are looking for a new fruit salad to make this summer, give this easy and healthy Quinoa Fruit Salad with Honey Lime Dressing a try! It goes well with any summer meal and is a great way to enjoy all of the fine fruits summer has to offer.
Make sure you check out our Berry Quinoa Salad too!
Quinoa Fruit Salad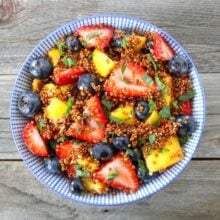 Quinoa with blueberries, strawberries, mango, and a refreshing honey lime dressing. This easy and healthy Quinoa Fruit Salad goes well with any summer meal.
Yield: Serves 6-as a side dish
Prep Time: 5 minutes
Cook Time: 20 minutes
Total Time: 25 minutes
Ingredients:
For the Quinoa:
1 cup quinoa (I used Red Quinoa)
2 cups water
Pinch of salt
For the Honey Lime Dressing:
Juice of 1 large lime
3 tablespoons honey
2 tablespoons finely chopped fresh mint
For the fruit:
1 1/2 cups blueberries
1 1/2 cups sliced strawberries
1 1/2 cups chopped mango
Extra chopped mint, for garnish-optional
Directions:
Using a strainer, rinse the quinoa under cold water. Add quinoa, water, and salt to a medium saucepan and bring to a boil over medium heat. Boil for 5 minutes. Turn the heat to low and simmer for about 15 minutes, or until water is absorbed. Remove from heat and fluff with a fork. Let quinoa cool to room temperature.
To make the Honey Lime Dressing: In a medium bowl, whisk the lime juice, honey, and mint together until combined.
In a large bowl, combine quinoa, blueberries, strawberries, and mango. Pour honey lime dressing over the fruit salad and mix until well combined. Garnish with additional mint, if desired. Serve at room temperature or chilled.
Note-Use your favorite fruit in this salad. Blackberries, peaches, kiwi, raspberries, pineapple, grapes, etc. are great options!
All images and text ©
Two Peas & Their Pod
.
Follow twopeasandpod on Instagram and show us what recipes you are making from our blog! Use the hashtag #twopeasandtheirpod! We want to see what you are making in your kitchen!
If you like this Quinoa Fruit Salad with Honey Lime Dressing, you might also like: