Berry Quinoa Salad
Berry Quinoa Salad-red quinoa with strawberries, blackberries, raspberries, blueberries, almonds, herbs, and a simple citrus dressing. This healthy fruit salad is a summer favorite!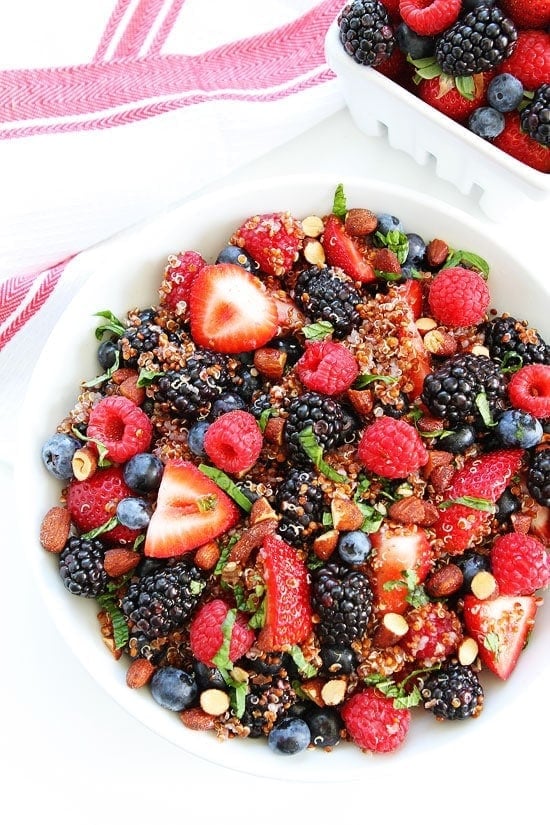 We decided to make a family summer bucket list and our list has me very excited for summertime. I won't bore you with the entire list, but a few things include: visit the farmers market, make popsicles, hike Cecret Lake, go to an outdoor concert, fly kites, picnic at the multiple parks, host an ice cream party, go camping (Josh and Caleb), go to the zoo, go on family bike rides, and eat lots of s'mores. What's on your summer bucket list?
I am always trying to get my boys to eat more fruits and vegetables so I added eat lots of fresh summer produce to our bucket list. If it's on the list, we have to do it:) We are off to a good start because I made a Berry Quinoa Salad and all of my boys gobbled it up. Maxwell was even reaching for more berries.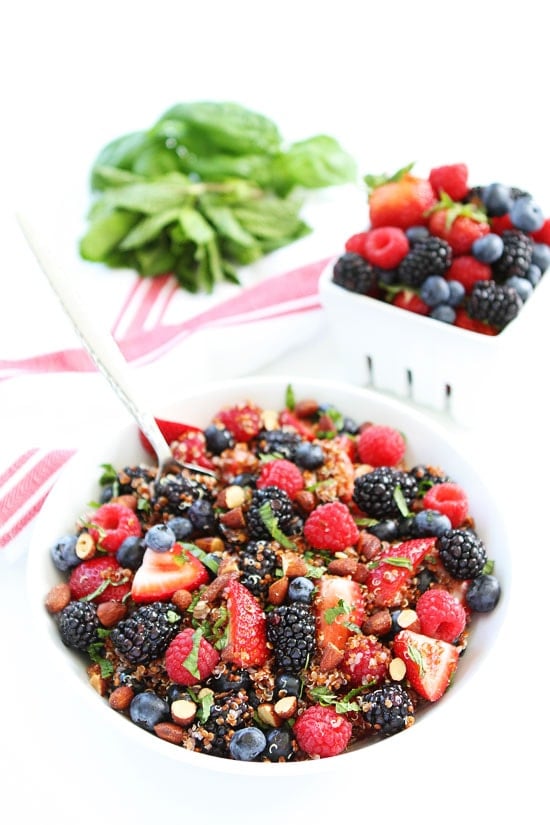 I knew I would be safe if I made a berry salad. When I buy berries, they never last long. They are a favorite snack at our house. Caleb loves putting  raspberries on his fingers so he can easily pop them in his mouth. He calls them raspberry puppets:)
For this salad, I used raspberries, blackberries, blueberries, and strawberries! They are all so good right now, so why not use them all? The more the merrier!
I wanted to turn the berries into a substantial salad so I added quinoa to the mix. I used red quinoa because it is pretty with the berries, but if you can't find it, you can use regular quinoa.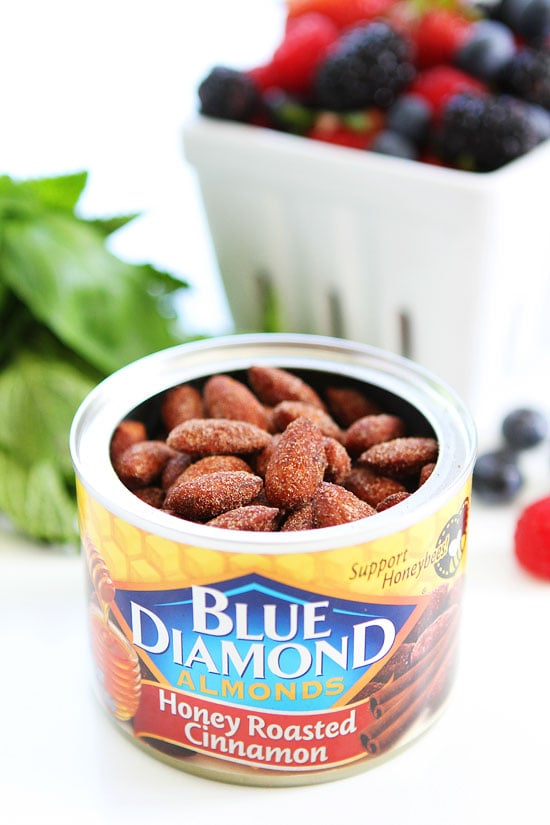 I also added Blue Diamond's Honey Roasted Cinnamon Almonds. They are my favorite almonds. I could eat the entire can in one sitting. They add the perfect crunch and sweetness to the salad.
Before serving, I added a simple citrus honey dressing and freshly chopped basil and mint.
This Berry Quinoa Salad is summer in a bowl!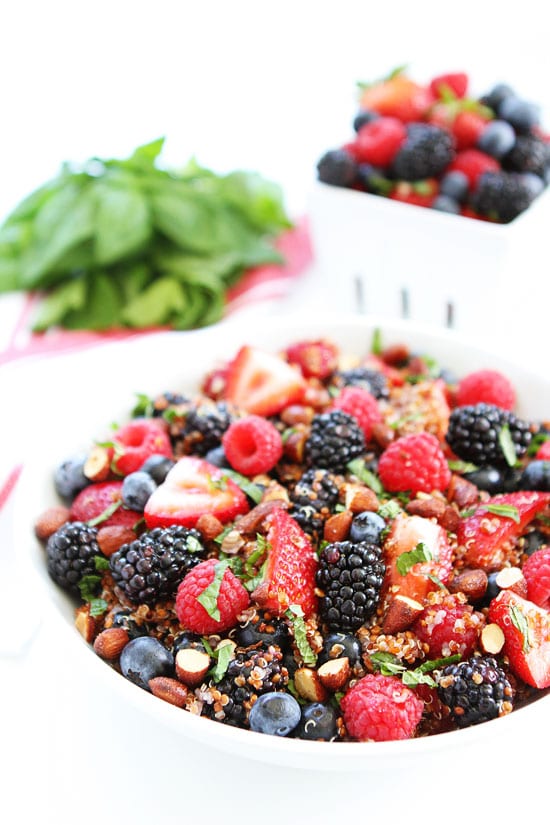 I served the Berry Quinoa Salad as a side dish, but it would be good for breakfast or as a healthy snack. I love the protein boost from the quinoa and almonds and the berry medley is fabulous!
Make sure this Berry Quinoa Salad is on your summer bucket list. It is easy to make and the perfect fruit salad for summertime!
Berry Quinoa Salad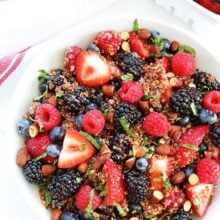 This healthy fruit salad is a summer favorite! It is great for breakfast, snack time, or served as a side dish.
Yield: Serves 6
Prep Time: 15 minutes
Total Time: 15 minutes
Ingredients:
Citrus Honey Dressing:
1 teaspoon orange zest
4 tablespoons fresh orange juice
2 tablespoons fresh lemon juice
1 tablespoon fresh lime juice
1 tablespoon honey
1 teaspoon finely chopped mint
1 teaspoon finely chopped basil
For the Salad:
2 cups cooked red quinoa
1 1/2 cups strawberries, cut in half
1 cup raspberries
1 cup blackberries
1 cup blueberries
1 cup roughly chopped Blue Diamond Honey Roasted Cinnamon Almonds
1 tablespoon finely chopped mint
1 tablespoon finely chopped basil
Directions:
First, make the dressing. In a small bowl or jar, whisk together the orange zest, orange juice, lemon juice, lime juice, honey, mint, and basil. Set aside.
In a large bowl, combine cooked quinoa, strawberries, raspberries, blackberries, blueberries, almonds, mint, and basil. Gently stir. Drizzle citrus honey dressing over the salad and gently stir again. Serve.
Note-if you can't find red quinoa, you can use regular quinoa. Cook the quinoa according to package instructions. The quinoa can be made in advance. Make sure it is cool before making the salad. The salad is best the day it is made.
All images and text ©
Two Peas & Their Pod
.
Follow twopeasandpod on Instagram and show us what recipes you are making from our blog! Use the hashtag #twopeasandtheirpod! We want to see what you are making in your kitchen!
Disclosure-this post is in partnership with Blue Diamond Almonds, but our opinions are our own. Thank you for supporting the brands that continue to make Two Peas and Their Pod possible.