We are still "vacationing" at our family friend's house while we finish our kitchen remodel. We miss our neighborhood, own bed, and kitchen, but we are extremely grateful to have a nice place to stay while our house is under construction. One of the best parts of staying with our family friends is Sunday dinner. It is quite the event-yesterday there were 18 people at the table. We enjoyed a tasty meal with an amazing dessert-raspberry bread pudding.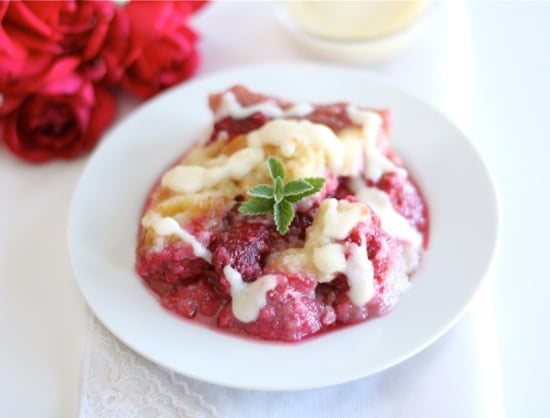 In Utah, there is a popular bakery and cafe' called Kneaders. I have eaten there before-they have a great veggie sandwich, but I have never had their desserts. I guess they are well known for their raspberry bread pudding, our friends were raving about it. Bread pudding loaded with raspberries and topped off with a vanilla cream sauce-it sounded heavenly! Luckily, I didn't have to wait long to try it, we made it for Sunday night dessert.
The recipe is loaded with cream and butter-a good sign for your taste buds, maybe not your hips:) If you want to indulge, go ahead and use cream. We lightened up the recipe by using 2% milk and it was still really rich. The red raspberries add nice color and a burst of robust flavor to the bread pudding. The vanilla cream sauce takes this dessert over the top! We drizzled a spoonful over each serving of bread pudding. This dessert is decadent and comforting.
Thank you to our friends for introducing us to Kneaders famous raspberry bread pudding. We are grateful to have such wonderful friends who share their home, kitchen, and favorite desserts.
Raspberry Bread Pudding
Instructions
1. Preheat the oven to 375 degrees F. In large bowl combine cream, sugar, egg and vanilla extract. Add bread cubes to the cream mixture. Mix until all of the bread cubes are well coated. Let sit for 30 minutes so the bread can soak up the cream mixture. Stir every five minutes.

2. In a medium bowl, combine the raspberries, sugar, and apple juice. Stir until the sugar is dissolved.

3. Layer a 9x13 baking dish ¾ full with bread mixture, pour raspberry filling over bread mixture, spreading evenly, top with remaining bread. Place in the oven and bake for 40 minutes.

4. While the bread pudding is baking, make the vanilla sauce. In a medium sauce pan, melt butter and add flour. Stir for about 10 minutes or until the sauce has a nutty aroma, do not brown. Add cream and sugar and boil until mixture is thick, remove from heat and add vanilla extract.

5. Remove bread pudding from oven and cool for 10-15 minutes. Serve warm and top with vanilla sauce.
Have you tried this recipe?
Leave a comment below and share a photo on Instagram. Tag @twopeasandpod and hashtag it with #twopeasandtheirpod
If you like this raspberry bread pudding, you might also like:
S'mores Bread Pudding from Baking Bites
Banana Bread Pudding from Evil Shenanigans
Blueberry Bagel Bread Pudding from Sugar Plum