I haven't done a kitchen remodel update in quite some time. Honestly, I am a little embarrassed by the way our home looks. If you didn't know we were remodeling, you would probably guess that we were caught in the middle of a tornado. I have tried to clean, but it really doesn't help. Our house is just one big mess.
We actually moved out of our house a week ago. Josh stepped on a nail and was in pain for a couple of days. That was the last straw for me, I was sick of living in a construction zone. Luckily, our dear friends took us in and have been beyond generous in letting us use their home and kitchen. Josh still goes to the house every day to work. He has been putting in long hours.
Josh ripped up the old wood floor in the kitchen and dining room. We also had someone come in and sheet rock, mud, and texture the kitchen and dining room. Josh painted the entire upstairs. We went with a light grey in the living room. The kitchen is mostly white, with a charcoal accent wall. I love it! For the record, I did help paint:)
Josh is almost done with the hard wood floors. He laid the new flooring this week in the kitchen and dining room. Today he is sanding the entire upstairs and will stain and refinish the floors. It is finally starting to look like a house again:) The cabinets go in on Wednesday! I can't wait!
Here are some photos of our recent progress. Note-some of these photos were taken with Josh's old camera at midnight, sorry!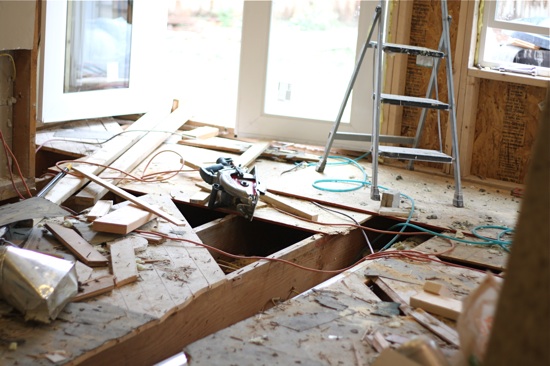 Josh had to rip up the old flooring. Talk about a mess!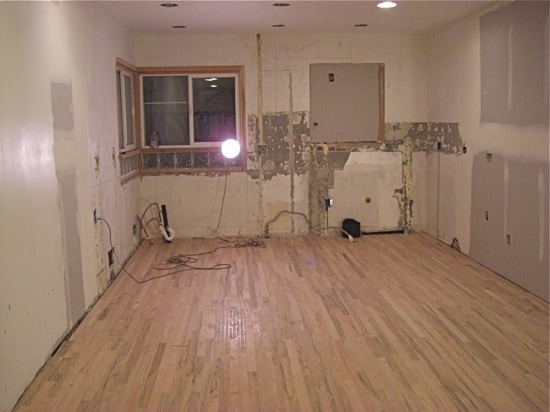 The new floor-it still needs to be stained and refinished.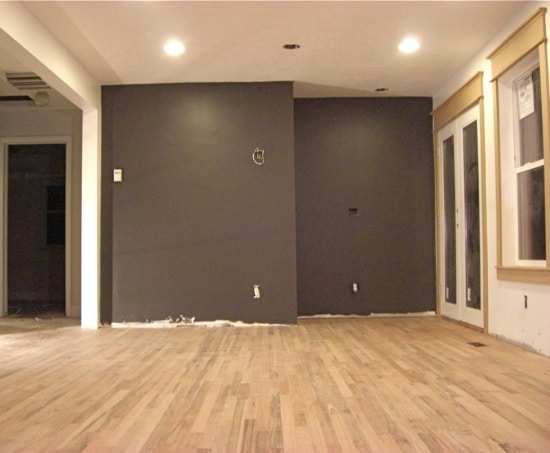 The charcoal accent wall.
So there you have it! We are still hanging in there. Thanks to everyone who has offered their help with the house, advice, brought us meals, support, etc. We can't wait to finish our kitchen so we can repay the many favors. I owe a lot of people cookies:)
If you want to see our other kitchen remodel posts, see below.