Today is my birthday!! I love birthdays, they are so fun! I don't understand why some people hate celebrating their birthdays. I love having a special day! I know getting older can be a downer for some, but I don't feel that way. I like getting older and wiser:) I am a whopping 27 years old now!!
Josh is taking me out for sushi tonight and tomorrow he is throwing me a dessert party with some friends. He is too good to me!! I am sure this will be the best birthday ever!!!
We are celebrating with cookies today! Josh informed me the other day that he has never had a butterscotch cookie. I was shocked! So of course I had to whip up a batch of Butterscotch Oatmeal cookies for him to try! I love butterscotch and oatmeal together.
This time I used quick oats, I NEVER use quick oats in my oatmeal cookies, but that is what Josh measured out…so I decided to go with it. I was very skeptical at first, until I took a bite. I loved these cookies! They were nice and thick and full of oatmeal butterscotchy goodness!! And Josh really enjoyed them! This won't be the last time he has a butterscotch cookie!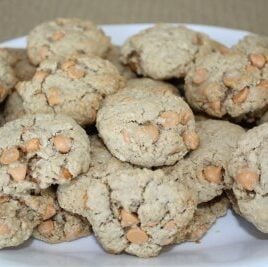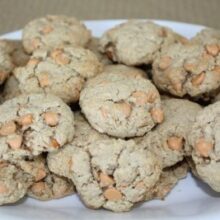 Butterscotch Oatmeal Cookies
Ingredients
3/4

cup

1-½ sticks butter, softened

3/4

cup

granulated sugar

3/4

cup

packed light brown sugar

2

eggs

1 1/2

teaspoon

vanilla extract

1-1/4

cups

all-purpose flour

1

teaspoon

baking soda

1

teaspoon

ground cinnamon

1/2

teaspoon

salt

3

cups

quick-cooking oats

2

cups 

butterscotch chips 
Instructions
Heat oven to 375°F.

Beat butter, granulated sugar and brown sugar in large bowl until well blended. Add eggs and vanilla; beat well.

Combine flour, baking soda, cinnamon and salt; gradually add to butter mixture, beating until well blended. Stir in oats and butterscotch chips; mix well. Drop by heaping teaspoons onto ungreased cookie sheet.

Bake 8 to 10 minutes or until golden brown. Cool slightly; remove from cookie sheet to wire rack. Cool completely. About 4 dozen cookies.
Have you tried this recipe?
Leave a comment below and share a photo on Instagram. Tag @twopeasandpod and hashtag it with #twopeasandtheirpod