These homemade cinnamon rolls are the BEST! Everyone that makes them falls in love! They are great for breakfast, brunch, and holidays.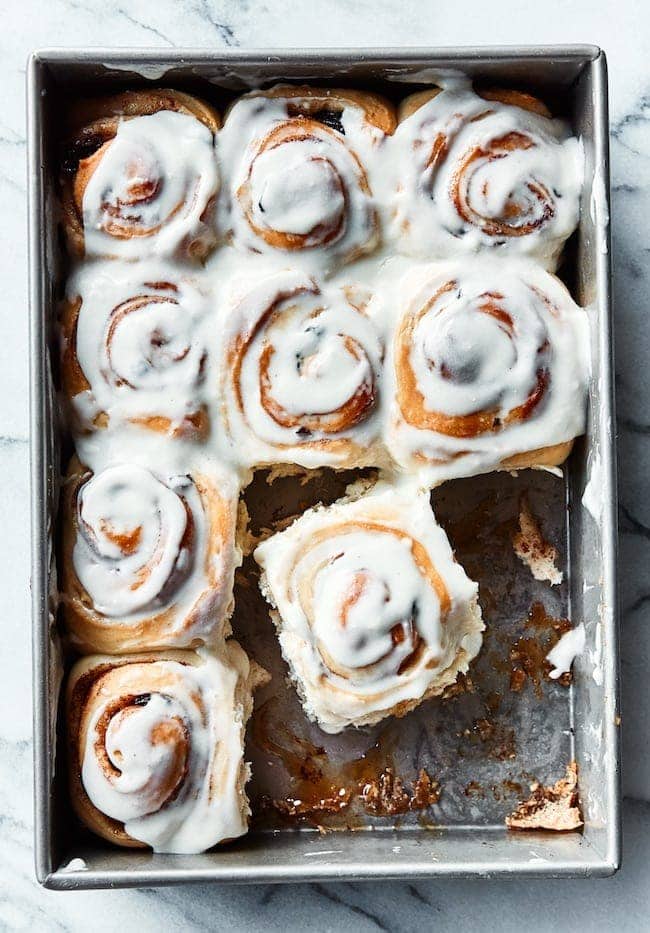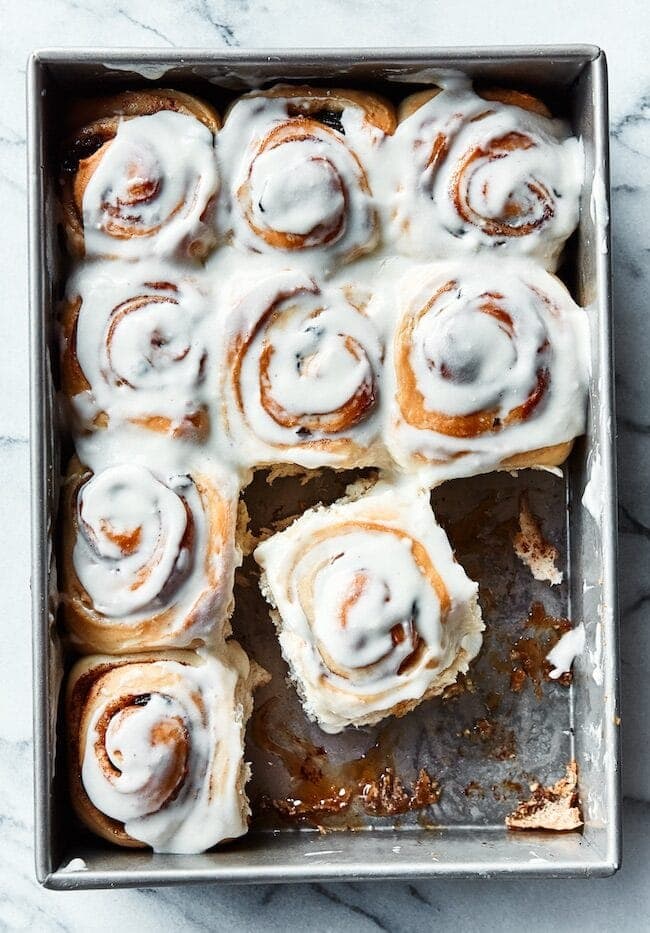 This cinnamon roll recipe is a family favorite. It was my grandmother's recipe, but my dad has perfected it over the years. We refer to them as "Parry Rolls." Everyone knows about these rolls and they are the most often requested. My dad likes to share the recipe, but he would rather just bake up a big batch for anyone and everyone. His are the BEST!
I shared this recipe when I first started my blog, before I even knew it would be a food blog and the cinnamon rolls have been the most popular recipe on our site since day one! I have updated the photos and I am sharing some additional tips! These really are the BEST cinnamon rolls! You HAVE to make them!
Yeast
A lot of people are intimidated by baking with yeast but I'm here to tell you that you CAN do it. It isn't hard, I promise!
First, check the date on your yeast to make sure it hasn't expired. You always want to start with fresh yeast.
We use active dry yeast, which needs to be mixed with water. Sprinkle the yeast over lukewarm water and wait. Your yeast will start to activate. It will get frothy and start to smell…well, yeasty! Pro tip-if you want to give the yeast a little help, you can add a pinch of sugar to help it grow.
If you want to use instant yeast, you can. My dad always uses it the same way, but you can add it with the dry ingredients and just add the warm water separately.
Your water should be right at 110* for yeast to activate. Water at this temperature feels hot, but it won't burn your hand if you hold it under the stream. If the water is too hot it will kill your yeast, so be careful.
Shortening or Butter?
The original recipe calls for shortening, but we have started using unsalted butter and both ingredients work well. Use your favorite!
Mixing the Dough
I like to use a KitchenAid Stand Mixer to mix together the dough. If you don't have a stand mixer, you can knead the dough by hand, it will just take longer. You will get a good arm workout:)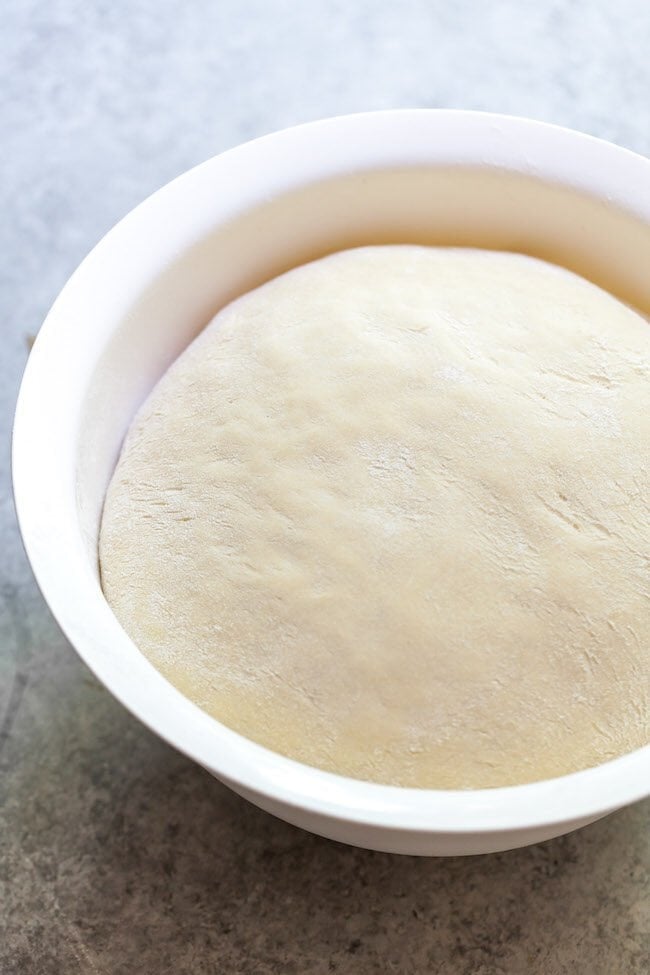 First Rise
The cinnamon roll dough has to rise twice. Once after you form the dough and once after you cut the dough into cinnamon rolls. Find a warm place in your house so the dough can rise nicely and cover the dough with a clean kitchen towel.
Rolling Out the Dough
This recipe makes two 9×13 pans of cinnamon rolls and that may sound like a lot but I guarantee they won't last long. If you want to half the recipe, you can, but if you are going to go to all the trouble to make cinnamon rolls, make a bunch and share with family and friends.
Divide the dough in half and roll half of the dough into a rectangle, about 22×13-inches, on a lightly floured surface. Make sure you flour the area before rolling or the dough will stick.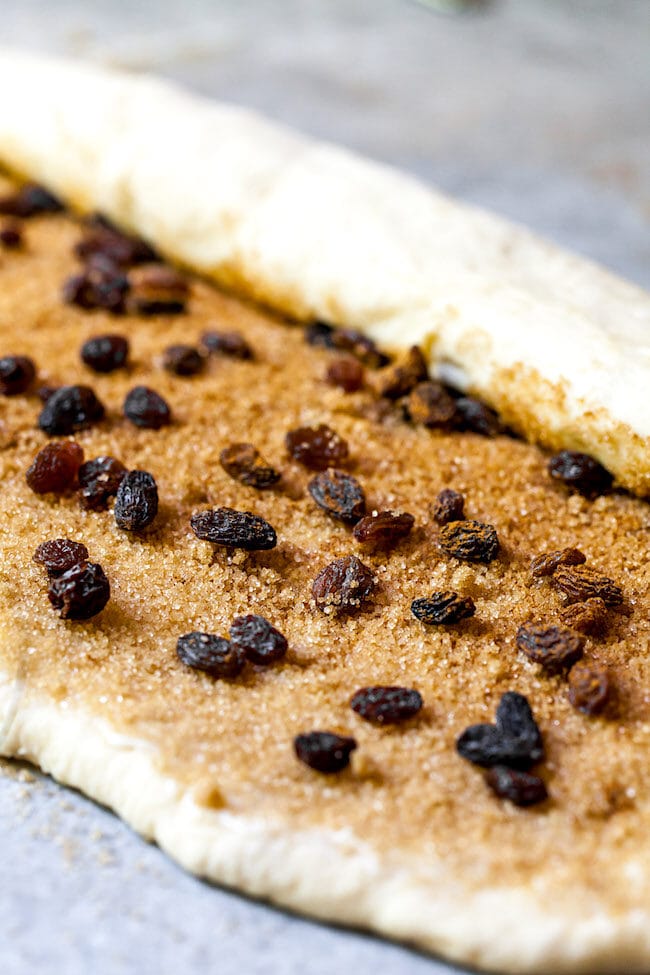 The Filling
When you spread the "goods" onto the dough, make sure you go all out. My dad never holds back! You want the cinnamon rolls to have lots of flavor and the flavor comes from the filling. So be very generous with the:
Softened Butter
Brown sugar
Cinnamon
Raisins
If you don't care for raisins, you can leave them out, but our family loves them.
Cutting
Once the filling is spread on the dough, carefully roll the dough into a long log. Now, it's time to cut the log into cinnamon rolls.
My dad uses unflavored floss to cut the dough into rolls! This is the secret to perfectly sliced rolls that hold their shape. Pull up the ends of the floss and loop them together as though you were going to tie a knot. Tightly pull the floss until it slices through the dough. You can also use a sharp knife to cut them.
Second Rise
Place the cut cinnamon rolls in greased 9×13-inch pans, leaving about 2 inches in between each roll. The rolls will get bigger when they rise so you want to make sure you leave room for them to expand.
Cover the pans with clean kitchen towels and place in a warm place to rise.
Let the cinnamon rolls rise until doubled in size. This will take about one hour or 1.5 hours.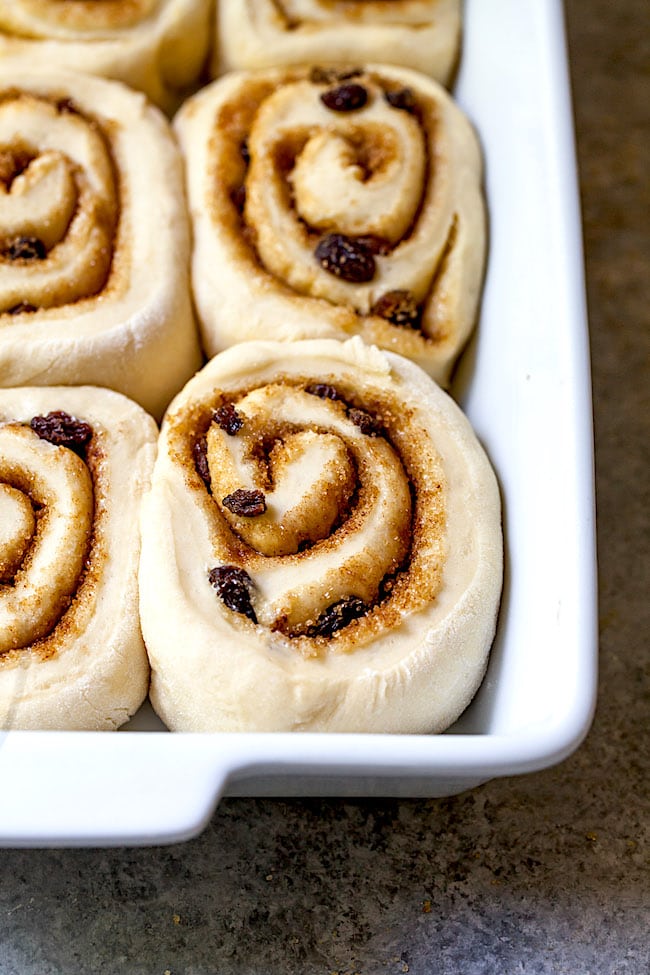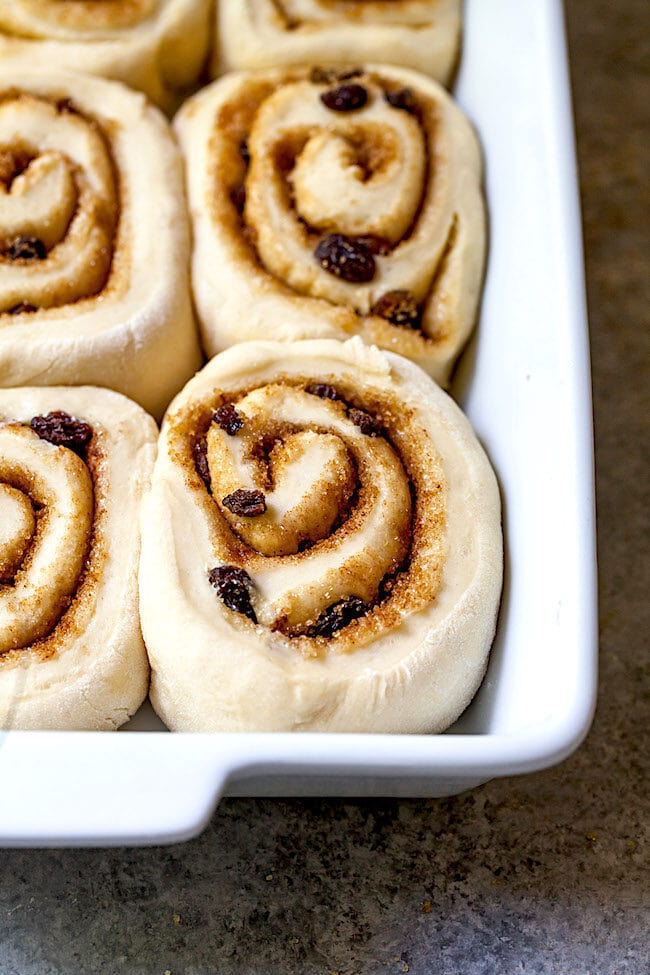 Baking
Preheat the oven to 350 degrees F. Bake the cinnamon rolls for 20 to 30 minutes or until the tops are golden brown and the centers are soft, but not gooey. Every oven is different so check at 20 minutes. Ours usually take right around 30 minutes to bake. Remove from the oven and let cool to room temperature before frosting.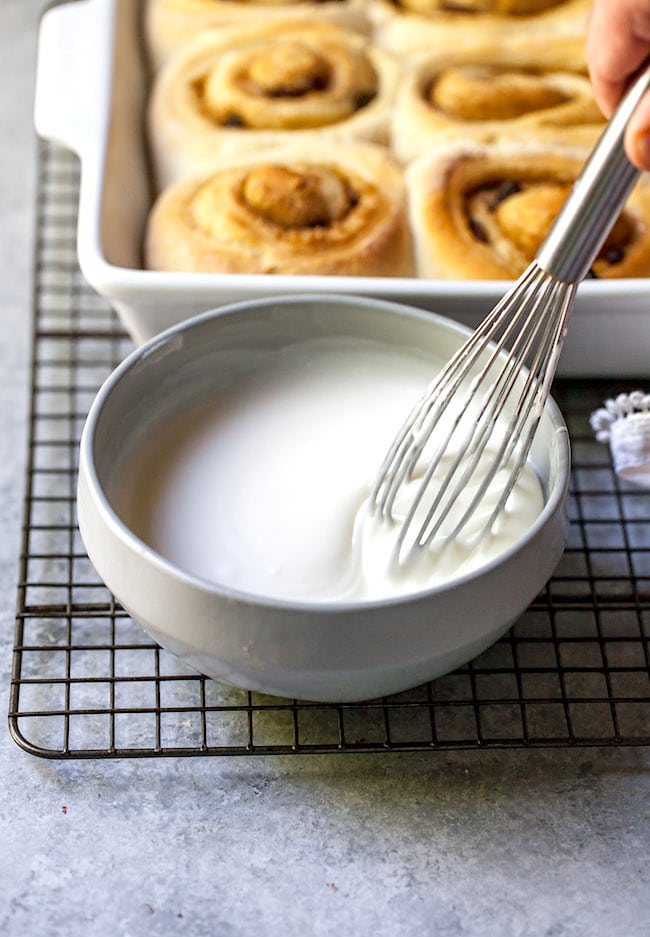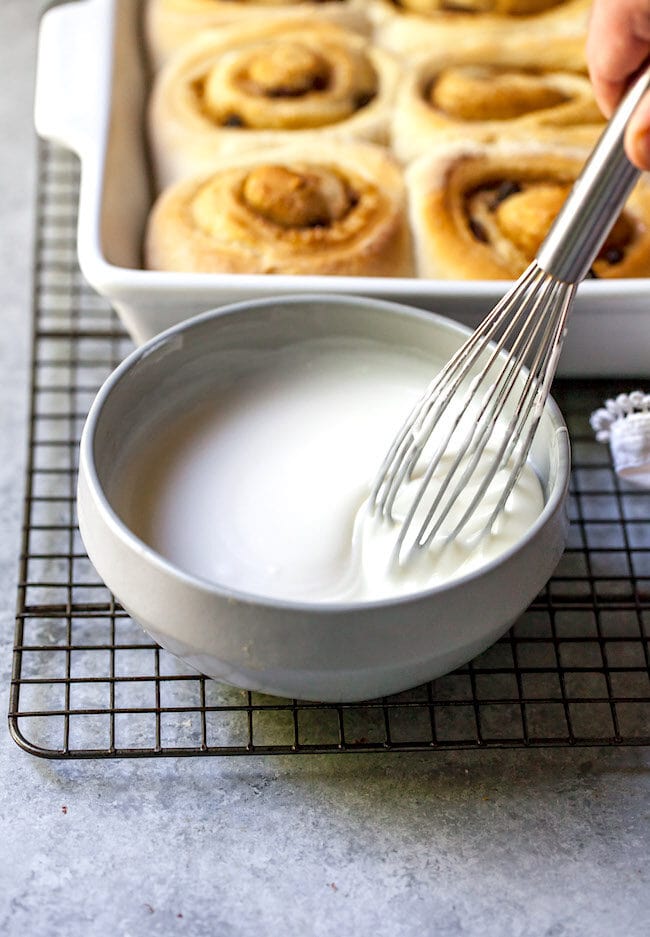 Icing
Making my dad's cinnamon roll icing is as easy as beating the butter, powdered sugar, vanilla, and whole milk together! Just make sure your butter is softened. Drizzle generously over warm cinnamon rolls and ENJOY.
If you prefer a cream cheese frosting, you can make a cream cheese frosting for the cinnamon buns.
Making in Advance
You can refrigerate the rolls overnight and bake in the morning. Don't let the dough rise a second time if you are going to do this. Put the rolls in pans and cover with plastic wrap, then refrigerate overnight. In the morning, let them come to room temperature and give them time to rise. This will take 2-3 hours, depending on the temperature of your house. Then bake as directed!
How to Freeze
Cinnamon rolls freeze beautifully and you can freeze them a few different ways.
You can freeze unbaked cinnamon rolls. If I am going to freeze unbaked cinnamon rolls, I like to put them in aluminum foil disposable pans so I can put them in the freezer. After the second rise, bake the cinnamon rolls for 12 minutes. You want them to be raised and set, but not golden brown. Remove from the oven and cool completely. Cover the pans tightly with plastic wrap and aluminum foil and freeze for up to 2 months. When ready to bake, remove the pans from the freezer and place in the refrigerator to defrost. Once thawed, finish baking for 10 to 15 minutes, or until golden brown and frost.
Baked cinnamon rolls can be frozen for up to 2 months. Place completely cooled cinnamon rolls in a freezer container or bag. Remove from the freezer the night before and thaw in the refrigerator. Warm up the cinnamon rolls in the microwave or oven. You can freeze frosted or unfrosted cinnamon rolls.
More Sweet Roll Recipes:
Parry Rolls
These are a few of the original photos of my dad, Parry, making cinnamon rolls. He is the master! I am so glad he shared his famous cinnamon roll recipe with our family and the world:) I hope you enjoy them as much as we do! They really are the BEST cinnamon rolls!
How to Make Cinnamon Rolls Video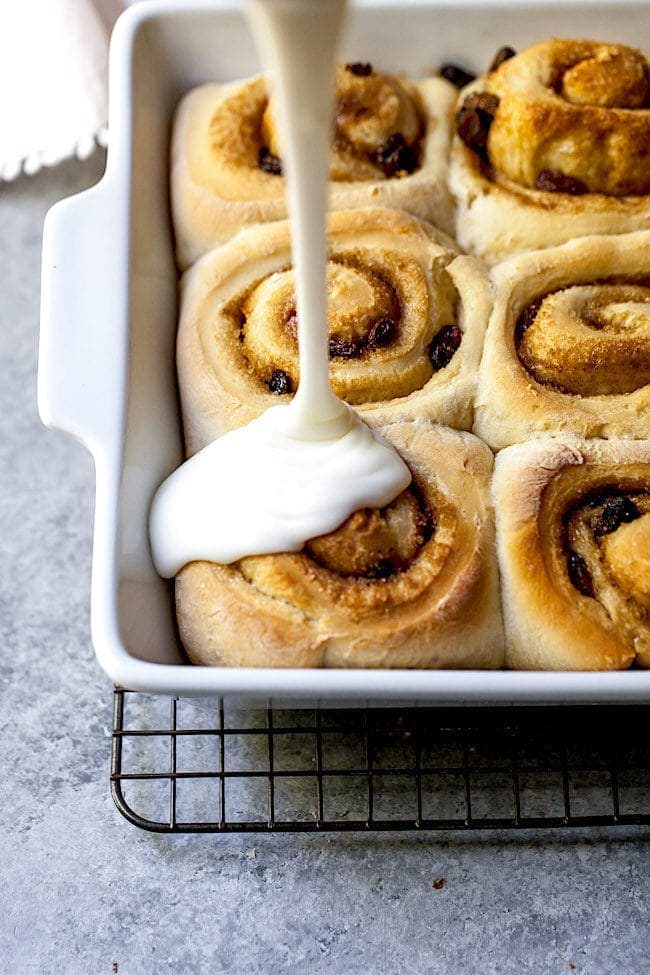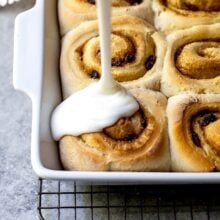 Best Cinnamon Rolls
My dad's famous cinnamon roll recipe. They are the BEST cinnamon rolls ever! We call them Parry Rolls!
Ingredients
For the Cinnamon Rolls:
4 1/2

teaspoons

active dry yeast

(2 packets)

1

cup

lukewarm water

1

teaspoon

granulated sugar,

to proof the yeast

6

tablespoons

shortening or unsalted butter

1

cup

granulated sugar

9

cups

unbleached all-purpose flour

(more if the dough is sticky, up to 10 cups)

2

cups

hot water

2

large eggs,

beaten

1

tablespoon

salt

½

cup

softened butter,

divided

1 1/2

cups

brown sugar,

divided

1

cup

raisins,

optional

2

tablespoons

ground cinnamon,

divided
Instructions
In a small bowl, combine the yeast and a pinch of the
granulated sugar with the lukewarm water and set aside for 5 minutes or until
the yeast bubbles up. It will smell "yeasty."

In the bowl of a stand mixer, add shortening or butter, sugar, and salt to the 2 cups of hot water and beat for 30 seconds, using the beater blade. Let cool to lukewarm temperature. Stir in 2 cups of flour and mix until smooth. Add yeast mixture and mix until well combined. Mix in the beaten eggs.

Gradually stir in the remaining flour and mix with the dough hook for about 2 minutes. Remove dough from the bowl and place on a lightly floured counter. Knead by hand, add a little flour if the dough is still sticky. Knead until dough feels satiny and smooth.

Cover and let rise for 30 minutes. After the dough has doubled in size, remove it from the bowl and divide it in half. With a rolling pin, roll one half of the dough into a rectangular shape, about 22 X 13 inches. Spread dough evenly with half of the softened butter, about ¼ cup. Sprinkle dough with half of the brown sugar, raisins, and cinnamon. You can omit the raisins, but my family loves them.

Roll up dough into one long roll. Cut rolls, using a piece of dental floss or thread, about two inches thick. Place rolls in greased 9X13-inch baking pans, leaving about 2-inches between the rolls so they have room to rise. Now follow the exact same steps with the other half of the dough.

Cover the pans with a clean kitchen towel. Let the rolls rise until double in bulk. Preheat oven to 350 degrees F. Bake for 20-30 minutes or until cinnamon rolls are golden brown on top and cooked in the middle. Every oven is different so check at 20 minutes to be safe, but it might take longer. You don't want them to be doughy in the middle. Time will also vary based on how big they get during the second rise. Ours take closer to 28-30 minutes. Remove from the oven and let the rolls cool to room temperature.

While the rolls are cooling, make the frosting. In a medium bowl, whisk together butter, sugar, milk, and vanilla. Frost the cooled cinnamon rolls generously!
Nutrition
Calories:
444
kcal
,
Carbohydrates:
84
g
,
Protein:
7
g
,
Fat:
10
g
,
Saturated Fat:
6
g
,
Cholesterol:
37
mg
,
Sodium:
364
mg
,
Potassium:
151
mg
,
Fiber:
3
g
,
Sugar:
42
g
,
Vitamin A:
289
IU
,
Vitamin C:
1
mg
,
Calcium:
35
mg
,
Iron:
3
mg
Have you tried this recipe?
Leave a comment below and share a photo on Instagram. Tag @twopeasandpod and hashtag it with #twopeasandtheirpod
Thanks for Sharing!
If you make this recipe, please leave a star rating and comment below! You can also share a picture on Instagram! Tag @twopeasandpod and use the hashtag #twopeasandtheirpod.