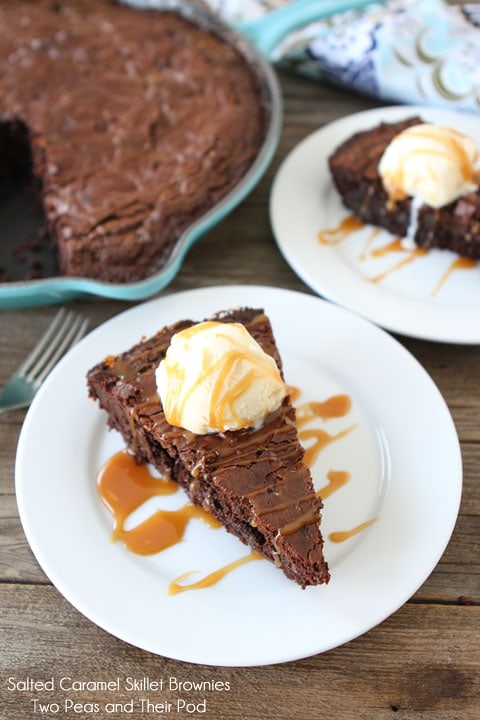 We got home from California last night and I am pretty exhausted so this is going to be short and sweet. And when I say sweet, I mean very sweet, as in Salted Caramel Skillet Brownies. Holy sweetness!
I hope you've all had the chance to make our Salted Caramel Sauce. It rocks the house and it rocks it all the way down! I made our salted caramel sauce a few weeks ago and I decided to play around instead of just eating it by the spoonful. I created not one, but three fabulous salted caramel recipes. I was going to space them out, but then I decided to go crazy and post them all in one week. So this week is officially salted caramel week on Two Peas and Their Pod. Fasten your seat belts and get ready for a sweeeeet ride. First up, Salted Caramel Skillet Brownies.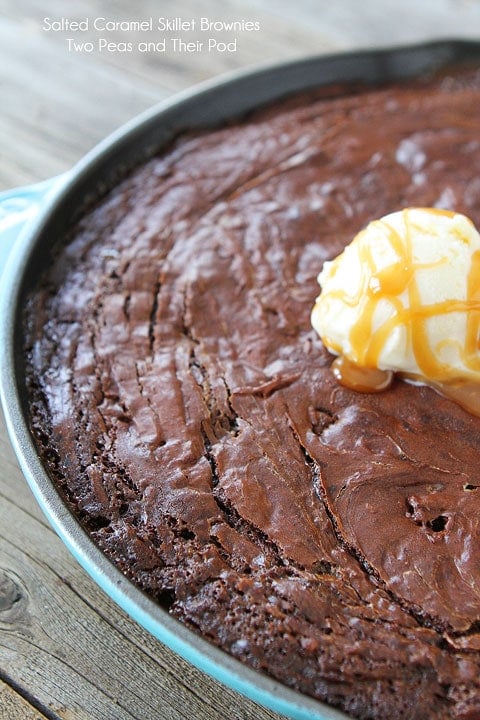 I appreciate elaborate fancy desserts, but my favorite desserts are always the classics-cookies and brownies. You can't go wrong! I will never turn down a good brownie. Well, maybe I should say no this week. I ate a few too many sweets on our trip. It's time to detox. But I am usually all for a fudgy chocolaty brownie.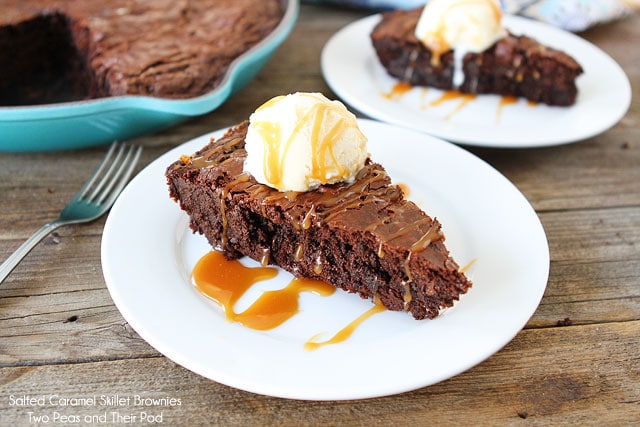 These brownies are extra special because they have salted caramel sauce swirled into the rich brownie batter. Oh yeah! I made the brownies in a cast-iron skillet because I love the rustic skillet look. You can make these in a 9×13 pan if you don't have a skillet. They are good either way.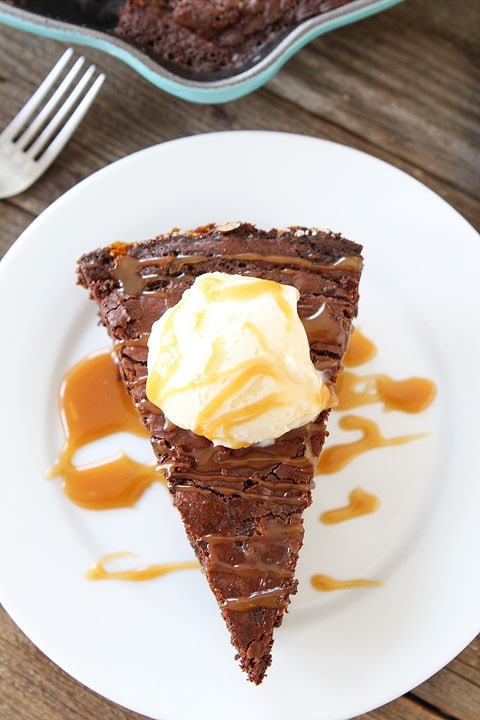 I topped the brownies with ice cream and extra salted caramel sauce. I about fainted after I took the first bite. I had a feeling they would be good, but WOW. These Salted Caramel Brownies are out of this world.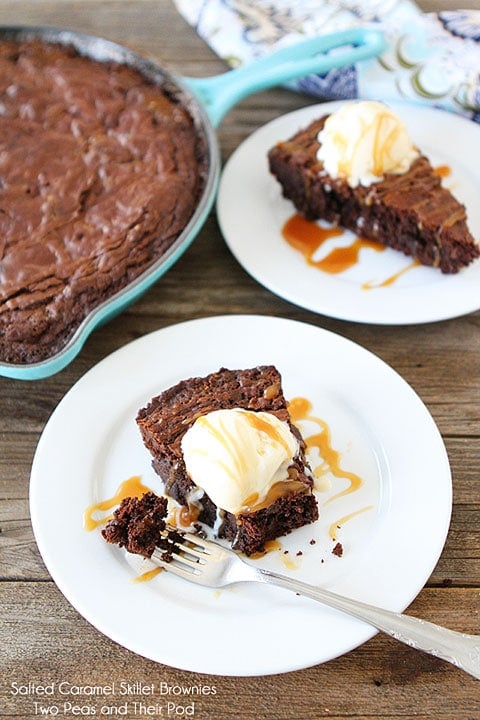 I was only going to eat a bite, but then I had another bite and another bite. I couldn't stop. They were so good! I licked my plate clean and went into a happy sugar coma.
Make a batch of Salted Caramel Sauce and get your brownies on! You all need to experience these Salted Caramel Skillet Brownies. They are life changing!
Make sure you come back for more salted caramel recipes this week. It's going to be a good week. I can feel it!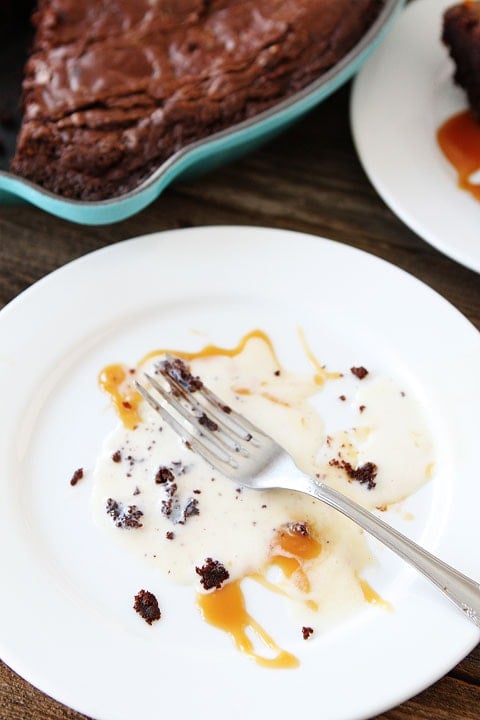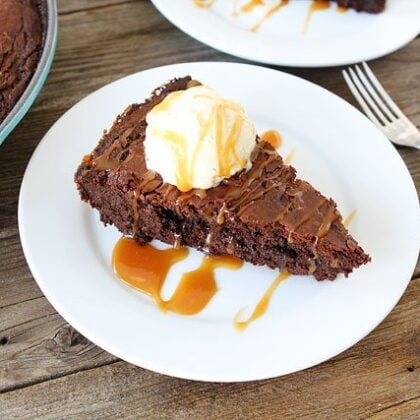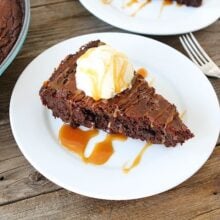 Salted Caramel Skillet Brownies
Fudgy skillet brownies with salted caramel swirled throughout! Top with ice cream and a drizzle of salted caramel and you will be in dessert heaven! We love these brownies!
Instructions
Preheat the oven to 350°F. Grease a 12-inch cast iron skillet and set aside.

In a large saucepan, melt the butter over medium heat. Add the sugar and stir to combine. Return the mixture to the heat and stir until smooth and the mixture is shiny.

Remove from heat and stir in the cocoa, baking powder, salt, and vanilla extract.

Whisk in the eggs, stirring until smooth.

Add the flour and chocolate chips. Stir until just combined.

Pour the brownie batter into the prepared skillet. Drizzle the salted caramel sauce over the brownie batter and gently swirl the caramel into the batter with a knife.

Bake the brownies for about 30-35 minutes or until a toothpick inserted into the center comes out with just a few moist crumbs clinging to it. The brownies will be a little gooey. Remove the skillet from the oven and cool completely on a rack before cutting and serving. Serve with ice cream and additional salted caramel sauce, if desired.

Note: If you don't have a skillet, you can use a 9x13 pan.
Have you tried this recipe?
Leave a comment below and share a photo on Instagram. Tag @twopeasandpod and hashtag it with #twopeasandtheirpod