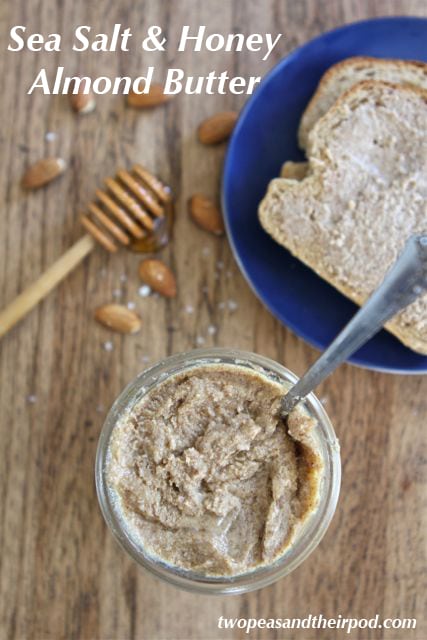 It's been a good, but busy week. I am so happy it is Friday! I hope to find time to relax this weekend. You never know with the little pea though, he never runs out of energy:) We've been walking three times a day and playing non-stop. Speaking of the little pea, today is his 7 month birthday! Happy birthday to our Caleb. The time sure is going quickly.
Ok, are you ready for an easy recipe? It's Friday so we all need a little break, right? This Sea Salt and Honey Almond Butter is as easy as they come. I found the recipe on Tasty Kitchen via the fabulous Erin of Naturally Ella. I love making homemade nut butters so when I saw a sweet and salty version, of course I tried it immediately.

There are only three ingredients involved: almonds, honey, and sea salt. I bet you have everything in your pantry right now. You do need a powerful blender or food processor, but that is it. You can have the most delicious nut butter in minutes without doing any work. Plus, it is much cheaper to make at home.
The honey and sea salt compliment the almonds perfectly. This trio is perfection! I love eating the Sea Salt and Almond Butter on toast, apple slices, and crackers. It also makes a killer sandwich. I spread the almond butter on whole wheat bread and add banana slices and an extra drizzle of honey. Oh yum! Store the almond butter in the fridge in a cute little jar or plastic container. And I won't tell if you take out the jar from the fridge and dig in with a spoon:) It's good all on it's own!
For the step-by-step photos and the Sea Salt and Honey Almond Butter recipe, visit the Tasty Kitchen Blog. Treat yourself to some easy homemade almond butter this weekend! It's the good stuff!
Our giveaway for Amy Atlas's new book, Sweet Designs, ends today! Hurry and enter! And don't forget you can now purchase a hard copy of Cookie Cravings! The e-book and iPad versions are still available too! And stay tuned, we will be launching a Kindle version on Amazon soon! You can get your cookies however you like them:) Happy weekend friends!