I hate secrets. If you ask me to keep a secret, I will, I am a trustworthy person, but sometimes I would rather not know. I get that we all need to have some secrets, but I still don't like them. I don't even like my own secrets. I am horrible at keeping my own secrets. Sometimes I will tell Josh not to tell people something and then I am the one opening my big mouth. It doesn't matter if the secret is big or small, I just don't like the burden of keeping a secret.

Well, today I am sharing a BIG secret. I can't take it any longer! This secret has been eating me up for weeks. I've wanted to tell you all so many times, but I stayed strong. I don't want to be strong anymore, I just want our secret out in the open.
So here it goes…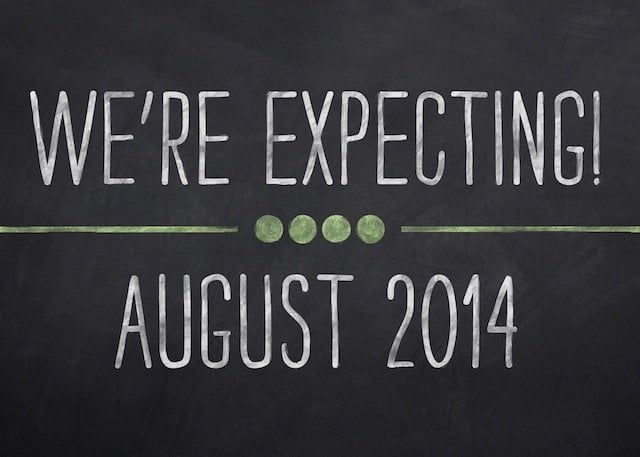 We are expecting a baby! Yep, another little pea! Our pod is getting cozy! We are SO SO excited! Aggh, it feels so good to get that off my chest.
I am 11 weeks pregnant and I know most people wait until 12 weeks to announce, but I told you, I hate secrets. I can't take it any longer. We went to our first appointment last week and everything is looking good. We heard the heartbeat and even saw our little, little baby.
It has been so hard to hide this from you…especially since I've been so sick. I started getting sick at 5 weeks and it hasn't left yet. I was sick for 21 weeks with Caleb, but I really hope it doesn't last that long this time around.
You might have noticed I've been a little absent on Instagram and social media. I've pretty much lived in my pj's and on the couch for an entire month. Food hasn't been my friend. I've stayed out of the kitchen as much as possible. I've been living off of toast, Einstein bagels, PB&J, grapefruit, oranges, and veggie sandwiches. Vegetables are hard for me to eat right now, but if I surround them by two pieces of bread, I can stomach them. I want carbs all day, every day! Oh, and there were a few days when I was craving Doritos. You heard me right, Doritos? I don't think I've had Doritos since high school, but I ate them with my PB&J and boy did they taste good. I am over them now. Whew! Glad that didn't last long.
The holidays bought us some time, I was able to post recipe round-ups and didn't have to create any new recipes. January showed up and Josh took charge and made new recipes for the blog. Things were going well until Josh went skiing and tore his MCL. Now, he is hobbling around on crutches and really shouldn't be on his feet for very long. So now we are both out of commission. And to top things off, last week I came down with a nasty virus. I had a sore throat, fever, cough, and sinus pain…on top of the nausea. I really think there needs to be a rule that if you are pregnant you aren't allowed to get sick. Pregnancy is enough!
Luckily, Caleb has been an angel. He has entertained himself and been such a good helper. He loves assisting Josh with his crutches and has been snuggling with me in bed. Caleb is also very excited to be a big brother. He's not good at keeping secrets either, because he has told a few people that there is a baby in mommy's tummy:) I guess he takes after me!
We did manage to make a few new recipes over the weekend. We teamed up and conquered. So don't panic, we will still be posting new recipes, but if we get a little behind or if I start posting crazy recipes due to my pregnancy cravings, you will know why. Our secret is out!
If you are interested in regular pregnancy updates, make sure you follow our Thursday "This and That" posts. (You can subscribe to get all of our posts via email here.) I will be sharing what's going on with me and the baby until the big day arrives. Oh, and the big day is August 4th. It's going to be a HOT summer!
And I was going to come up with some super cute and creative way to announce that we are expecting, but then my nausea got the best of me. Some days I am lucky if I take a shower, so sorry there aren't any fun photos! I am just keeping it real and simple here. WE ARE HAVING A BABY!! We are thrilled our pod is growing!
Thanks for letting me share our secret with you…and don't worry, I am not asking you to keep our secret a secret. You can tell your friends, family, dog, cat…whoever you want!