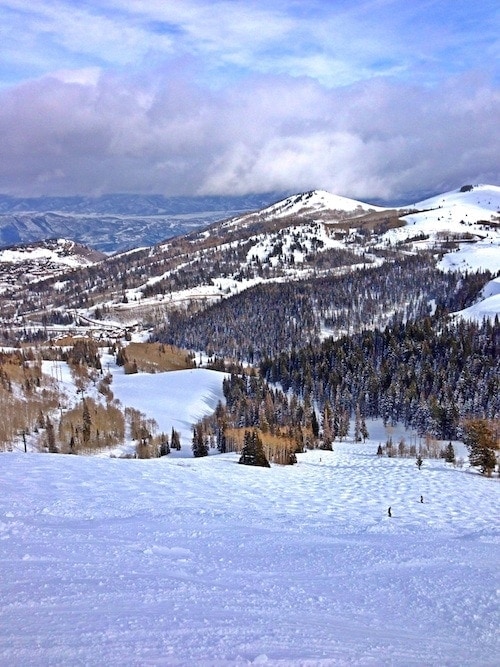 I am not a skier. I know we live in Utah with the best powder on Earth, but I've only been skiing twice in my entire life. The last time I went skiing my loving brother took me up a blue run and took off with his buddies. He said it would be easy, but he was wrong. I was scared to death. Luckily, a snowmobiler drove by and I flagged him down. I got a ride down the mountain and told myself and everyone else that I would never going skiing again.
Well, Josh loves snowboarding and skiing and has been begging me since we started dating to take ski lessons. When Deer Valley invited us up for a ski vacation, I told Josh I would take ski lessons. I was so tempted to sit in the lodge and sip hot chocolate all day, but I promised him I would do it. He wants me to learn so I can go out on the slopes when Caleb is older. I was a little nervous about skiing at Deer Valley, ok, I was shaking in my ski boots, but I did it!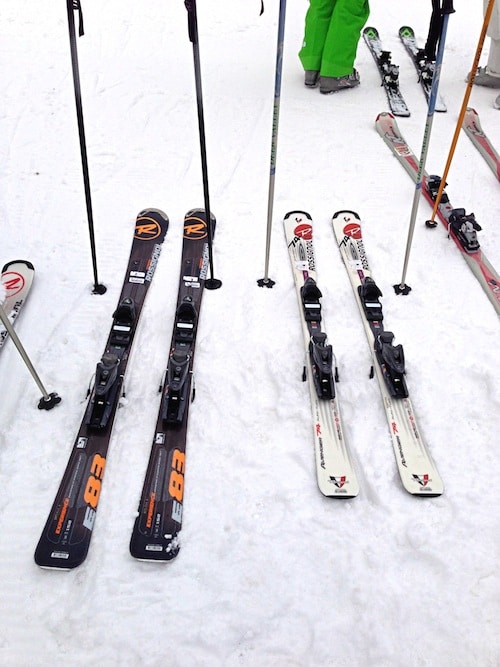 We rented all of our equipment at Deer Valley-skis, poles, boots, and helmets. Yep, we are a safety first family! They made sure all of our equipment fit perfectly.
The Black Diamond Lodge provided ski lockers for us so we didn't have to haul everything to our condo. In the mornings, they set out our skis and poles for us. Talk about service! They also had sunscreen, hand warmers, ski maps, and tissues.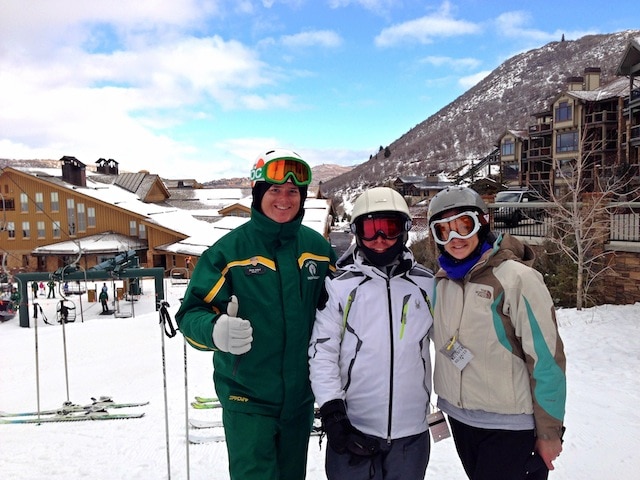 The first day, I took a full-day private ski lesson from Derek. Let's take a moment to give Derek a huge round of applause for putting up with me:) He was very patient and SO helpful. I would have ran back to the lodge and hid if he wasn't there coaching me every step of the way. He walked me through everything and didn't rush me at all. Plus, he made skiing make sense…and he actually helped me enjoy it!
The first day I stayed on the bunny hill with all of the kiddos. There were three year olds whizzing by me. I took my time and just got used to being on the skis. Derek helped me focus on my technique and turns.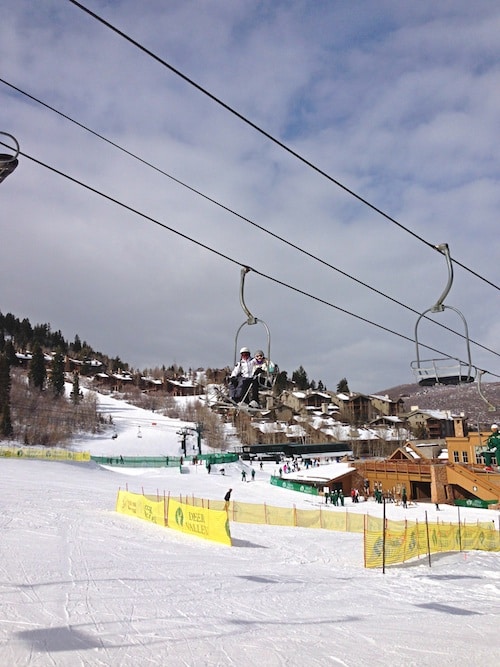 Josh came to check in on me around lunch time. He even did a few runs with me!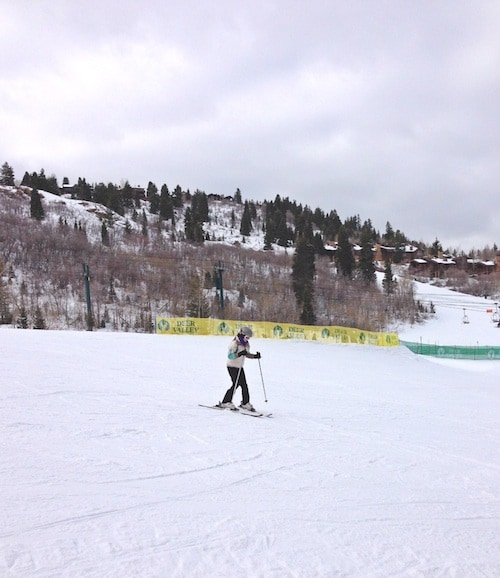 He may have made fun of my slow speed, but he was impressed I was skiing:) I was slowly getting the hang of it!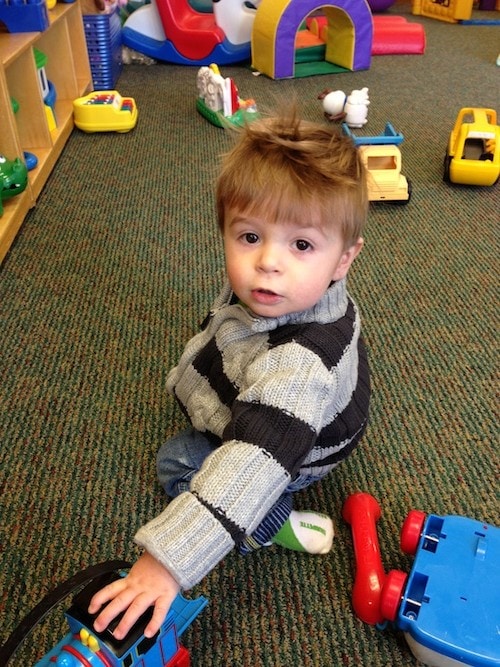 You may be wondering where Caleb was. No, he didn't go skiing. Josh tried, but he is still too little:) Caleb spent both days at Deer Valley's Children Center. The center provides separate rooms, dividing and managing children of like age groups more effectively. Caleb was in the Little Tots program. He had a blast playing with the toys and other kids. He didn't miss mommy and daddy at all.

On our second day of skiing, I felt a little more relaxed. I started on the bunny slope with Derek, my instructor. After a few runs, he thought I was ready to hit the real slopes. So we rode the chair lift up the mountain to do some greens. By the way, I never fell off the chair lift. High five to myself!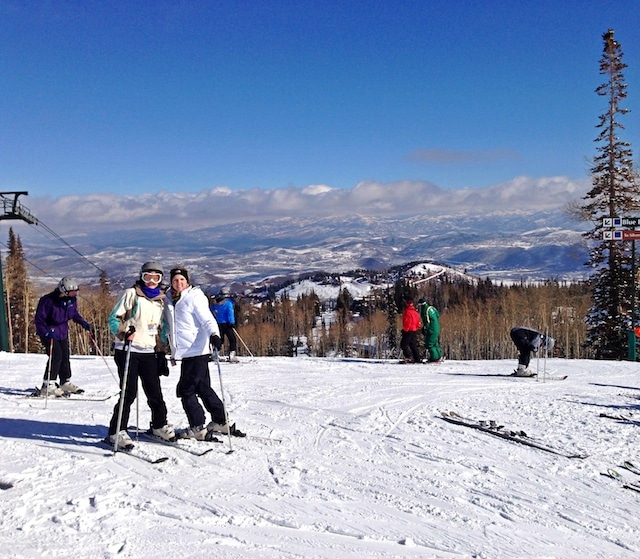 Amanda came skiing with me! She told me I would like Ontario and she was right! I was a little nervous at first, but I had no trouble at all. It was actually fun!
Josh met up with us too! I loved spending Valentine's Day with my sweetie on the slopes! We lucked out with gorgeous weather. Nothing but blue skies! I actually didn't get cold at all.
Have you heard? Ski goggles are the new fashion trend:)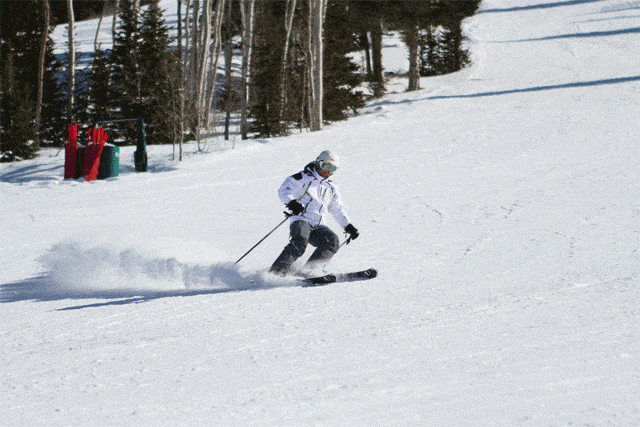 Josh took a half day ski lesson and it obviously did him some good. He was all over the mountain and flying down the slopes. He usually snowboards, but after our Deer Valley trip he wants to ski more. He had a great time.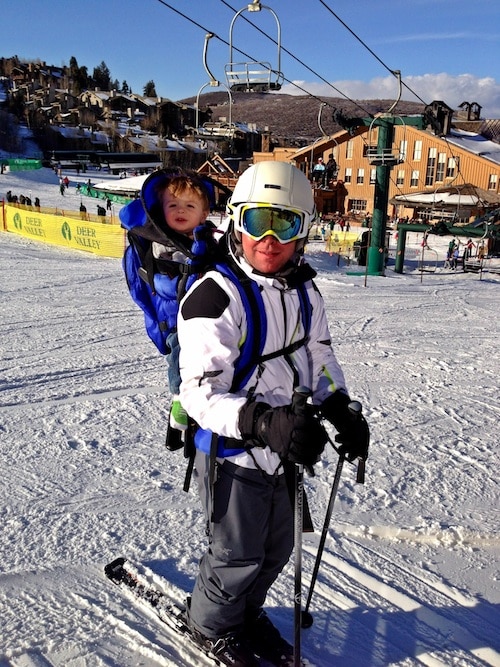 At the end of our last day we picked Caleb up from Little Tots and Josh took Caleb down one little ski slope. It really wasn't a slope, just the little hill in front of our condo. Caleb was SO excited. He kept saying, "ski, ski."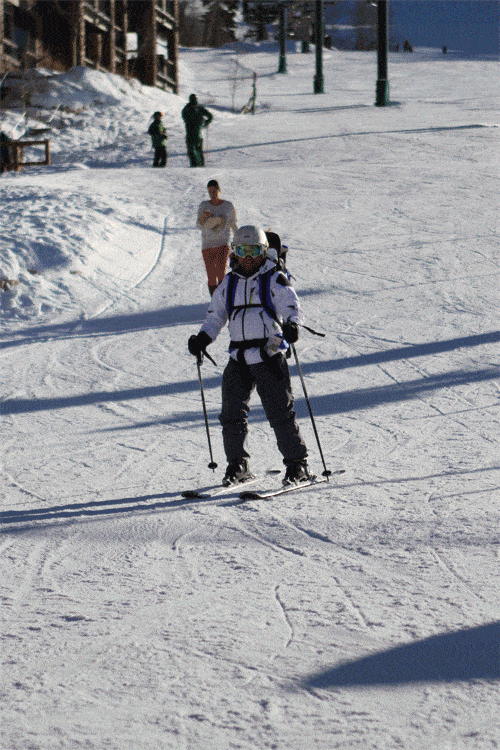 He loved it. We have a future skier in our family! And don't you love how I'm chasing after my baby in the background:) Thanks Amanda for making the photo animations. So fun!
Thanks Deer Valley for an amazing ski trip! I survived skiing and even kind of liked it:) I will be back on the slopes with my guys!
Next, we will be talking about the food at Deer Valley Resort. You don't want to miss this post, Deer Valley's food is amazing!
If you like this post, you might also like: Black Diamond Lodge at Deer Valley Resort