Sprinkle Chocolate Chip Cookie Ice Cream Sandwiches-ice cream is sandwiched between two sprinkle chocolate chip cookies to create a fun and delicious dessert.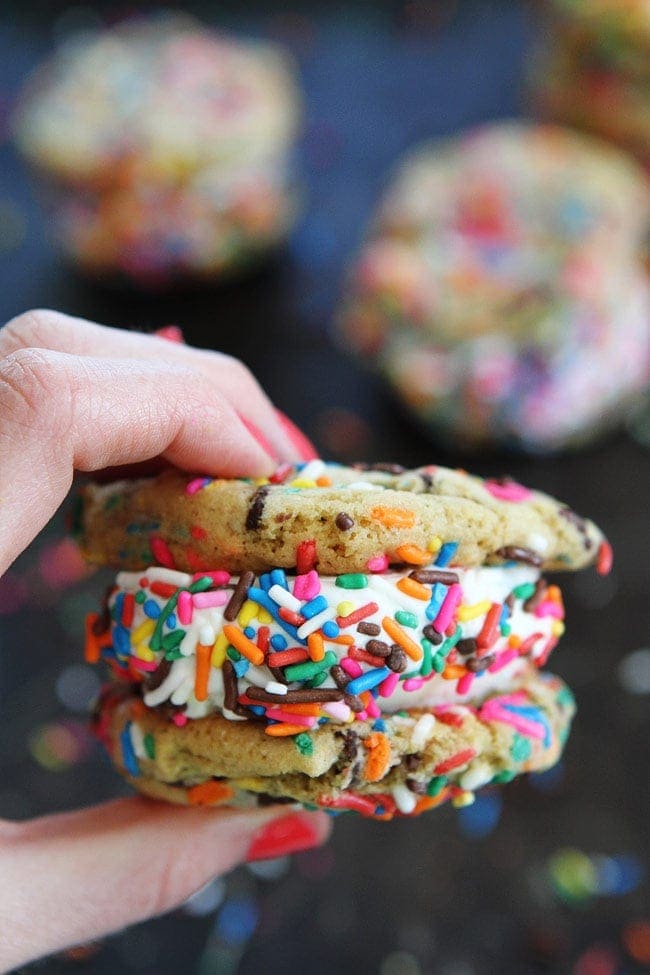 Guess what today is? It is our little Maxwell's 2nd birthday! Yay! We can't believe he is two years old. Time sure flies when you are having fun and Maxwell is ALL fun. His adorable little smile and laugh are contagious and he makes us laugh every single day. He brings us so much joy and we are so happy we get to celebrate him today.
Maxwell LOVED the Sprinkle Chocolate Chip Cookies we made last weekend so I thought they would make the perfect treat for his birthday. But since it is his birthday we are going ALL out and making Sprinkle Chocolate Chip Cookie Ice Cream Sandwiches. Oh, yeah!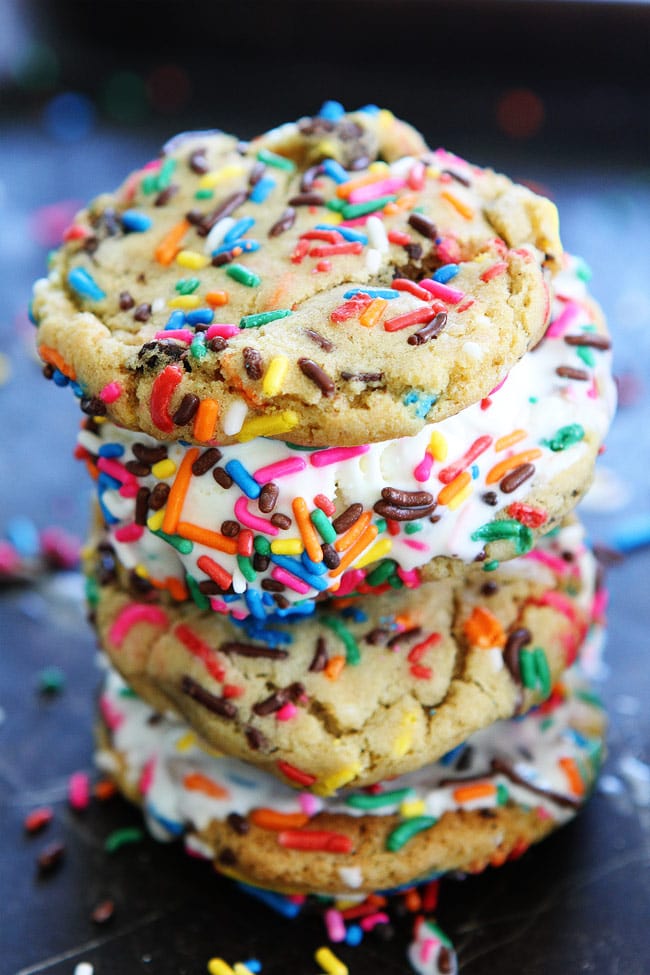 The sprinkle chocolate chip cookies are the base to our ice cream sandwiches and they are so fun and delicious. They are the perfect chocolate chip cookies.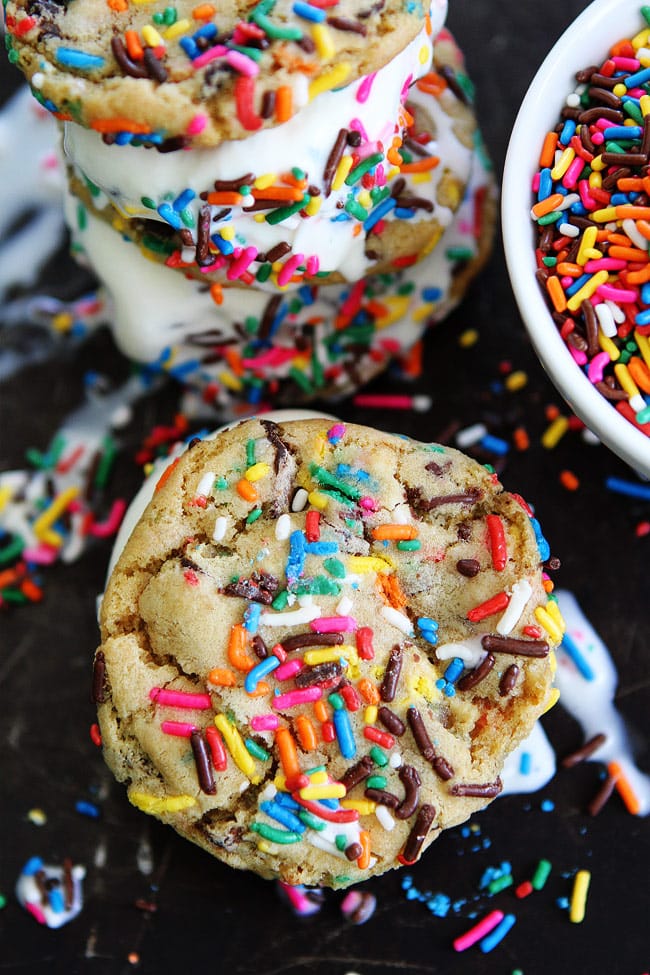 Add vanilla ice cream to the party and WOW! Best dessert EVER!
We rolled the ice cream sandwiches in sprinkles because you can never have enough sprinkles, especially when you are celebrating a birthday.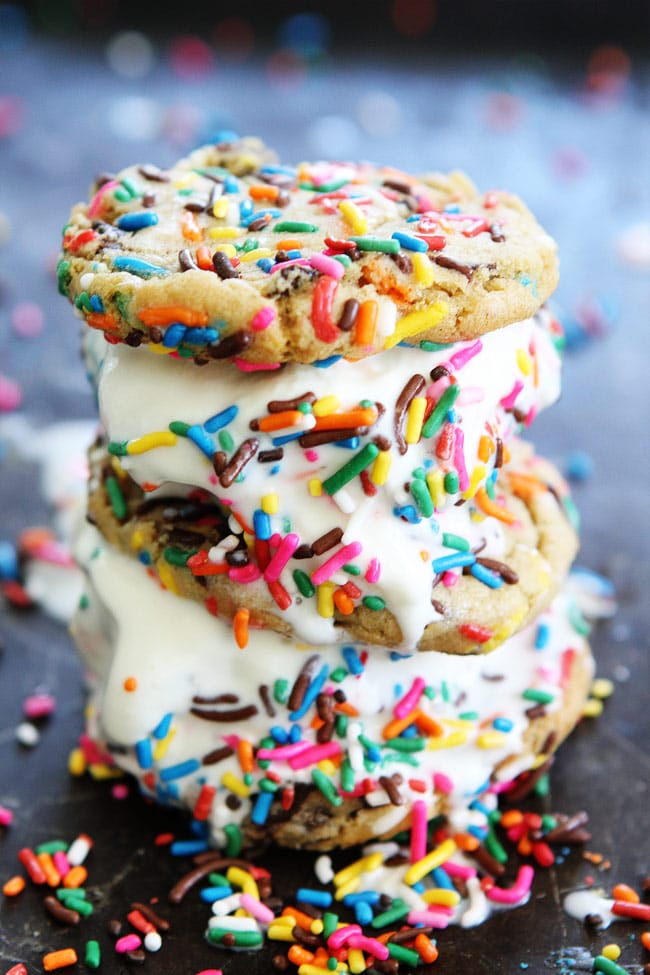 The cookies are soft, the ice cream is creamy and cool, and the sprinkles are bright, colorful, and FUN!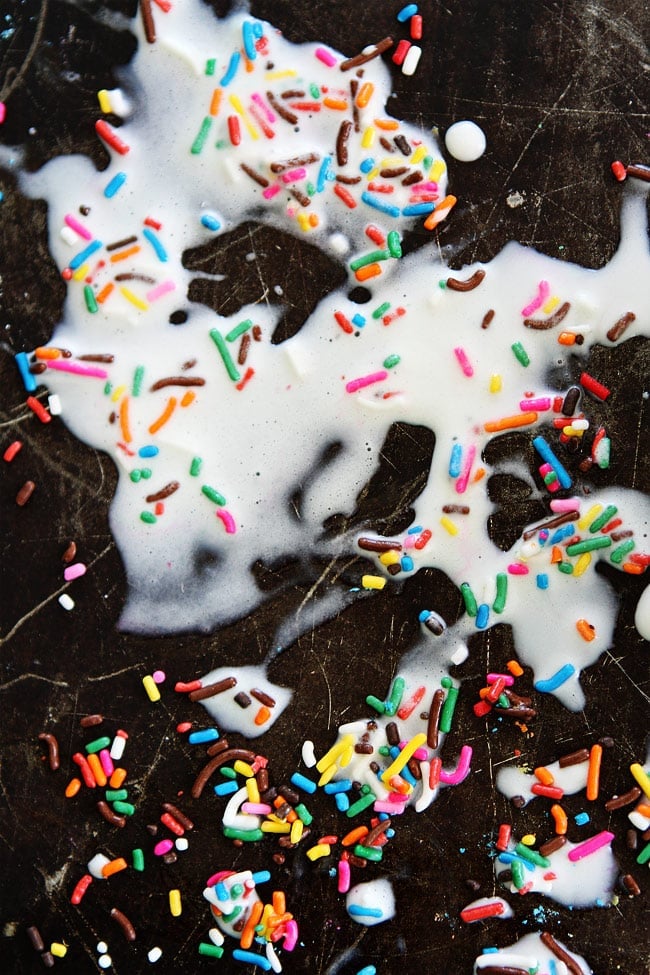 The ice cream sandwiches do get a little messy, but that is ok. They are so worth it! Eat them outside in the summer sun and you won't even have to clean up. They are the perfect summer dessert.
Oh, and you can make the ice cream sandwiches in advance, which is great if you want to serve these at a party. Make the ice cream sandwiches, wrap them in plastic wrap, and keep them in the freezer until you are ready to eat them.
We used vanilla ice cream, but any ice cream flavor will work. You can also use any color of sprinkles.
Our Sprinkle Chocolate Chip Ice Cream Sandwiches are waiting for us in the freezer, we are going to party tonight. Happy birthday Maxwellie! We love you!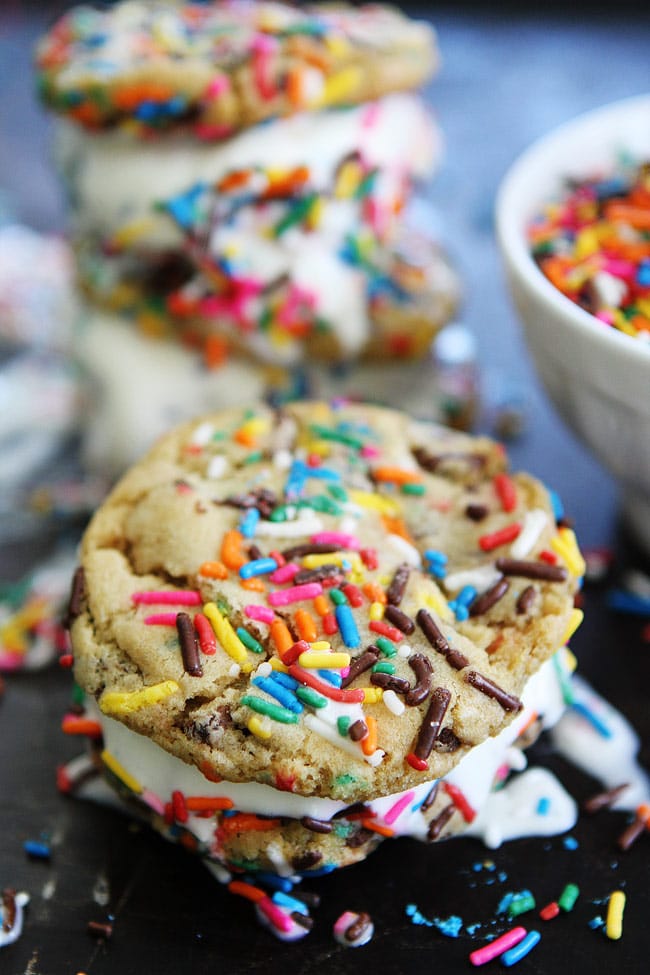 Sprinkle Chocolate Chip Cookie Ice Cream Sandwiches
Kids and adults love these fun ice cream sandwiches!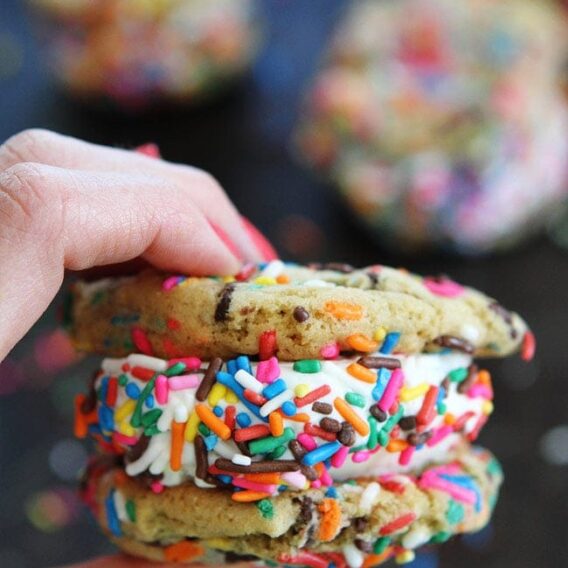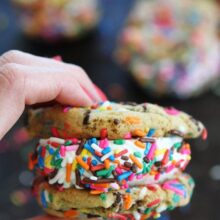 Ingredients
Ice cream

we used vanilla

Sprinkles

we used rainbow sprinkles
Instructions
Place one scoop of ice cream (about 1/3 cup) between two

sprinkle chocolate chip cookies

. Gently press cookies together until the ice cream reaches the edge of the cookies.

Roll the ice cream sandwiches in sprinkles. Eat immediately or wrap sandwiches individually in plastic wrap. Place sandwiches in the freezer and freeze until ready to eat.

Note-the ice cream sandwiches will keep in the freezer for up to 1 week. Feel free to use your favorite ice cream flavor and favorite sprinkles. The cookie recipe makes about 3 dozen cookies. If you don't need that many ice cream sandwiches, you can make a half batch or just eat the cookies:)