Summer Quinoa Bowl
Summer Quinoa Bowl-this simple and healthy quinoa bowl is filled with all of your favorite summer ingredients!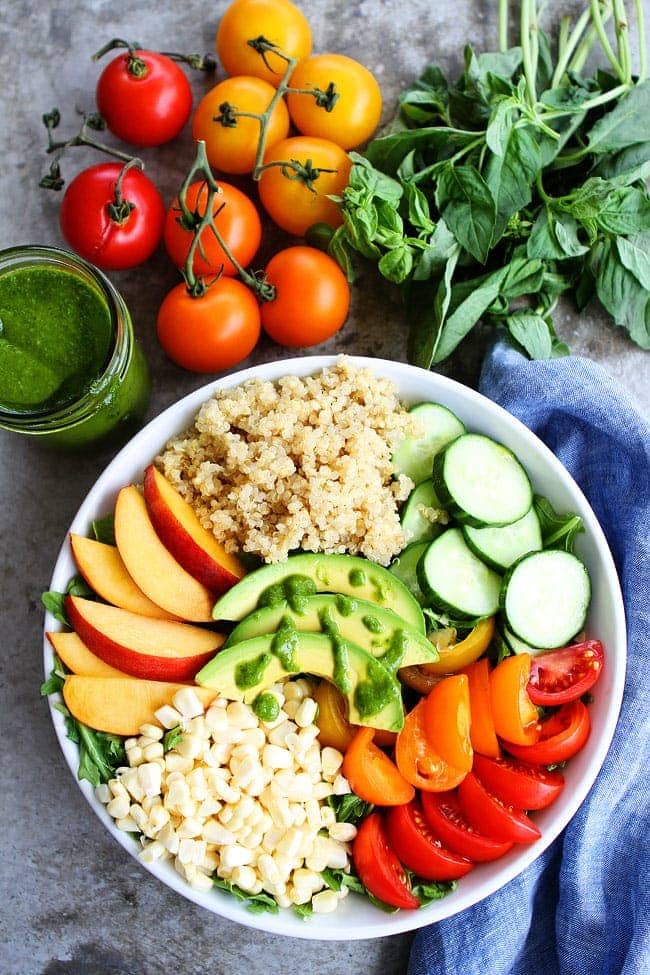 There are too many good things to eat during the summer months. Every time I go to the farmers market, I come home with several bags of fresh produce. When I unload my farmers market finds, I get giddy with excitement. I want to eat everything at once.
My answer to eating all of the delicious summer produce at once is this Summer Quinoa Bowl. It has all of my favorite summer ingredients!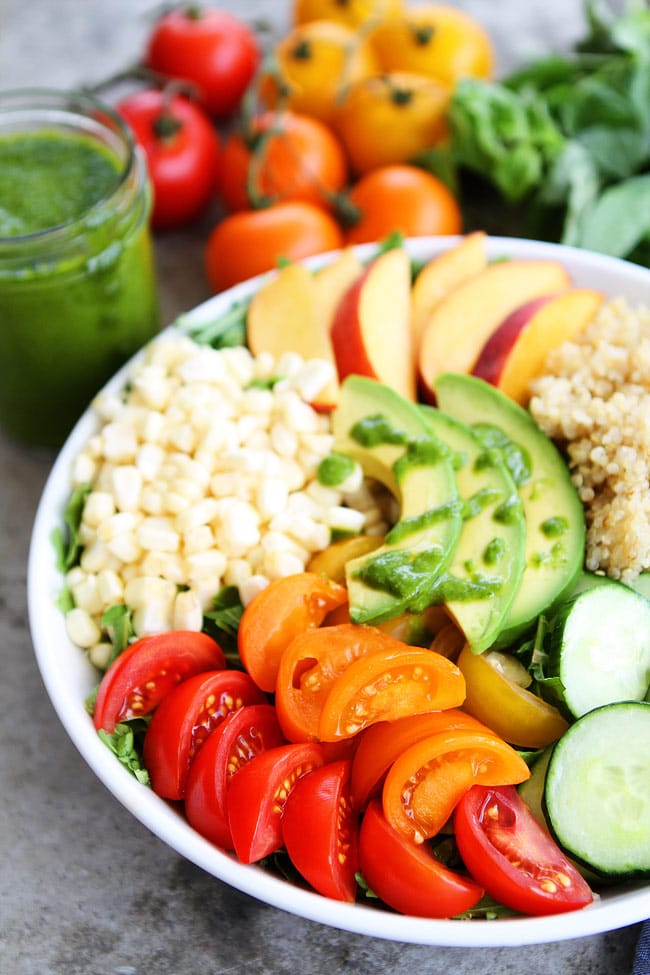 So what is in my magical Summer Quinoa Bowl? I start with a bed of greens. I am on an arugula kick right now, but any greens will work. Kale, spinach, romaine, mixed greens are also good options.
Next, I add cooked quinoa, peaches, sweet corn, tomatoes, cucumbers, avocado, and my favorite basil vinaigrette. You can use any salad dressing, but I highly recommend my basil vinaigrette. It is the BEST and a great way to use up the summer basil.
Look at that gorgeous bowl, it screams summer! It is great for lunch or dinner. I seriously could eat it every single day of the summer, and I just might. It is colorful, healthy, and soooooooo delicious!
Use your farmers market or garden goods to make this Summer Quinoa Bowl. You can enjoy all of your summer favorites in ONE bowl!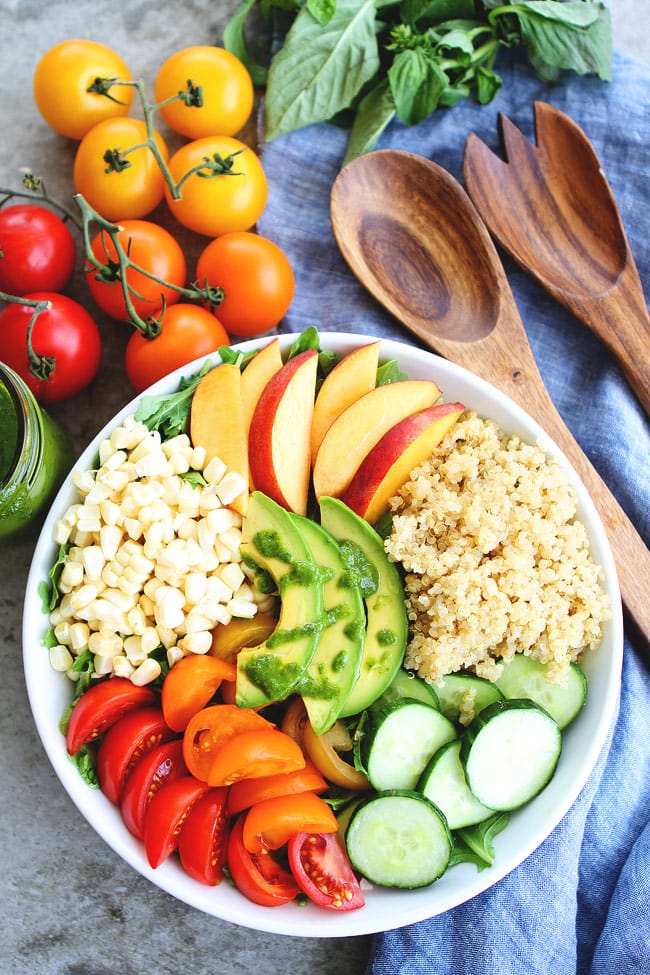 Summer Quinoa Bowl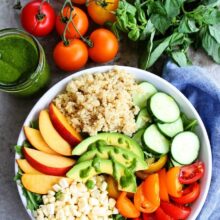 This is easy quinoa bowl is filled with all of my favorite summer ingredients! It is great for lunch or dinner!
Yield: 1 bowl
Prep Time: 15 minutes
Total Time: 15 minutes
Ingredients:
2 cups arugula or other salad greens
1/2 cup cooked quinoa
1 peach, sliced
1/3 cup fresh sweet corn kernels (no need to cook the corn)
3 small tomatoes (I like to use red, yellow, and orange tomatoes)
1/3 cup sliced cucumbers
1/2 avocado, sliced
Salt and black pepper, to taste
Basil Vinaigrette, for serving
Directions:
Place the arugula or greens in a medium bowl. Top with the quinoa, peaches, corn, tomatoes, cucumber, and avocado. Drizzle with basil vinaigrette and season with salt and pepper, to taste. Serve immediately.
Note-you won't use all of the basil vinaigrette for one bowl. Store leftover vinaigrette in a jar in the refrigerator for up to 5 days. When I cook the quinoa, I always cook extra so I can make the salad all week.
All images and text ©
Two Peas & Their Pod
.
Follow twopeasandpod on Instagram and show us what recipes you are making from our blog! Use the hashtag #twopeasandtheirpod! We want to see what you are making in your kitchen!