His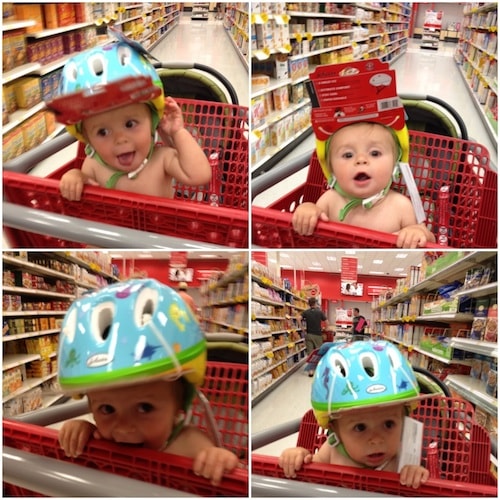 1. We got Caleb his first bike helmet. He looks pretty rad in it. I think he should wear it all of the time, just to be safe.
2. Watch this video for a good laugh. Maria doesn't like watching internet videos. To me there is no better entertainment than a good video like this. I'm thinking about starting my own series of internet videos.
3. Read this post about love. I really don't have any words. It's great and you might relate.
Hers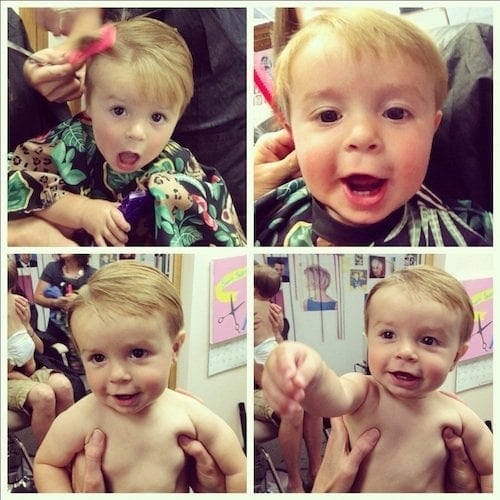 1. Caleb got his first haircut this week. He looks so grown up and so handsome!
2. We currently have 23 pounds of butter in our freezer. That's normal, right?
3. Caleb also had a Dr.'s appointment this week. The Dr. told us we need to up his food intake since he is a little guy. Caleb must have listened because this week he is inhaling his food! He used to only pick at his food and play in it (except for fruits), but this week he is eating like a champ. He flexes his muscles and clenches his fists and grunts for more food. We are happy he is bringing his A game to the dinner table:)
4. Holy decadent brownies!
5. I pulled a muscle running last week so I am currently out of commission. I am so bummed! I have been spending time on the elliptical machine and going on lots of walks, but it's not the same. I miss my runs!
6. I guess I am craving brownies this week because I can't get these Caramel Brownie Pies out of my mind! And FYI-I am not pregnant:)
7. To balance out all of the brownies, here is a killer kale salad for you. Make it. Love it.
8. Tomorrow is National S'mores Day! Celebrate with Mini S'mores Cookies or Golden Grahams S'mores Bars! Of just sit by the campfire and make the real deal. You can't beat an old fashioned S'mores! Confession though-I do prefer to put a Reese's Peanut Butter Cup on my graham instead of a Hershey's bar. I know, I am such a rule breaker:)