His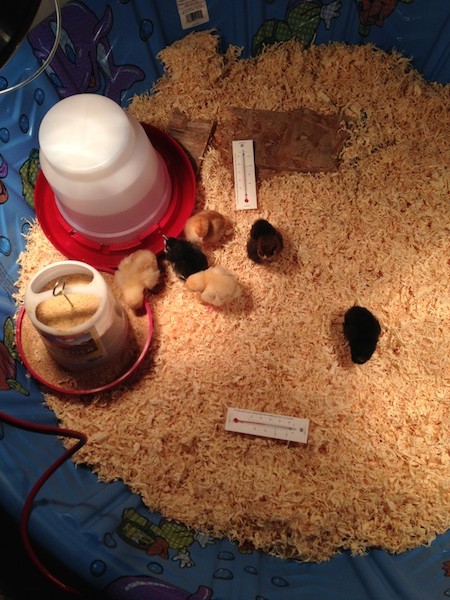 1. New chicks! I am so excited to start our flock. I feel like I am in grade school and get to take the class pet home for the weekend. We have to keep them inside for a few weeks until they are ready for their coop. Caleb loves hearing the chirps.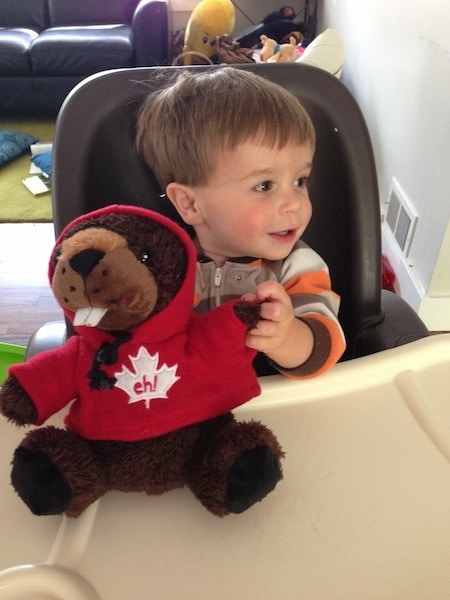 2. We were just in California for the Big Traveling Potluck and one of our good friends, Ethan, brought Caleb his first piece of Canadian memorabilia. Caleb loves it, even though he calls it a bear. Thanks again Ethan!
2. We went to a Train concert a few weeks ago and shortly after Caleb started saying Gina. We had no clue who Gina was. One day, Train's song Meet Virginia came on the radio and Caleb got excited and started yelling Gina. We finally figured out Gina was Virginia. Now, we have to listen to that song all of the time. It's Caleb's favorite. When we brought the chickens home, Maria asked Caleb what he wanted to name the chickens. He immediately said Gina. It's hard to believe that our little 19 month old communicates so well, but he sure does. Every day he surprises us even more. We love our little duder.
Hers
1. I am still trying to get caught up from our trip to California. I shared our Beverly Wilshire experience, but I still need to post about The Big Traveling Potluck. I promise it's coming soon, but I have to tackle the laundry first. Sorry, we need underwear to wear:)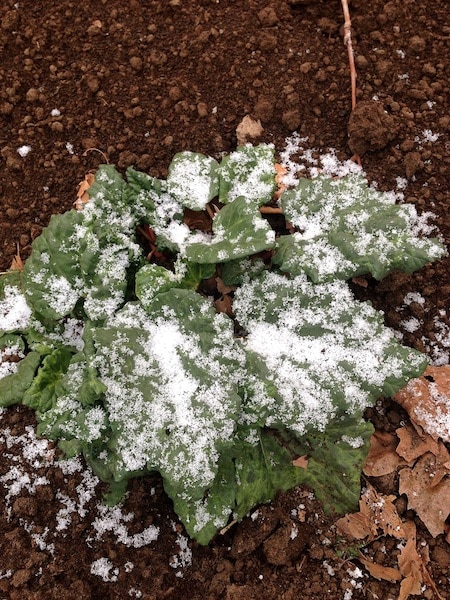 2. If April showers bring May flowers, then why did I wake up to snow on May 1st? Our rhubarb was shivering. Boo hoo!
3. Love this list of processed foods that can be made right at home in your own kitchen!
4. Are you frustrated that Facebook is hiding your favorite pages from you? And if you didn't know they are doing it, well sorry to be the bearer of bad news, but they are. Check out this easy tutorial on how to make sure you see all of the Facebook pages you like! And we hope you like Two Peas and Their Pod🙂
5. Check out Lauren's new ebook for fantastic family friendly recipes: Everyday Ingredients Extraordinary Meals.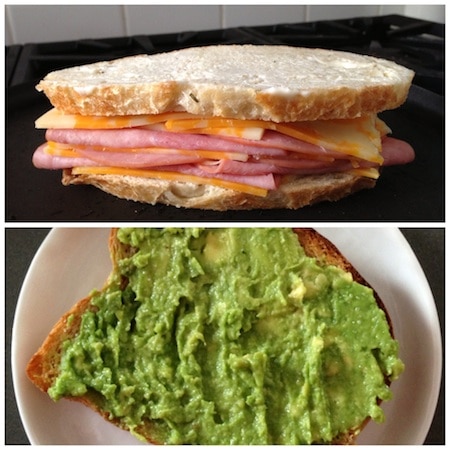 6. His and Hers lunch. Guess which one is mine? 🙂
7. Cinco de Mayo is on Sunday which means I can eat all of the chips, guacamole, and salsa I want. I think I will also make my favorite Stacked Roasted Vegetable Enchiladas. Ooh, and maybe Avocado Ice Cream too. Don't knock it until you try it:) It's good stuff!
8. 27 Stages of Getting Addicted to a Television Show-this made me laugh. I like being addicted to shows. I am currently in need of a new addiction. I just can't find a show to feed my addiction. I tried Downton Abbey-boring! I can't get into vampires and what they write about in their diaries. Freaks and Geeks was funny, but there was only one season. I love House of Cards and Parenthood, but there are no new episodes to watch. So the search is on. Come on television, give me something to be addicted to.
9. Ok, all of you juicers out there, what is your favorite juicer? I want to enter the world of juicing and need a machine to get me going!
10. I am going mad for these muffins.
11. Ladies, all the ladies, what is your favorite foundation? Dudes-I am not talking about concrete foundation, but the make-up kind that you put on your face. I need something with full coverage that doesn't look cakey. Any suggestions?
12. I know we have been overloading you with sugar this week, but we have to since it's Salted Caramel Week. If you need a break from brownies and macaroons, head on over to Wayfair for an Easy Vegetable Noodle Stir-Fry Recipe. It's a good one!