His
1. Funny story: our van has a DVD player and we usually only resort to it under duress. About a month ago, I mentioned to Maria that Caleb doesn't seem interested in watching his "shows" in the van anymore. He stopped looking at the screen, he only looked out the window. This week I got back in the back of the van to watch a show with Caleb and there was nothing on the screen. The sound was coming through the speakers, but I guess we forgot to to turn the monitor on. Oops! Caleb seems to be enjoying his shows now that his silly parents turned the monitor on.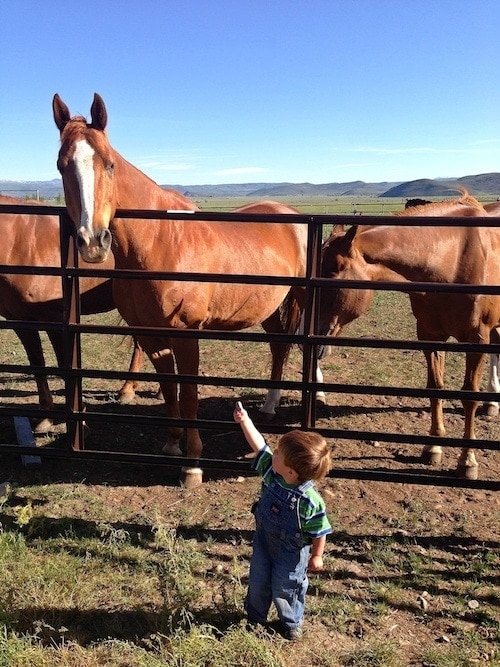 2. Our little farmer.
3. Our chickens are outside in their coop. They seem to be adjusting nicely. Caleb and I still go out and check on them multiple times a day.
4. My brother, his wife, and their little dude are coming to visit tomorrow. It's going to be a fun time!
Hers
1. The flu bug got me and it got me good. I was sick all last weekend. It was miserable. I hear it is going around so stay healthy!
2. Since I only had water and a little cereal and toast last weekend, I think I deserve an entire pan of Peanut Butter Pretzel Bars.
3. We planted a garden with our neighbors and it is looking good! We planted kale, swiss chard, carrots, pumpkin, watermelon, peppers, cucumbers, peas, beans, tomatillos, squash, and a ton of tomatoes. We are going to be eatin' good in the neighborhood this summer!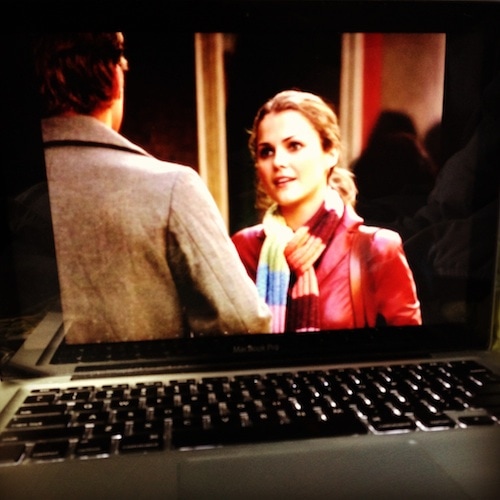 4. While I was sick in bed I watched a million episodes of Felicity. I forgot how much I liked that show. Team Ben or Team Noel?
5. Caleb loves garlic hummus. I like it too, but I never realized how garlicky it was until Caleb gave me a few smooches. Yikes! I guess I better only eat it in private. I had Caleb get out his super cool Transformer toothbrush and brush away. He needed some refreshing!
6. My purse is always stocked with gum. My gum of choice is Extra Sugarfree gum. I stick to the minty flavors-spearamint, peppermint, winterfresh, polar ice, etc. I recently tried one of the dessert gums, apple pie, and it was just wrong. I love dessert, but not in my gum.
7. All about cherries!
8. My dream came true last week when New Kids, 98 Degrees, and Boyz II Men performed on the Today Show. Boy band heaven! My heart went pitter patter for Joey all over again! NKOTB forever!
9. Make sure you tune in tomorrow-we are sharing our first juice recipe…and we have a fun giveaway to go with:) And don't forget to enter our Disneyland Giveaway! You can win an all expense dream vacation to the happiest place on Earth!
10. PB and J just got better!
11. I am on my way to Austin, Texas for BlogHer Food! This is my first time traveling without my guys so it is a little bittersweet. I will miss them like mad. I am looking forward to a fun girls weekend though! I've never been to Texas so I am excited! I hear Austin is a great city! Hey, maybe I will even spot Tim Riggins:) Make sure you follow me on Instagram for updates! And if you are at BlogHer Food make sure you say hello!