His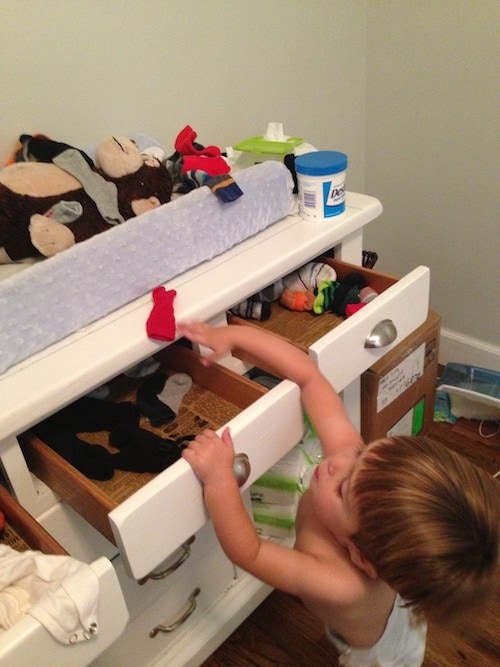 1. Caleb was talking and giggling in his room and when we went to check on him we found this. He put his monkey on the changing table and was saying monkey socks. He took all of the socks out of his drawer and three them on his monkey. Funny guy.
2. Are you ready for some football!? NFL season starts tonight. Yes! My favorite team this year is the Kansas City Chiefs. I am hoping for an excellent year. The other teams I will be cheering for all have previous University of Utah players. They are the Carolina Panthers and the San Diego Chargers. I also always cheer for the Patriots, Robert Kraft seems to be a good guy and I like the Patriots.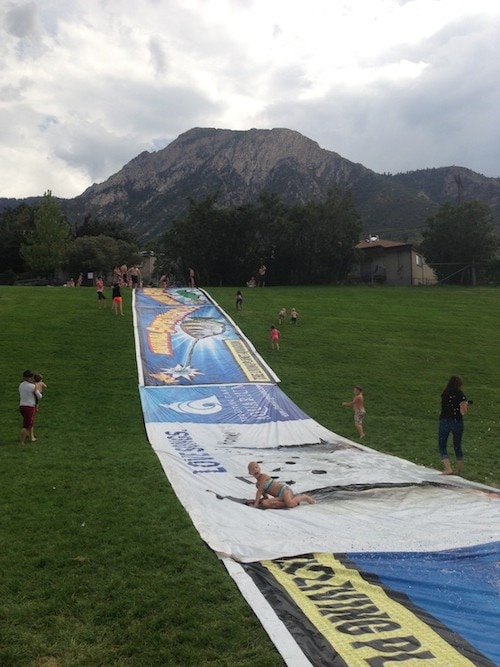 3. Check out this giant slip and slide party we went to last weekend. We had a blast.
4. I don't think this is for real, but I was cracking up. Caleb was laughing also. He may have been laughing because I was though. Maria didn't think it was funny.
Hers
1. It's September. How did that happen? I am really not ready for fall, but I am ready for football, cooler temps, and Pumpkin Cinnamon Streusel Pancakes.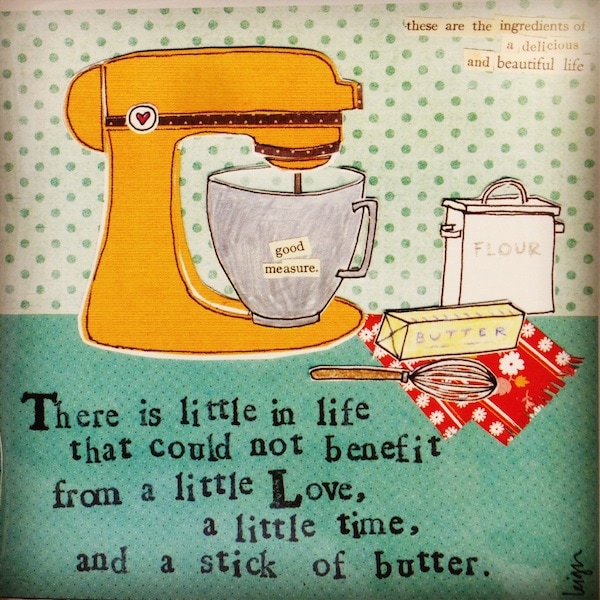 2. When we were in Jackson Hole, I found a card with the most perfect saying. I think I need the print for our kitchen.
3. Dorie Greenspan is my idol and this video makes me smile. It also makes me want to bake all day!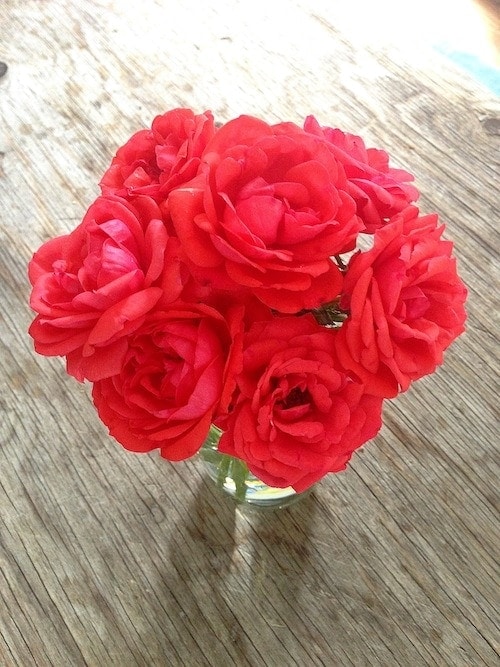 4. My good friend, Kristen, inspired me to take the "Live More, Weigh Less" Challenge. The challenge is free and the goal is to learn how to have fun, eat well, and live the good life. Every day we are given a challenge by Sarah Jenks. So far I've bought myself flowers and made a green smoothie. See, they are not hard, but they are important! My life gets so busy that I rarely take time to enjoy the little things in life. I need this challenge! If you want to join me, you can still sign up! It's ok if you are a few days late! You can follow my daily challenges on Instagram with the hashtag #lmwlchallenge.
5. I was getting ready to go get my haircut yesterday and I had a dilemma. Do I wash and style my hair or just go in with my dirty do? What do you do? Do you "do" your hair before you get a new "do"? I ended up washing my hair because I just worked out and was all sweaty, but I didn't style it. I just feel embarrassed not doing my hair when I go into my stylist. He probably thinks I have no clue how to do my own hair, which is partially true, but I also want a day off. It is my day to be pampered. Ok, enough rambling!
6. I have a little project planned for Josh, DIY Photo Clipboards. I haven't told him yet! I guess we will see if he really reads my part of This and That:)
7. Breakfast, dessert, or both? I need this cake.
8. Caleb's second birthday is in a few weeks. Crazy, I know! Any fun birthday ideas for a 2 year old?
9. Cheesy Zucchini Enchiladas. Yes! Good thing we still have zucchini to use up!
10. So when do all of the fall shows start? I am looking forward to Parenthood and Grey's. Anything other shows I should get addicted to this season?