His
1. This is really funny about gyms.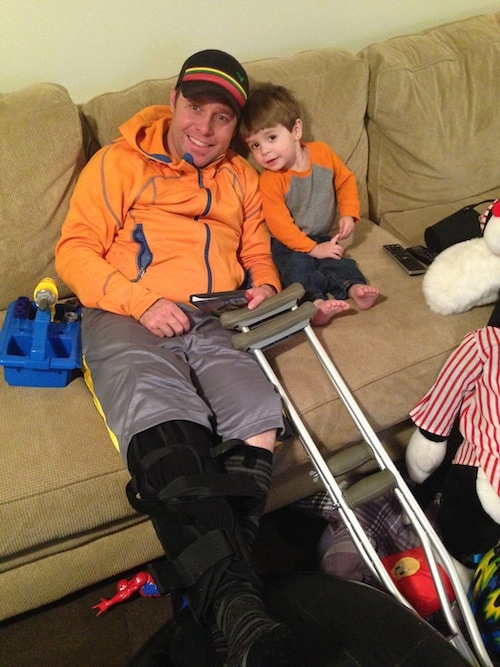 2. I have some bad news. I tore my MCL while I was skiing on Saturday. We are hoping there is no ACL or meniscus damage. I am on crutches and I have a huge brace on my leg. It's been tough getting around, but Caleb has been a big help.
3. This was the view from the day I tore my MCL. It was a great day until I was injured. I really hope I heal soon. I don't want to miss out on ski season!
4. I'm pretty bummed the Chiefs lost last week. Now I am cheering for the Panthers, Patriots, and Chargers.
Hers
1. I am currently obsessed with the show Property Brothers on HGTV. Have you seen it? I started watching it over the holidays and now I am hooked. They turn fixer upper homes into dream homes! I am always impressed with the outcome. They have great style. I want the Property Brothers to build us our dream home. Someday:)
2. I will never get tired of this salad.
3. I don't paint my nails that often because I hate that the nail polish chips in 24 hours. I like having pretty polished nails, but it's not worth the effort if they are going to look horrid in a day. Any tips on keeping nail polish from chipping? Share your beauty secrets with me!
4. I am having a major carb craving for this Cinnamon Roll Pull Apart Bread.
5. Free Printable 2014 Calendar. I already printed mine! I like to plan my life the old fashioned way. I can't keep my schedule on the computer. I like to be able to jot down notes and make changes in pencil.
6. Josh got me this bracelet for Christmas and I am loving it! A little bling makes me happy!
7. We are starting to plan our 2014 travel adventures. We really want to go back to Hawaii. We went to Maui last year and LOVED it. Should we choose a new island or go back to Maui. Any suggestions?
8. 16 Books to Read Before They Hit Theaters This Year. I haven't read any of these books. I better get busy because I always like to read the book before I see the movie.
9. I need this veggie burger in my life.
10. And finally, do you want us to continue on with our This and That posts in 2014? Do you like them or are we just boring you to death? Please let us know! Thanks!