His
1. All kind of emotions today. Excited to go to Hawaii but also very nervous and sad to be leaving our little buddy. I know he will have a blast with Papa, who is one righteous dude, but we will still miss him.
2. This is one slick kid. Have you seen this?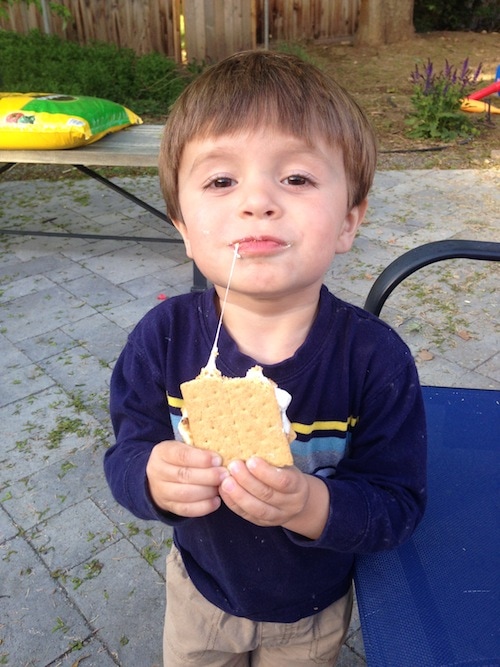 3. We have been using our outdoor fireplace a lot. Caleb and I like to sit in a chair by the fire and say "this is the life!" Here is a great picture of Caleb eating a S'mores treat.
4. Maria always lectures me on using less paper towels. I do need to make an effort to use less paper towels and this is a great idea.
5. I am looking for a new documentary to watch, any suggestions? Or how about a TED talk? I need something new.
6. I grew up with three brothers and this post made me laugh. So true! I am excited for a house full of boys. I hope Maria is ready!
Hers
1. Caleb got sick last week and over the weekend Josh and I came down with the flu. We were both in bed all weekend. Caleb may have watched a few too many episodes of Caillou. We are better now and I am so glad! And for the record, I don't think pregnant women should be allowed to get sick. It's just not fair!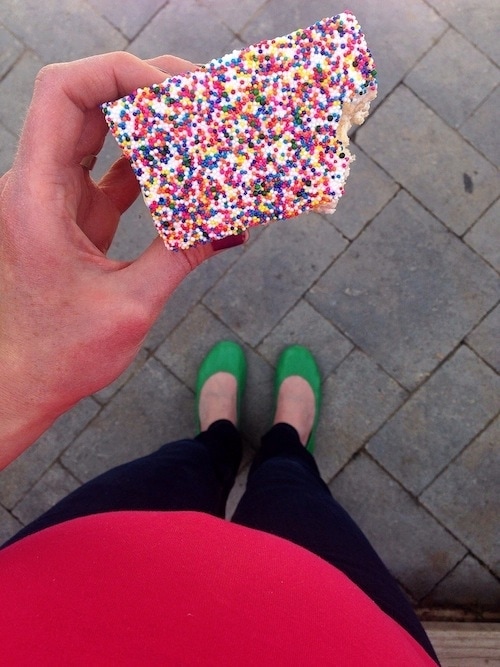 2. 29 week baby bump and a giant Crispycake! Love these treats!
3. Someone slice me a BIG piece of this cake!
4. We still don't have a name for our baby boy. I am having fun playing with this Baby Name Predictor! Caleb thinks we should name the baby Caillou:) I don't that name will ever be popular!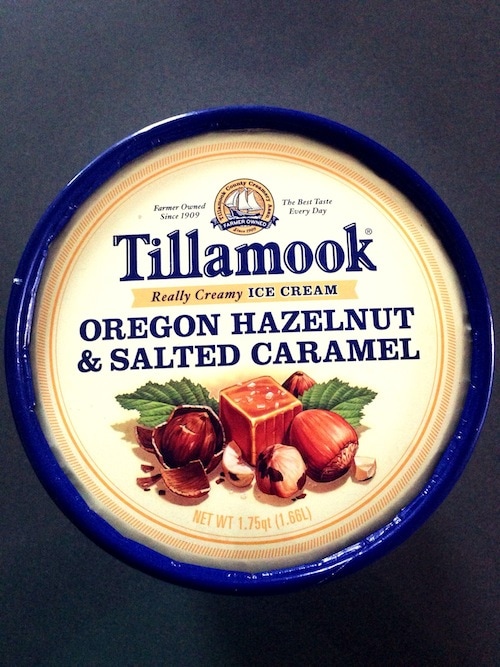 5. Currently obsessed with this ice cream. It's TOO good!
6. I love buying fun and colorful tea towels for our kitchen! Maybe I should make try making my own?
7. Clean sheets and sleeping with the windows open make me happy. Sometimes it's the little things.
8. Perfect popsicles for Memorial Day! And don't forget to make our potato salad-it's the perfect side dish for the holiday!
9. Quote of the week.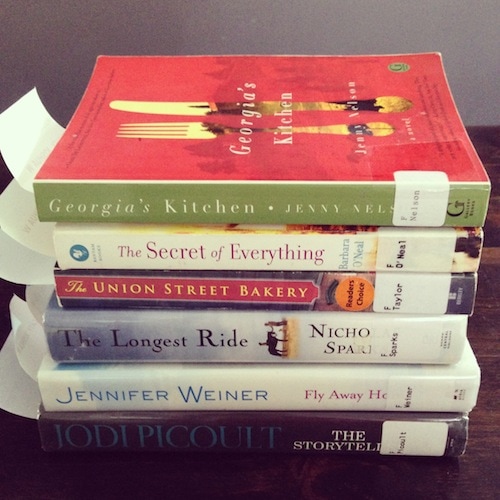 10. All of my library requests came in at the same time! Which book should I read first?
11. We are leaving for Hawaii today, so those books will come in handy on the plane and beach! Josh and I are going alone for our babymoon! My dad came from Illinois to watch Caleb for us. He is the best! We've never went on a vacation without Caleb, we are going to miss him so much. I am looking forward to some R&R and fun in the sun with my handsome hubs! If you have any suggestions for things to do on the Big Island, let us know! You can follow our Hawaii adventures on Instagram! ALOHA!