Twix Caramel Cookie Bars-chocolate chip cookie bars loaded with Twix candy bars and a drizzle of caramel. Dessert heaven!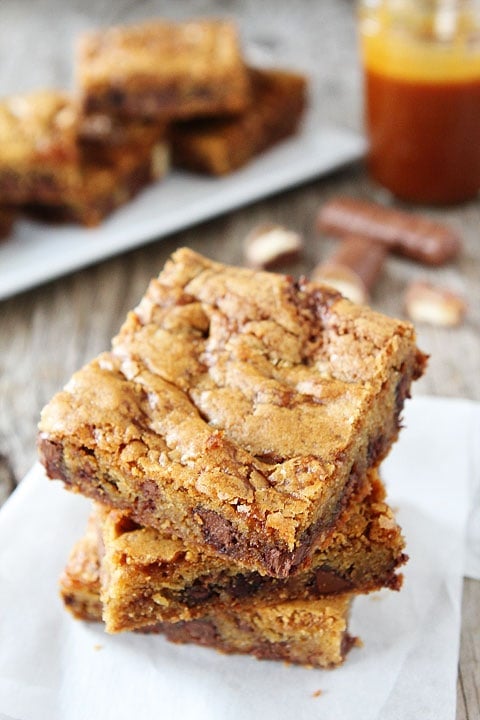 Before we talk about Twix Caramel Cookie Bars, I have some exciting news to share! Tomorrow I am flying to New York City with Land O' Lakes. I am going to be on the TODAY show with Kathie Lee and Hoda on Thursday! I just found out on Friday so I am rushing around like a mad woman trying to get ready for my trip. I have to find something to wear, I need a manicure, and a haircut! I am a little nervous, but I am mostly excited because I get to be on with two of my blogging friends, Ree and Bridget. Make sure you tune in on Thursday to see our cooking segment!
Ok, now let's talk dessert. Do you still have Easter candy lingering around? We really didn't buy Caleb much Easter candy, but the after Easter sales got me. I stocked up on Cadbury Mini Eggs, Reese's Peanut Butter Cups, and Twix candy bars. I can't resist a good sale on all of my favorite candies. Plus, I have been craving Twix bars like mad! I guess this baby has a sweet tooth like his mama:)
I used some of our Twix Candy Bars to create a spectacular dessert, Twix Caramel Cookie Bars. That's right, a chocolate chip cookie bar with Twix candy bars AND salted caramel sauce. Is your mouth watering yet? 🙂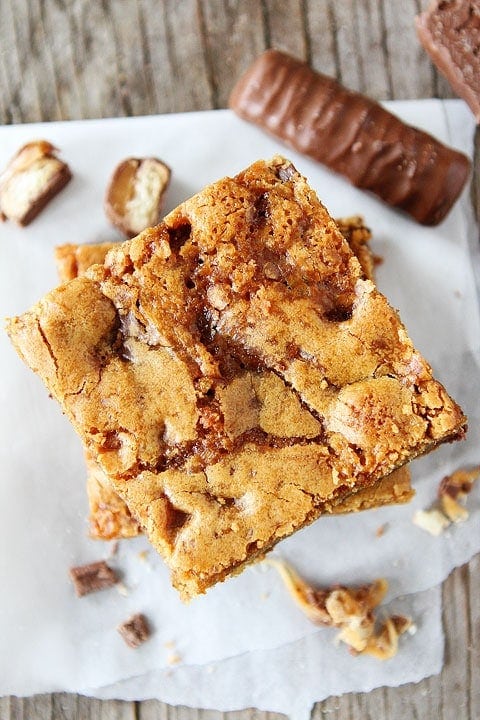 If you don't have leftover Easter candy lying around, you are excused to go to the grocery store to buy some Twix candy bars. This recipe is worth the extra trip to the store. Trust me!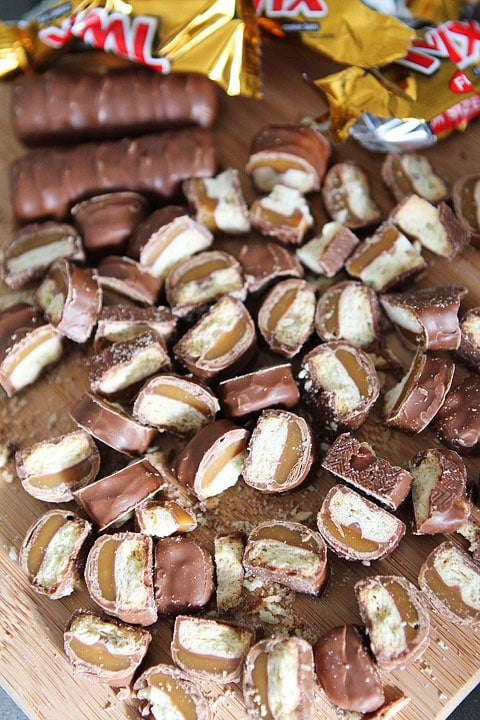 The hardest part about this recipe is chopping up the candy bars and NOT eating them all. It took some major will power to save the Twix candy bars for the cookie bars.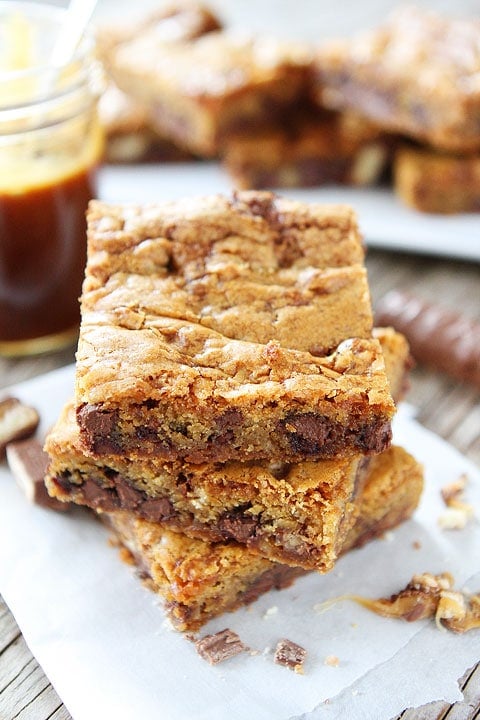 The cookie bars have chocolate chips and chopped up Twix candy bars. You can never have too much chocolate:)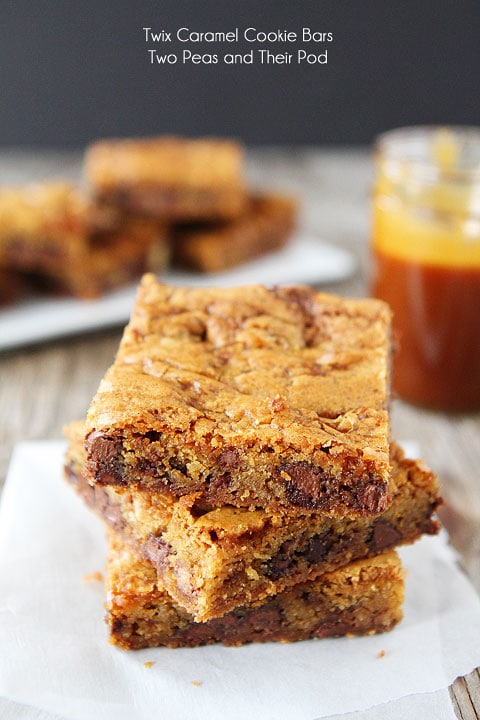 I also drizzled salted caramel sauce over the bars before baking. I used a toothpick to swirl the caramel into the bars. I used our homemade salted caramel sauce, but you can use store bought caramel sauce if you want. I like Trader Joe's salted caramel sauce when I am in a pinch.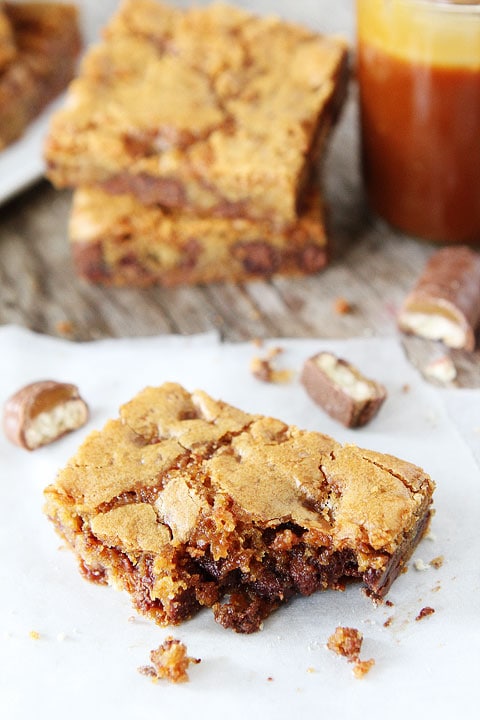 I sprinkled a little sea salt over the bars and put them in the oven to bake! I counted down the minutes until I could dive into the pan of cookie bars.
I cut myself a big fat cookie bar and decided I mine as well go ALL out and add a scoop of vanilla ice cream and extra caramel sauce. I was in dessert heaven! I loved the big chunks of Twix candy bars and swirl of salted caramel sauce!
Make Twix Caramel Cookie Bars and join me in dessert heaven. It is a magical place. Beware, you will never want to leave:)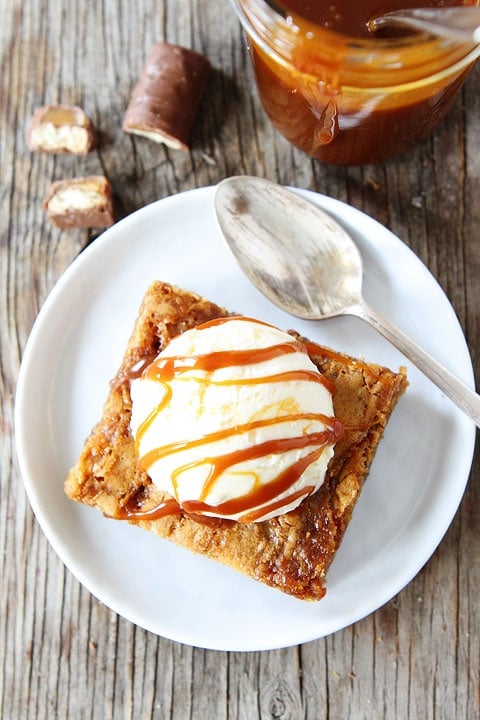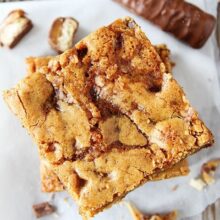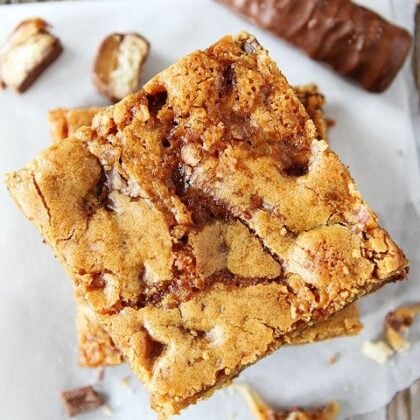 Twix Caramel Cookie Bars
Cookie bars with Twix candy bars, chocolate chips, and salted caramel sauce! These easy dessert bars are a real treat!
Instructions
Preheat oven to 325 degrees F. Spray a 9x13-inch baking pan with nonstick cooking spray and set aside.

In a medium bowl, whisk together flour, sea salt, and baking soda. Set aside.

In the bowl of a stand mixer, mix the melted butter and sugars together until combined. Add the eggs and vanilla extract and mix until smooth. Slowly add the dry ingredients and mix on low, just until combined. Stir in the chopped Twix candy bars and chocolate chips.

Pour cookie dough into the prepared pan, smoothing the top with the spatula. Drizzle caramel sauce over the bars. Swirl caramel sauce into the cookie bars with a toothpick. Use a knife to smooth over the bars and spread in the caramel. Sprinkle cookie bars very lightly with sea salt.

Bake cookie bars for 30-35 minutes or until the top of the bars are light golden brown and the edges start to pull away from the pan. Cool bars on a wire rack to room temperature. Cut bars into squares and serve.
Have you tried this recipe?
Leave a comment below and share a photo on Instagram. Tag @twopeasandpod and hashtag it with #twopeasandtheirpod