Apple Slab Pie with Crumb Topping-this easy apple pie is made in a jelly roll pan and is perfect for feeding a crowd. It is our family's favorite dessert.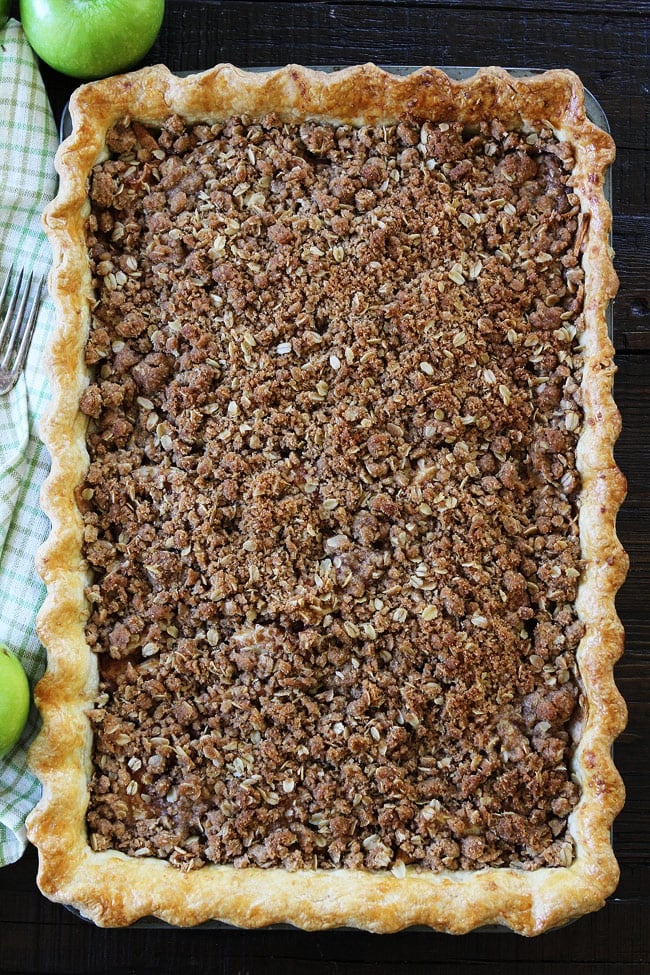 When it comes to dessert, I am normally not a pie person. I would choose a cookie or brownie over pie any day…but not if Apple Slab Pie with Crumb Topping was an option. I LOVE this pie. Yes, love needed to be in all caps because I am head over heels in love with this pie. It is SO good. Again, all caps necessary. This apple pie is my favorite and I would eat it for dessert every night if my skinny jeans would let me:) And don't tell my cookies I would pick this pie over them, I don't want their feelings to get hurt:) It will be our little secret.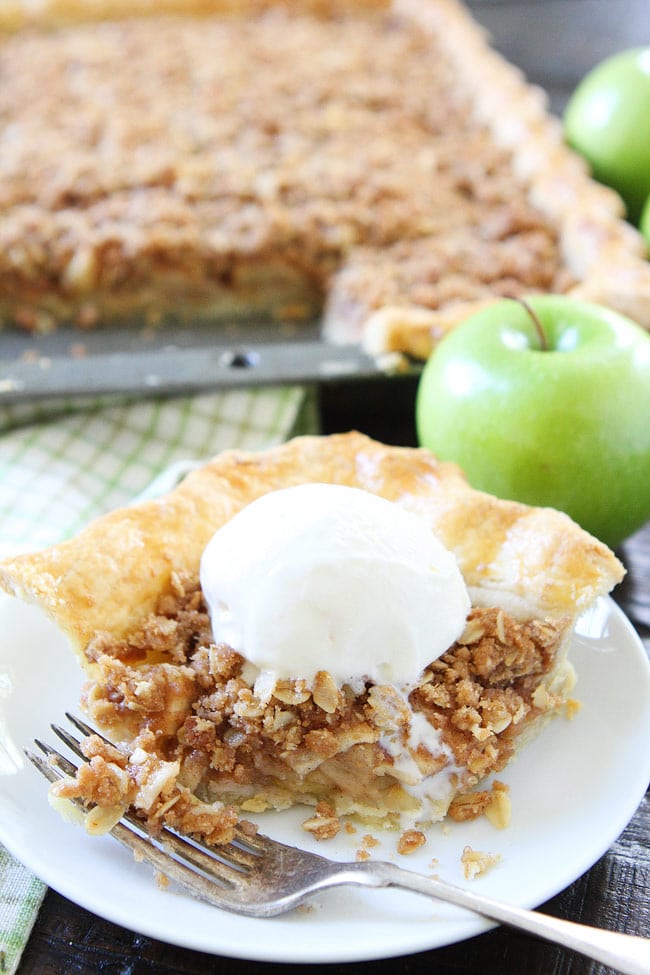 So let's talk about why I love this pie so much. First of all, it is easy to make. If you are afraid of pie crust, put your worries away right now. I promise this crust is easy. If I can do it, you can do it!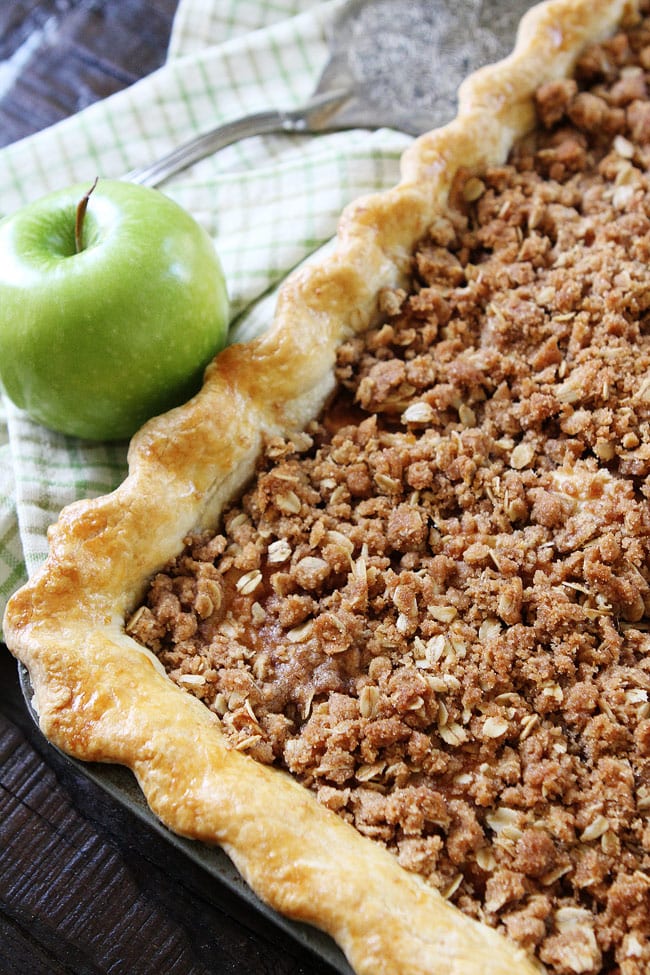 Second, I love this pie because it is a slab pie. You make it in a jelly roll pan. It is BIG and feeds a crowd. It is the perfect dessert for the holidays and parties.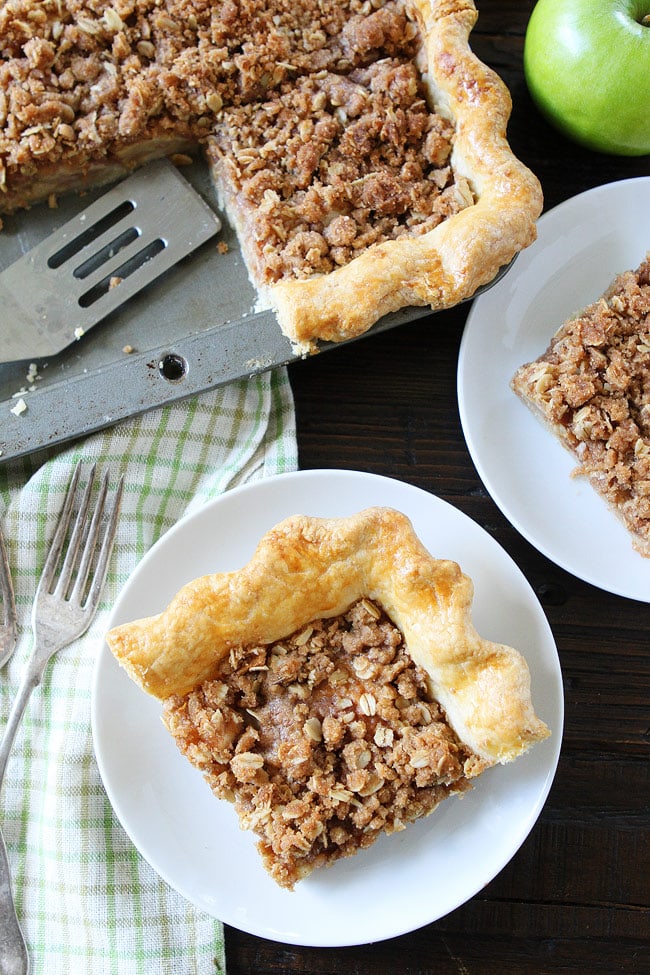 I also love this pie because it can be made in advance. You can make the whole thing two days in advance and it will still taste amazing. Or you can make the pie dough in advance and have it waiting for you in the fridge or freezer. So if you are wondering how you are going to have time to make pies this Thanksgiving, add this Apple Slab Pie with Crumb Topping to your menu right now. You can make it in advance, it will feed the masses, and everyone will die over how good it is. It is the BEST pie.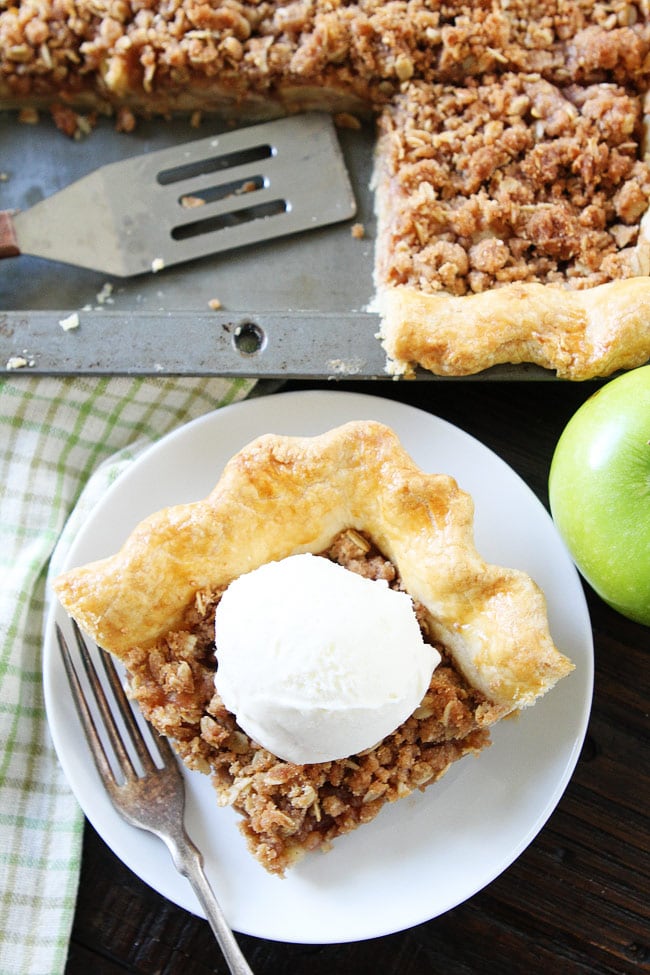 And of course I love this pie because of it's deliciousness. Buttery, flaky, pie crust, tart apples, a sweet cinnamon oat crumb topping….yep, it's a winner! Oh, and serve it warm with a scoop of vanilla ice cream and you will be in pie heaven.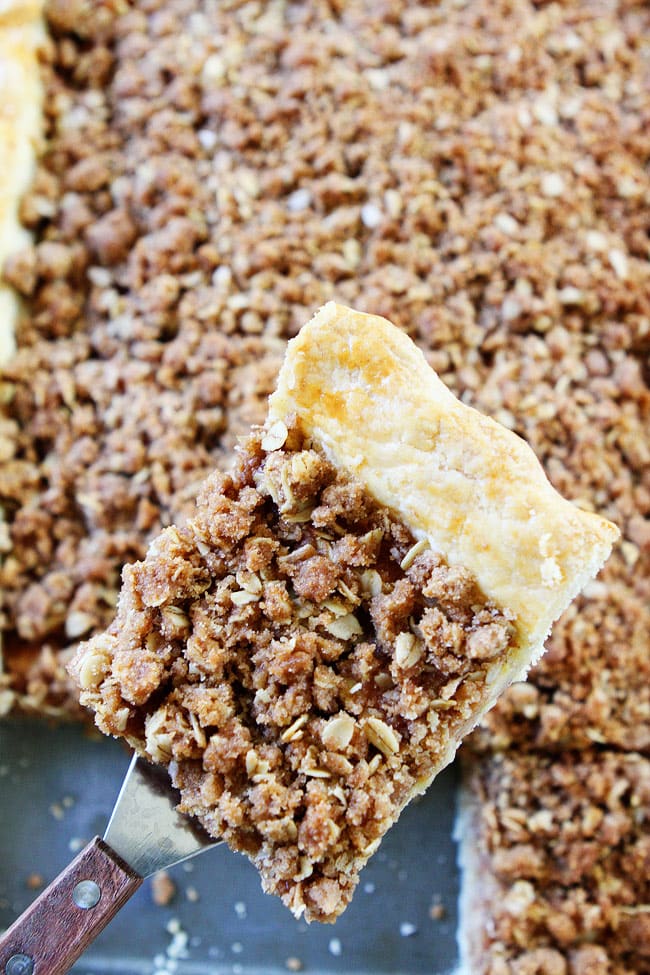 You will love this pie so much that you will be tempted to not share with your friends and family, but there is a whole slab to go around. So enjoy your pie and share some too!
Promise me you will make this Apple Slab Pie with Crumb Topping. It seriously is the best pie ever. It is going to be on our Thanksgiving menu this year, but I am not waiting that long for another piece of pie. I am putting our fall apples to use and making another apple slab pie this week. Who wants to come over for a pie party? See you soon:)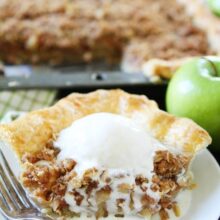 Apple Slab Pie with Crumb Topping
This easy apple pie is made in a jelly roll pan and is perfect for feeding a crowd. It is our family's favorite dessert and perfect for the holidays.
Instructions
First, make the pie crust. In a large bowl, combine the flour, sugar, and salt. Add the cold butter. Using a pastry blender or two forks, cut the butter into the flour mixture until it resembles coarse meal and the biggest pieces of butter are the size of peas. Add in the cold water, 1 tablespoon at a time, and stir with a spoon until the dough just comes together. It will still be clumpy. Knead the dough with your hands, until it forms a dough ball. The dough shouldn't be sticky. Wrap the dough in plastic wrap and flatten into a disc. Refrigerate the dough for one hour or up to three days. You can also freeze the dough for up to 1 month. Place the plastic-wrapped dough into a freezer bag. To defrost, remove from the freezer and place in the refrigerator for one day to thaw.

While the pie dough is chilling, make the crumb topping. In a medium bowl, combine the flour, oats, brown sugar, granulated sugar, and cinnamon. Stir together with a whisk. Mix in the butter with your fingers until the mixture comes together and you have big crumbles. Place in the refrigerator while you make the apple filling.

To make the apple filling, place the apples, lemon juice, sugar, flour, vanilla, cinnamon, and allspice in a large bowl. Stir gently until apples are coated. Set aside.

Preheat oven to 375 degrees F. Get out a 10x15 inch jelly roll pan. To assemble the pie, remove the crust from the fridge. On a lightly floured surface, roll the pie dough into a big rectangle, about 18x13 inch size. Try to work quickly so the dough doesn't get too warm. Carefully transfer the dough to the jelly roll pan. Trim the dough that is overhanging the sides to 1-inch. Smooth the dough so it fits into the edges and corners.

Pour the apple filling over the dough and spread evenly with a spatula.

Remove the crumb topping from the fridge. Sprinkle evenly over the pie. Pinch or crimp the excess pie dough on the sides and edges.

Bake for 40-45 minutes or until the crust is golden brown and the apple filling is slightly bubbling. Remove from oven and place on a wire cooling rack. Cool until room temperature. Cut into pieces and serve!

Note-this pie is good served warm, at room temperature, or even cold. I like it with vanilla ice cream:) It will keep covered in the fridge for 3-4 days. It can be made in advance! YAY!
Have you tried this recipe?
Leave a comment below and share a photo on Instagram. Tag @twopeasandpod and hashtag it with #twopeasandtheirpod