Chocolate Peanut Butter Brownies – fudgy peanut butter brownies with a layer of peanut butter, a layer of chocolate ganache, AND peanut butter cups on top! These chocolate peanut butter brownies are too good to be true!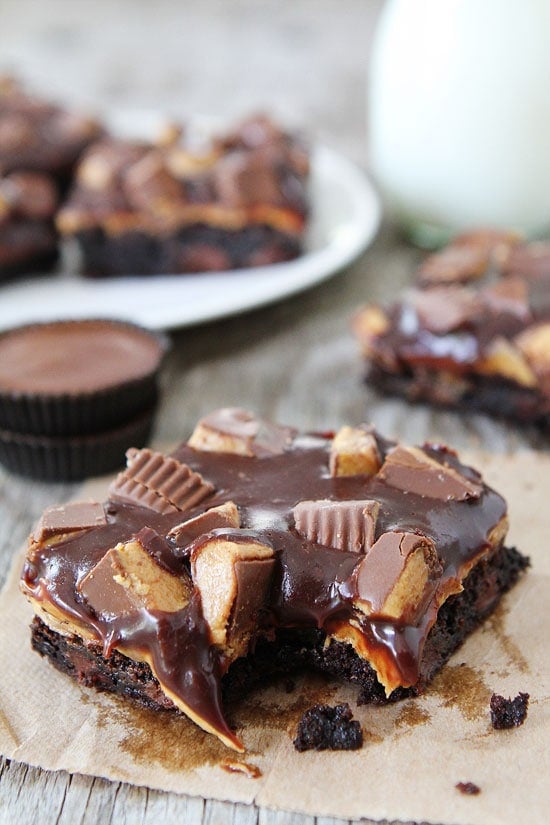 New Cookbook Alert: Seriously Delish
I am SO excited about today's post. Yes, because of the decadent Chocolate Peanut Butter Brownies that are staring you down and begging to be made, but also because of Jessica's new cookbook, Seriously Delish. This brownie recipe comes from Jessica's cookbook that is hot off the press, it was just released yesterday!
I received the book a few weeks ago, perks of being friends with the author, and I've had a hard time putting it down. I've had a major dilemma going on, do I hold the baby or the book? 🙂 Seriously Delish is SERIOUSLY amazing! I want to make ALL of the recipes!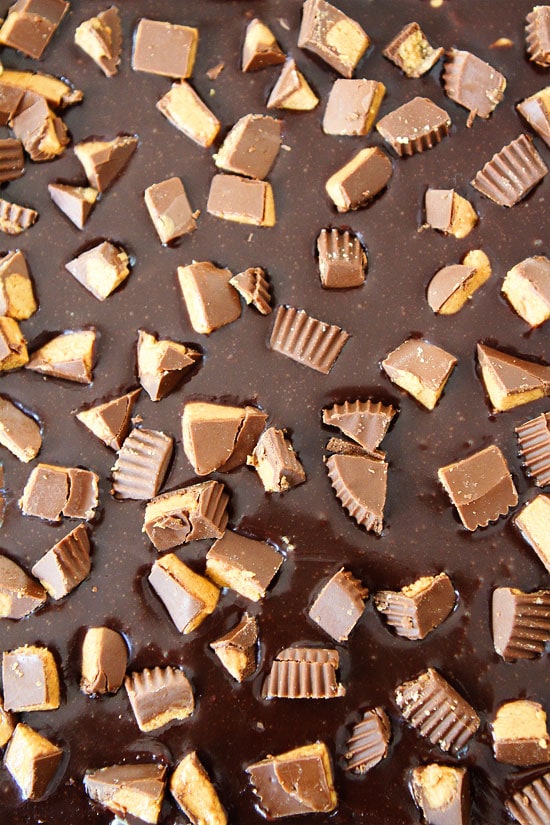 Seriously Delish is Seriously AMAZING!
Jessica is one of my most favorite people on the planet! We have been blogging buddies from the very beginning and I just love her to pieces! When she told me she was writing a cookbook, I started counting down the days until I could hold it in my hands. I knew it would be fabulous and it is…times 100! The recipes are creative and will make you want to run to the kitchen to cook and bake!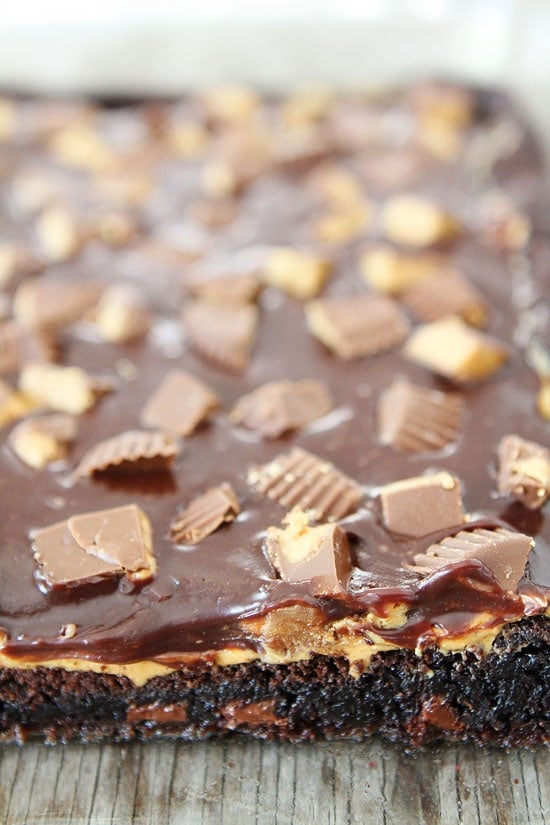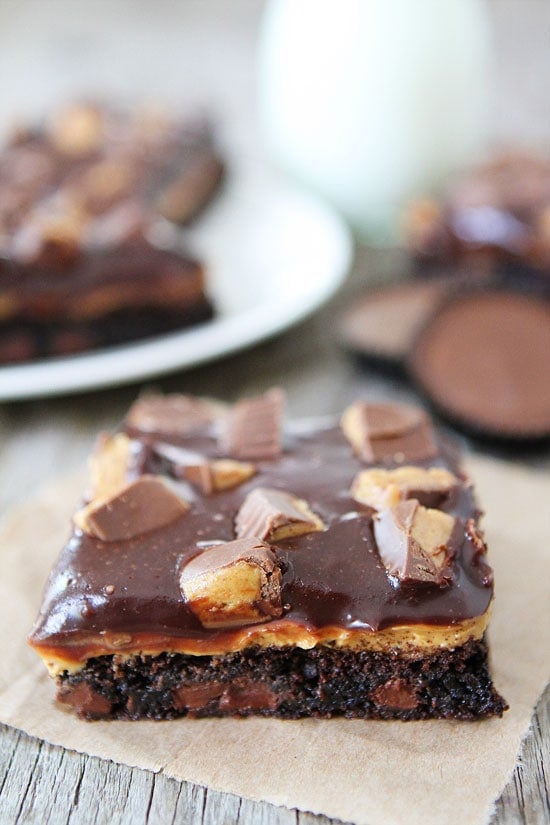 Hot off the Press: Chocolate Peanut Butter Brownies!
Ok, now let's talk about these chocolate and peanut butter brownies. I am a huge chocolate and peanut butter fan so when I saw these brownies, I wanted to fly to Jessica's house and give her a big hug! I am pretty sure she made these brownies just for me.:)
These chocolate peanut butter brownies are rich, fudgy, and every chocolate lover's dream. I would be content with just the brownie layer, but does Jess stop there, NO! She adds a peanut butter filling, chocolate ganache topping, and chopped up peanut butter cups on top! Chocolate and peanut butter brownies BLISS!
The peanut butter flavor goes so well with the rich chocolate brownies. We all know peanut butter and chocolate are a match made in heaven and these brownies are the perfect example! They are perfection!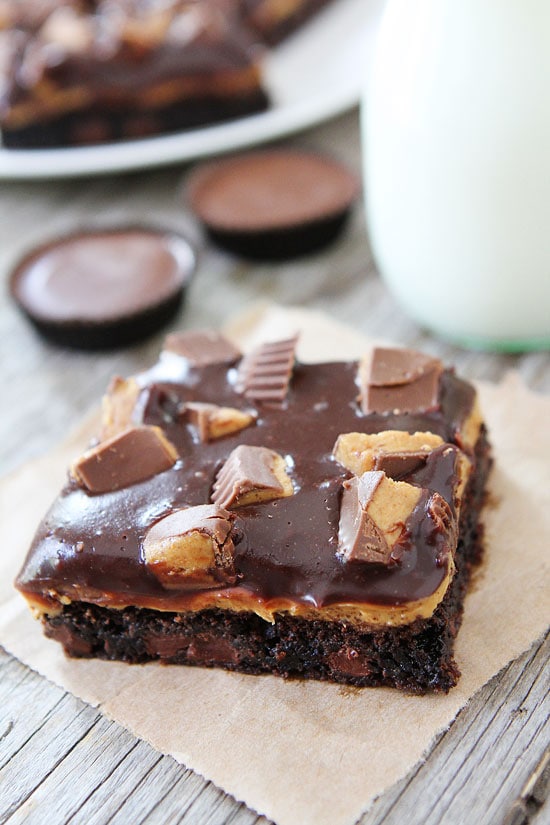 Calories Don't Count with these Peanut Butter Brownies
I can't even tell you how good these chocolate peanut butter brownies are! You HAVE to make them! These are the kind of brownies you can't say no to. Every time I walked by the pan, I HAD to have a taste! Just make sure you have a glass of cold milk close by, you know so you can have a drink and go back for another brownie:)
These chocolate and peanut butter brownies are in the Celebrations chapter and Jess said calories don't count in this chapter and I am taking her word for it! These chocolate peanut butter brownies are worth every single bite!
Do yourself a favor and make these Chocolate Peanut Butter Brownies. They are my new favorite brownies and I think they will be yours too! And do yourself another favor and buy Seriously Delish! All of the recipes are…well, Seriously Delish!
If you like these peanut butter brownies, check out: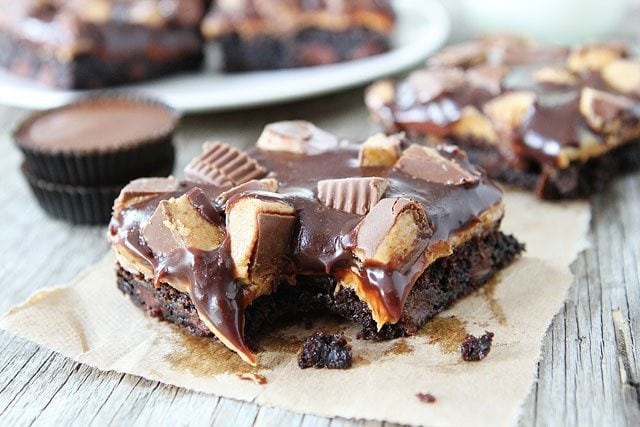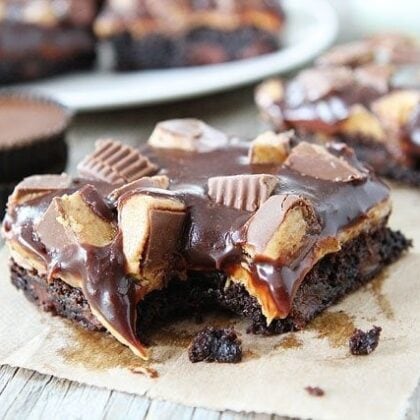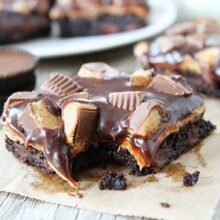 Chocolate and Peanut Butter Lover's Brownies
If you love chocolate and peanut butter, you will go CRAZY for these brownies! They are to die for!
Ingredients
For the Peanut Butter Filling:
Ganache Topping:
8

ounces

milk chocolate

chopped

1/2

cup

heavy cream

1 1/2

cups

chopped peanut butter cups
Instructions
Preheat the oven to 350 degrees F. Spray a 9x13-inch baking dish with nonstick spray.

For the brownies, add the butter and chopped chocolate to a microwave-safe bowl and microwave until melted, 30-60 seconds. Once the chocolate is semi-melted, stir constantly to melt the rest. Set aside and allow the mixture to cool for 5 minutes.

In a small bowl, whisk together the flour, cocoa powder, baking soda, baking powder, and salt.

In a large bowl, whisk together the melted butter-chocolate mixture and granulated sugar. Whisk in the eggs, egg yolk, and vanilla extract, stirring until a smooth batter forms. With a large spoon, mix in the dry ingredients until combined. Stir in the chocolate chips. Add the batter to the baking dish. Bake until the brownies are set and no longer jiggly in the middle, 25-30 minutes. Remove from the oven and let them cool for 30 minutes.

For the peanut butter filling, stir together the melted peanut butter, powdered sugar, and coconut oil until smooth. The peanut butter will be warm and will melt the coconut oil, so stir until melted. Pour the filling over the brownies, using a spatula to spread it around the top. Let cool completely and firm up, about 20 minutes.

For the ganache, add the chocolate to a large bowl. Heat the cream in a small saucepan over medium heat just until it bubbles around the edges. Remove the cream from the heat and pour it over the chocolate. Let the mixture stand for 30 seconds, then stir until the chocolate melts and a smooth ganache comes together, about 1-2 minutes. Pour it over the top of the brownies, then cover with the chopped peanut butter cups. Let the brownies sit for 30 minutes before cutting.

Note-the brownies will stay fresh for 2 to 3 days at room temperature if covered or kept in an airtight container. You can also keep them in the fridge, they will last a few days longer.
Have you tried this recipe?
Leave a comment below and share a photo on Instagram. Tag @twopeasandpod and hashtag it with #twopeasandtheirpod