Looking for a healthy breakfast recipe? Make Baked Peach Almond Oatmeal! You can make it in advance and reheat it in the morning!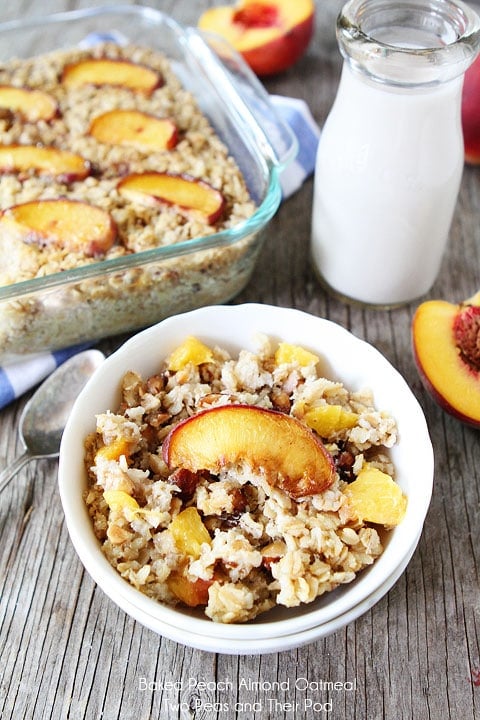 Why do Mondays always sneak up on us so quickly? I am never ready for them! The weekends are so much better. Sorry, Monday, but you aren't my favorite day.
I was a little extra excited to get up this morning because I knew what I was going to eat for breakfast-Baked Peach Almond Oatmeal. I usually eat regular oatmeal every morning, but yesterday I made special oatmeal. I knew I would be feeling lazy on Monday morning so I made the oatmeal in advance and I am so glad I did. Waking up this morning wasn't so bad!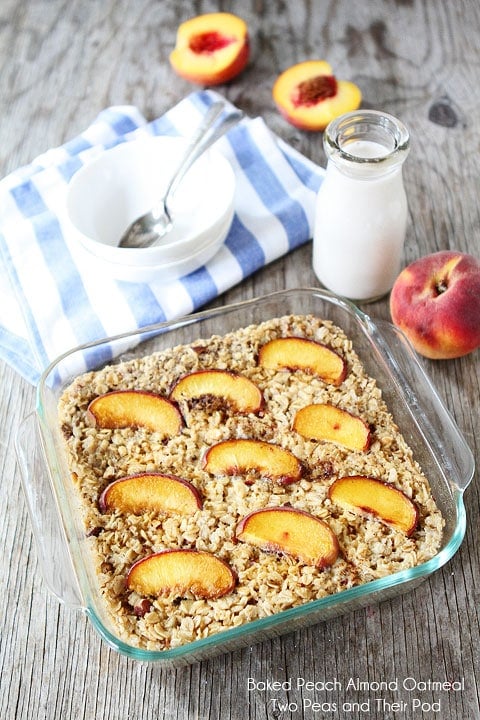 We love baked oatmeal at our house. It is a real breakfast treat! A few of our favorites include Baked Blueberry Coconut Oatmeal and Apple Cinnamon Baked Oatmeal.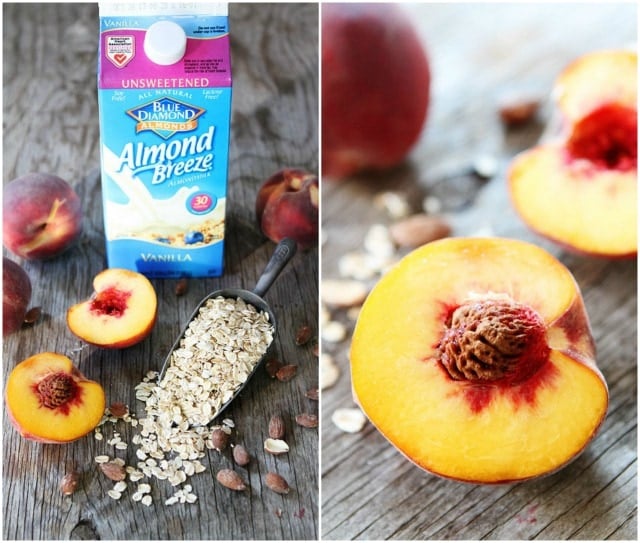 We still have a million peaches to use up so it was only natural that I created a baked peach oatmeal. And since I love almonds, I added them to the mix! I used Almond Breeze Vanilla Unsweetened Almond Milk and threw in some chopped almonds too!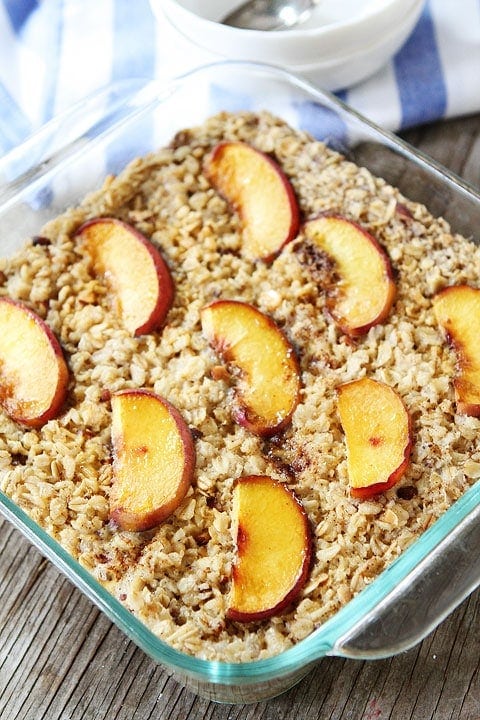 I used to eat those instant peaches 'n cream oatmeal packets when I was a kid. Don't judge, I was a kid. I didn't know how easy it was to make real oatmeal:) My Baked Peach Almond Oatmeal reminds me of that oatmeal, but SO much better. Like a bizzilion times better. And I promise it is easy to make, just as easy as those packets.
You can make a big pan and reheat it during the week! I made a pan on Sunday and I know we will be eating it for breakfast for a few days. I reheat it in the microwave and it is ready in seconds! I like to serve it with an extra splash of Almond Breeze milk, it adds the perfect creaminess!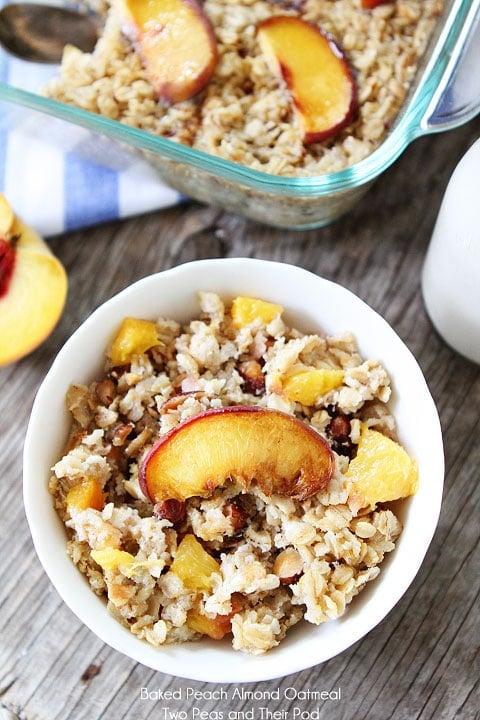 I guess I will be getting up early this week. I am one of those people who thinks about breakfast the second they wake up. I might even think about breakfast sooner. I am sure I dreamt about Baked Peach Almond Oatmeal last night. Talk about sweet dreams!
If you want a reason to wake up in the morning, make Baked Peach Almond Oatmeal. You will be waking up with a smile! And this is a great recipe for back to school time! The kiddos will eat it up and you can prepare it the day or night before! Big time bonus when you are running around in circles in the morning trying to get everyone ready for school! You will feel good about sending them off with a belly full of Baked Peach Almond Oatmeal. A great way to start the day!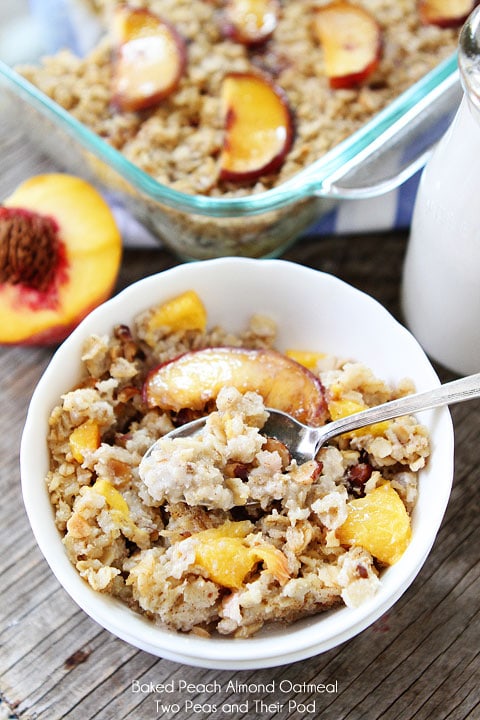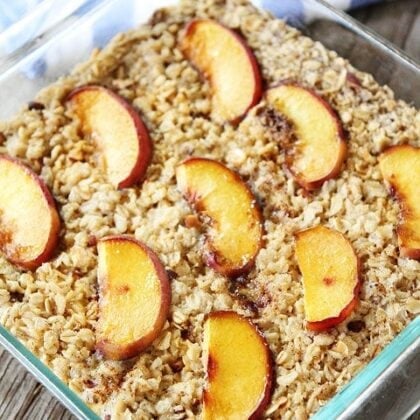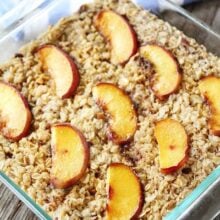 Baked Peach Almond Oatmeal
Baked Peach Almond Oatmeal is a great morning treat. Make a big pan to feed a crowd or to reheat during the week for an easy healthy breakfast!
Ingredients
2

cups

rolled oats

1/4

cup

light brown sugar

1/2

teaspoon

salt

1

teaspoon

baking powder

1

teaspoon

ground cinnamon

1/2

cup

chopped almonds

2

cups

Almond Breeze Vanilla Unsweetened Almond Milk

3

tablespoons

coconut oil

melted and cooled slightly (or melted and cooled butter)

1

teaspoon

vanilla extract

1/4

teaspoon

almond extract

1 1/2

cups

chopped peaches

Peach slices for the top

optional
Instructions
1. Preheat the oven to 350 degrees F. Grease an 8x8 square baking dish and set aside.

2. In a medium bowl, mix together the oats, brown sugar, baking powder, salt, cinnamon, and almonds.

3. In another medium bowl, whisk together the almond milk, egg, coconut oil, vanilla, and almond extract.

4. Arrange the chopped peaches on the bottom of the prepared baking dish. Pour the oat mixture evenly over the peaches. Pour the almond milk mixture over the oats. Gently shake the baking dish to make sure the milk covers the oats evenly. If desired, add a few sliced peaches to the top of the oatmeal. It makes the oatmeal look pretty:)

5. Bake for 40 minutes, until the top is golden and oatmeal is set. Let cool for 5 minutes and serve warm.

Note-this baked oatmeal is great reheated in the microwave. We like to add a splash of almond milk for extra creaminess! This recipe can easily be doubled for a 9x13 pan. Use gluten-free oats to make this recipe gluten-free.
Have you tried this recipe?
Leave a comment below and share a photo on Instagram. Tag @twopeasandpod and hashtag it with #twopeasandtheirpod

Disclosure: this post is sponsored by Almond Breeze, but our opinions are our own.