Quick Summary
Easy Banana Bread Recipe- Tips for turning your brown bananas into the best banana bread EVER! The bread is moist, perfectly sweet, and bursting with banana flavor. It is a family favorite!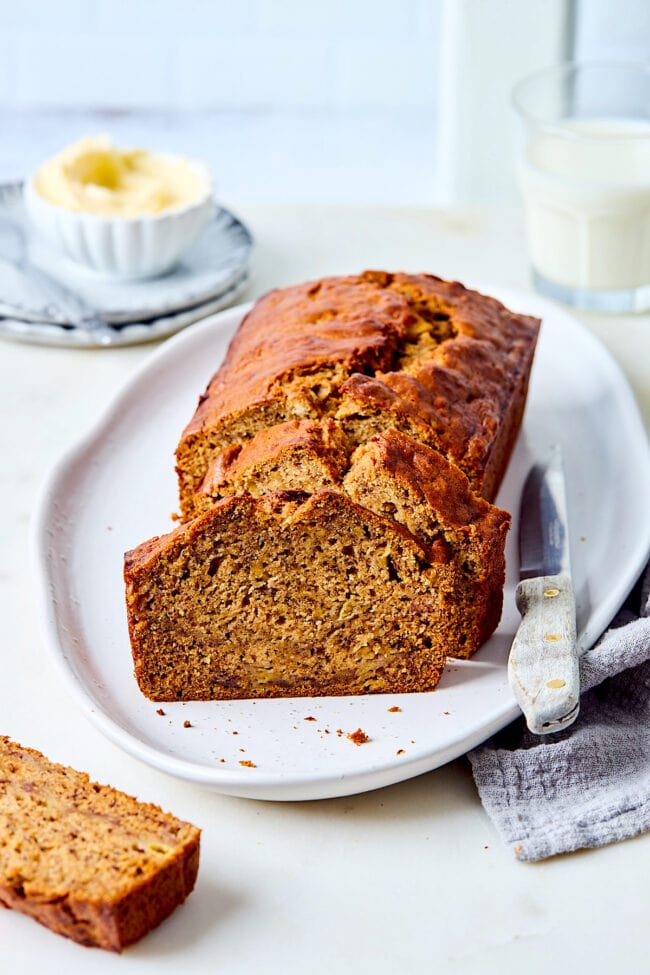 I am super excited because we are talking ALL about Banana Bread. Yes, I get excited about banana bread because it is one of my favorite things to bake and eat. I am always asking myself, "What can I do with bananas that are going bad?" The answer is always BANANA BREAD! Who doesn't love a warm slice of banana bread slathered in butter?
I have baked and eaten A LOT of banana bread in my days. I love making different versions, like my famous Chocolate Banana Bread and Chocolate Chip Banana Bread, but today we are talking about the classic.
This EASY Banana Bread recipe will remind you of your mom's or your grandma's recipe…but even better. The quick bread is buttery, super moist, has an intense banana flavor, the perfect amount of sweetness, and it's EASY to make!
If you have a lot of brown bananas to use up, you can double this recipe. Bake a loaf for you and a loaf for a friend! Every time I share it with friends and family, they want the recipe. I promise you will be baking this one all of the time!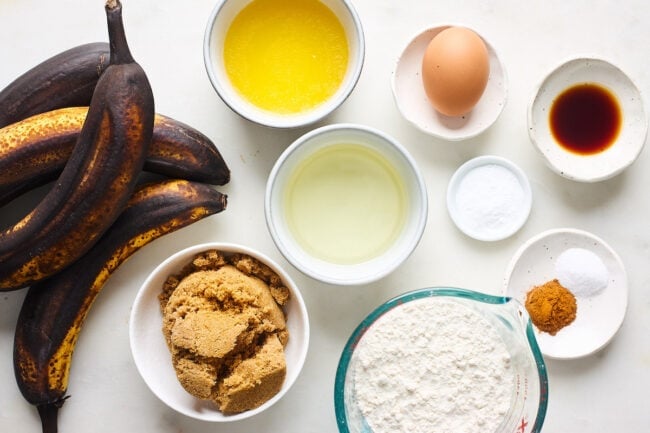 Basic Ingredients
The ingredients are SIMPLE, but the end results are DELICIOUS!
Flour– use all-purpose flour. I always fluff, spoon, and level the flour when measuring.
Baking soda– make sure it is fresh!
Cinnamon– a little cinnamon compliments the bananas nicely. Don't skip it.
Salt– always salt!
Brown bananas– you will need 3 large or 4 medium brown bananas.
Butter– use unsalted butter that has been melted and slightly cooled.
Oil– you can use vegetable oil, canola oil, or melted coconut oil.
Brown sugar– always pack your brown sugar.
Egg– 1 large egg, at room temperature.
Vanilla extract– I highly recommend pure vanilla extract for the best flavor.
Turbinado sugar– for sprinkling on top of the loaf before it goes in the oven. It gives it a nice, sugary crunch!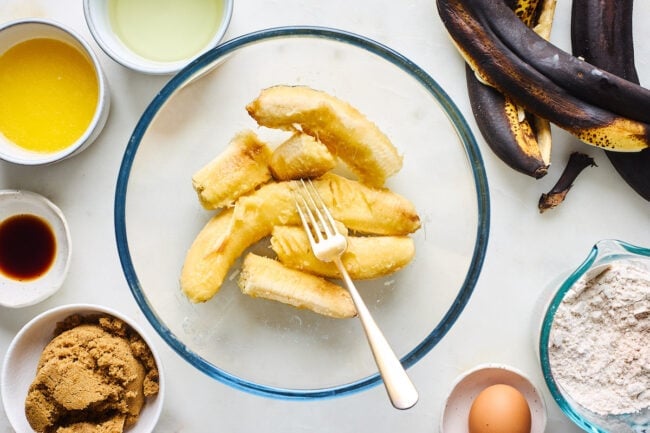 What Kind of Bananas to Use
The ideal banana for banana bread is BROWN. You want them more brown than yellow. The bananas should be overripe. Brown bananas are what make banana bread sweet and moist.
Can you make banana bread with fresh bananas? Overripe bananas are best, but if you are in a pinch, you can ripen the bananas by baking them in the oven. Place unpeeled bananas on a baking sheet and bake at 250°F until soft, about 15-20 minutes. Let the bananas cool. Peel, mash, and get baking!
You can use frozen bananas if you are in a pinch, but I do prefer unfrozen bananas. To freeze bananas, peel them and put them in a freezer bag. I lay them in a single layer so they don't stick together and press all of the air out of the bag. The bananas can be frozen for up to 6 months. When ready to use, let the bananas defrost on the counter for about an hour. You want them to be soft but not runny.
You can also mash overripe bananas and freeze the mashed bananas. I like to freeze them in cup size portions in freezer bags. Make sure you write the date, cup amount, and frozen bananas on the bag so you know what is inside. Defrost before using.
For this recipe, you will need 1 ½ cups mashed bananas, which is 3-4 bananas, it just depends on their size. Three large bananas or 4 medium bananas.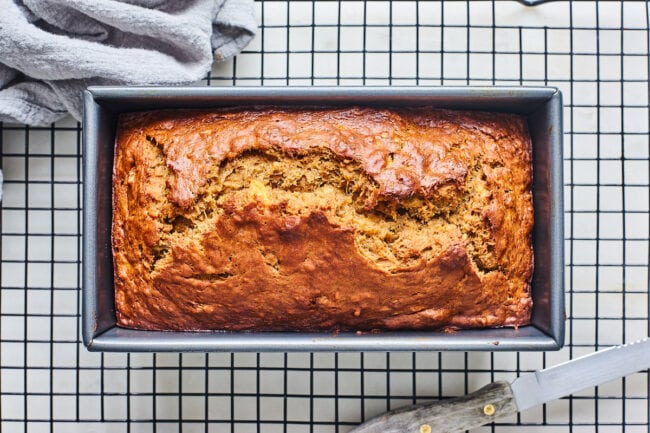 Best Pan for Making Banana Bread
For this recipe, I recommend a 8 1/2- by 4 1/2-inch loaf pan so the bread rises up nice and tall.
You can use 9-by-5-inch loaf pan, but your loaf will be a little shorter.
If you use the smaller loaf pan, it will most likely take 5-10 minutes longer to bake. Both work well, the loaves will just be a little different in size, just make sure you watch the baking time. I always recommend checking the bread early if it's your first time making the recipe.
I use a metal pan that isn't too dark in color. If you are going to use a glass pan, decrease the oven temperature by 25 degrees. Make sure you grease the pan really well so the banana bread doesn't stick in the pan. I like to use a nonstick cooking spray.
You can line the pan with parchment paper, with a little overhang, and spray it with cooking spray. This will make it easy to lift the bread out of the pan.
If you want to make smaller loaves, you certainly can, just reduce the baking time!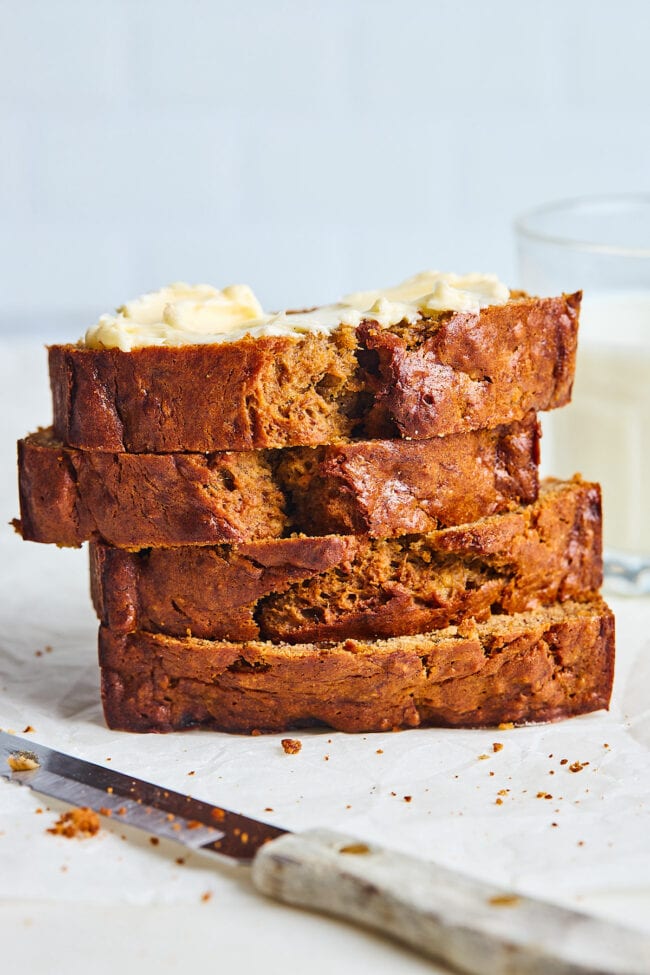 How to Make Easy Banana Bread
Ok, it's time to make some bread! I love this recipe because you don't even need a mixer, you can make it by hand! It is so simple and the best banana bread you will ever eat!
Whisk it up. For the dry ingredients, I whisk together all-purpose flour, baking soda, salt, and a little cinnamon. You can leave the cinnamon out, but I love the hint of cinnamon. You can also add a pinch of nutmeg if you wish.
Mash it up. Next, mash up those brown bananas. You can use a fork or a potato masher. You can also use a mixer to mash up bananas, but I like to keep it simple and not get the mixer involved for this recipe. I grab a fork and mash away!
Banana bread with oil and butter. I use melted unsalted butter AND oil in this banana bread recipe. Using both brings out the best flavor and texture. The butter provides a rich, buttery flavor and the oil makes the banana bread super moist. You can use vegetable, canola, or melted coconut oil. They all work well.
Brown sugar. This recipe uses ALL brown sugar to sweeten the banana bread. I love the hint of rich caramel flavor the brown sugar adds and it makes the banana bread extra moist.
Don't over mix. When you combine the dry ingredients and wet ingredients, don't over mix the bread. Stir until just combined. If you over mix you will end up with a heavy and flat loaf.
Bake it. Spread the batter evenly into the prepared pan. To give the banana bread a sweet crunchy top, you can sprinkle the batter generously with turbinado sugar before going into the oven. Bake until the bread is golden brown and a toothpick comes out clean after inserted into the center of the bread. If the bread gets too dark and the center isn't done, you can drape the bread with a piece of aluminum foil to keep it from getting too dark.
Cooling down. Let the bread cool in the pan for 10 minutes. Use a butter knife to loosen the bread and let it cool completely on a wire cooling rack.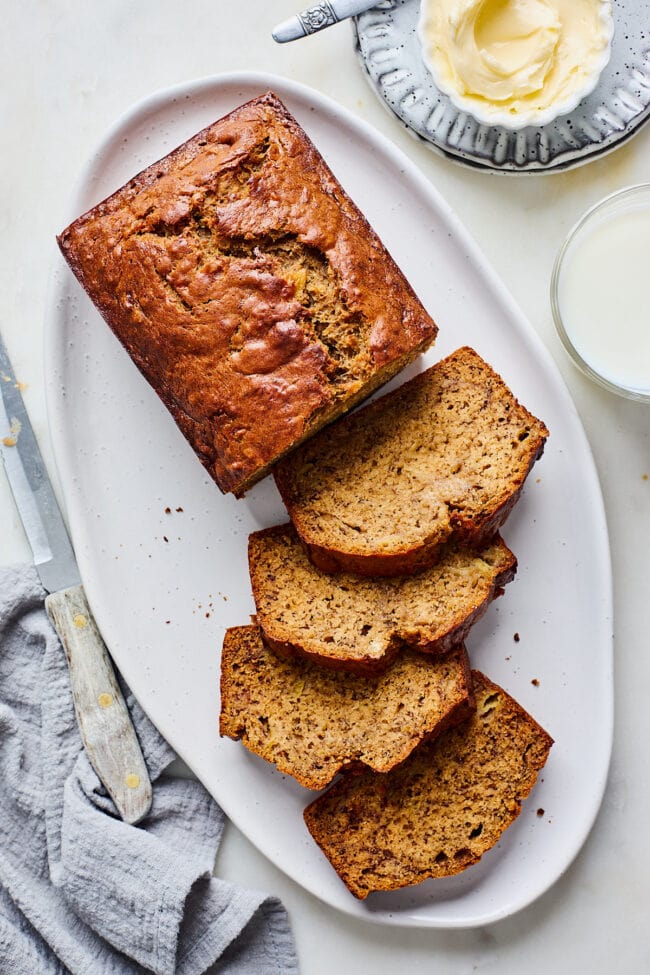 Variations
This is a classic recipe, but if you want to mix it up, go for it! You can add in 1 cup of any of the following ingredients.
chocolate chips
chocolate chunks
chopped pecans
chopped walnuts
flaked coconut
blueberries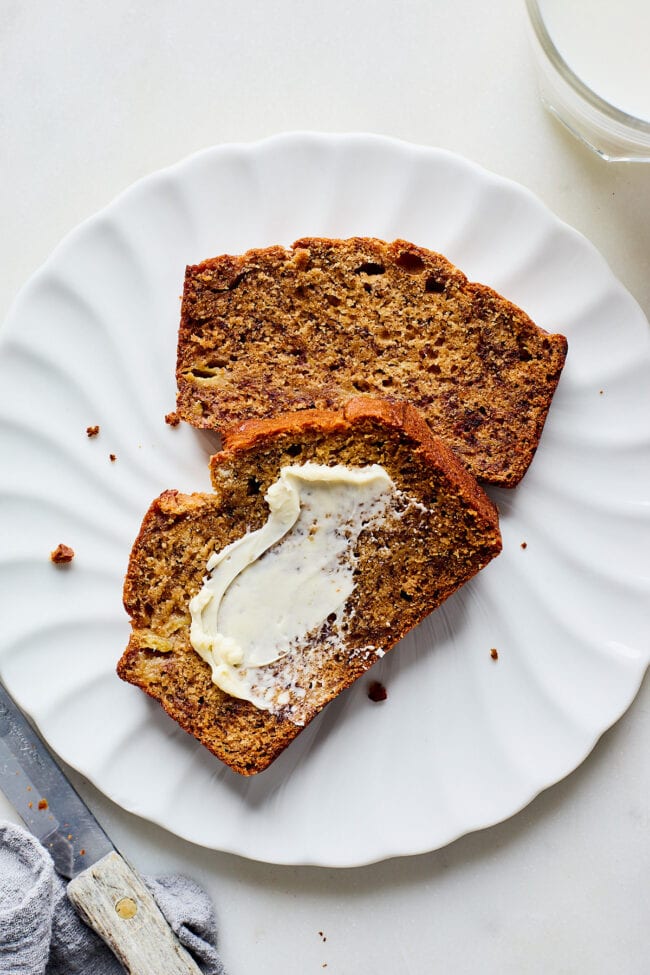 How to Store
If you don't eat the entire loaf after it comes out of the oven, here are some tips for storing banana bread.
When the banana bread is completely cool, wrap it in plastic wrap and store on the counter for up to 3 days. I find if it sits any longer than that the bread gets too moist. Luckily, we never have a problem eating a loaf in 3 days:)
If you live in a super humid climate, you can store your banana bread in the refrigerator, but it might dry it out a little.
How to Freeze
You can also freeze banana bread. To freeze, let the bread cool completely, wrap it in plastic wrap and foil. The bread can be frozen for up to 2 months. I recommend labeling and dating the bread so you know how long it's been in the freezer.
To defrost frozen banana bread, simply thaw at room temperature before slicing and serving.
You can also freeze individual slices. Wrap thick slices in plastic wrap and foil. Place in a freezer bag. When ready to enjoy, remove from the freeze and pop in the toaster. You can also thaw the slices on the counter.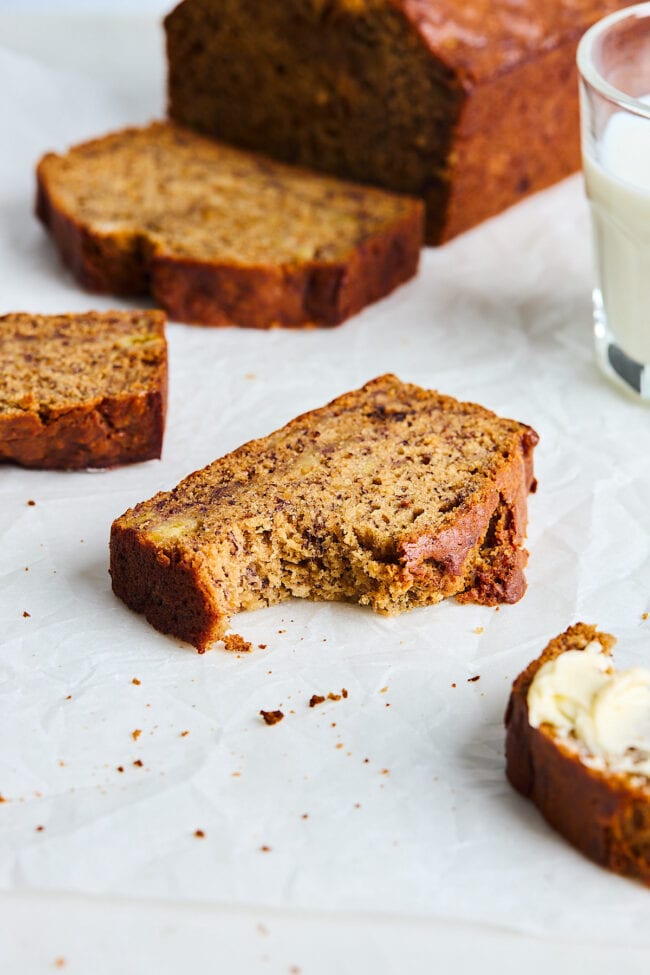 FAQ
How do you keep the banana bread from browning on the top?
If your loaf is starting to get too dark on top, you can cover it loosely with aluminum foil. This will prevent the top from browning, but allow the center to keep baking.
Can you make banana muffins with this banana bread recipe?
Yes! Grease or line a muffin pan with paper liners and fill the muffin cups ¾ the way full. Bake for 18-22 minutes.
Can you make banana bread in an 8×8 pan?
Yes, if you want to make a banana bread snacking cake, you can spread the batter evenly in a 8×8-inch baking pan. Reduce the baking time. I recommend checking at 20 minutes. It might take a little longer, depending on your oven.
What makes banana bread moist?
Lots of bananas! I use 1 ½ cups mashed brown bananas for a super moist loaf. I also use a mixture of melted butter and oil, which keeps the bread moist. Also, make sure you don't pack your flour when you measure and don't over bake the bread.
Can banana bread be frozen?
Yes! Banana bread freezes beautifully. You can freeze an entire loaf or individual slices. Wrap the bread or slices in plastic wrap and aluminum foil and freeze for up to 2 months.
More Banana Bread Recipes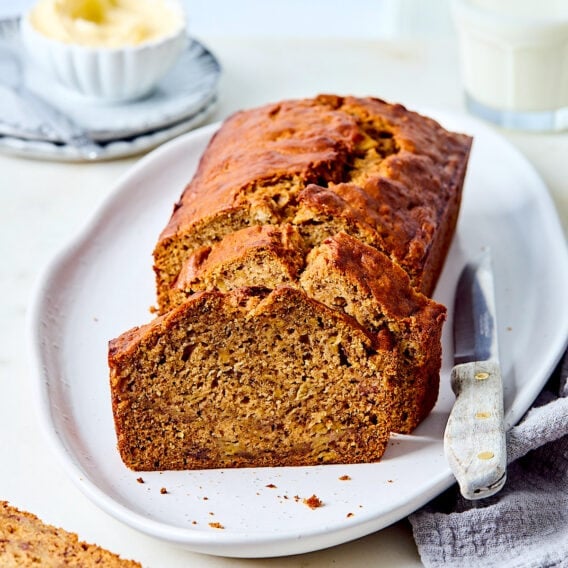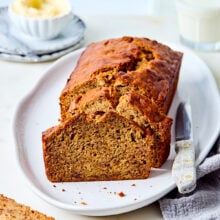 Banana Bread
This moist banana bread recipe is full of banana flavor and so easy to make, you don't even need a mixer! Enjoy a warm slice of banana bread with butter!
Instructions
Heat your oven to 350°F. Grease a loaf pan (preferably 8×4) with nonstick cooking spray and set aside.

In a medium bowl, whisk together the flour, baking soda, salt, and cinnamon. Set aside.

In a large bowl, mash the ripe bananas with a fork. Add the melted butter and oil and stir until combined. Stir in the brown sugar, egg, and vanilla extract. Stir until smooth.

Stir the dry ingredients into the wet ingredients, don't over mix. If you over mix the bread will flatten and end up heavy.

Pour batter into prepared pan. Sprinkle generously with turbinado sugar, if using. Bake for 50-65 minutes, or until a toothpick inserted into the center of the bread comes out clean. Check the bread at 50 minutes, just to be safe. Oven times vary.

Remove the pan from the oven and set on a wire cooling rack. Let the bread cool in the pan for 10 minutes. Run a knife around the edges of the bread and carefully remove from the pan. Let the bread cool on the wire cooling rack until slightly warm. Cut into slices and serve.
Notes
The bread will keep on the counter, wrapped in plastic wrap, for up to 3 days. This bread also freezes well. To freeze, cool the bread completely and wrap in plastic wrap and foil. Freeze for up to 1 month. Defrost before slicing. You can also freeze individual slices.
Nutrition
Calories:
178
kcal
,
Carbohydrates:
33
g
,
Protein:
2
g
,
Fat:
5
g
,
Saturated Fat:
2
g
,
Polyunsaturated Fat:
1
g
,
Monounsaturated Fat:
1
g
,
Cholesterol:
24
mg
,
Sodium:
199
mg
,
Potassium:
111
mg
,
Fiber:
1
g
,
Sugar:
19
g
,
Vitamin A:
150
IU
,
Vitamin C:
2
mg
,
Calcium:
20
mg
,
Iron:
1
mg
Have you tried this recipe?
Leave a comment below and share a photo on Instagram. Tag @twopeasandpod and hashtag it with #twopeasandtheirpod