Zucchini Banana Bread
Zucchini Banana Bread-a blend of your two favorite breads! This easy quick bread is a great way to use up summer zucchini and brown bananas!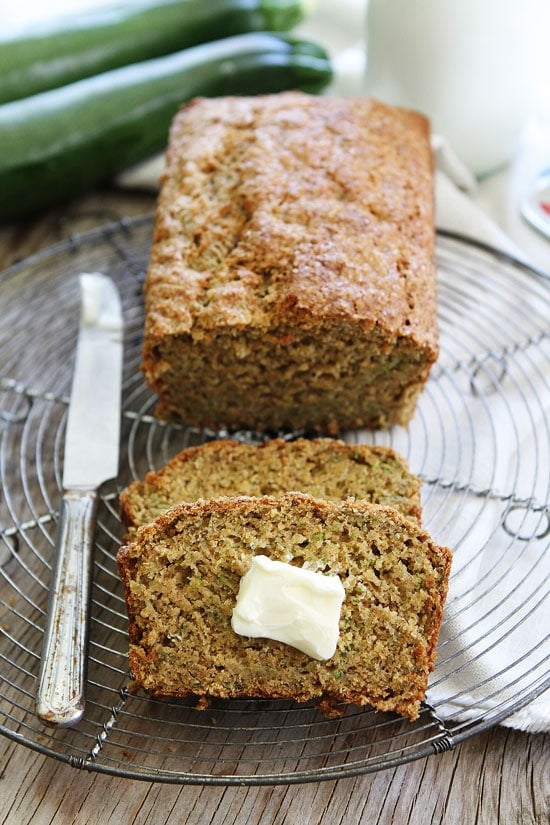 What do you do when you have a pile of zucchini and brown bananas sitting on your counter? You make Zucchini Banana Bread! Well, at least that is what I did and I think you should too because this bread is crazy good!
I love zucchini bread and banana bread, but didn't have time to make both, so I combined both breads into one loaf! The best of both worlds, you get zucchini bread and banana bread! I love it when foods play nicely together:)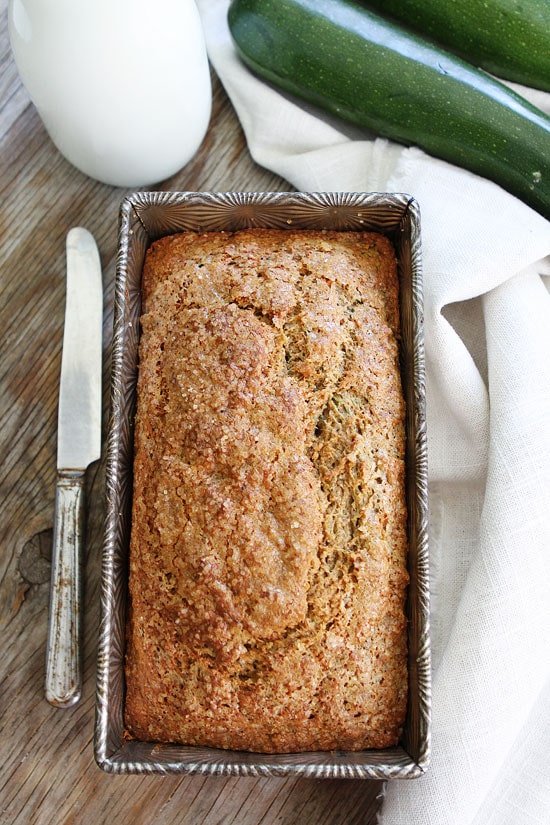 I wanted to keep things on the healthier side, so I used whole wheat flour, coconut oil, and added in mashed bananas and shredded zucchini. The loaf baked up beautifully!
Both of our boys devoured this bread and I was more than ok with that since they were getting their fruits and veggies! This Zucchini Banana Bread is great for breakfast or snack time. And go ahead and slather some butter on a warm piece, you will be glad you did! There is nothing better than a warm slice of bread with butter! Mmmmm!
Oh, and this bread freezes well too so if you have a lot of zucchini and brown bananas to use up, make a few loaves! You can pull them out of the freezer when you have company or on a busy school morning for breakfast!
If you like zucchini bread and banana bread, you will LOVE the combination of both! This Zucchini Banana Bread is the best of both worlds! Enjoy!
If you like this quick bread, you might also like: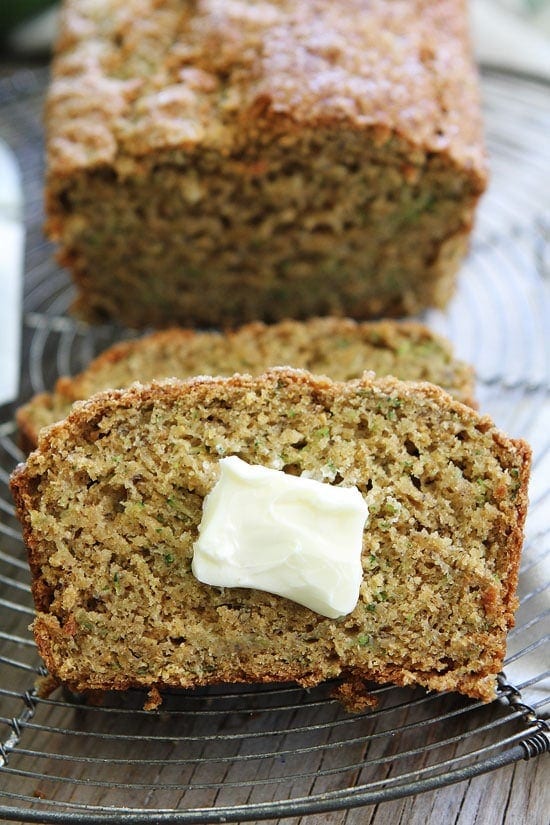 Zucchini Banana Bread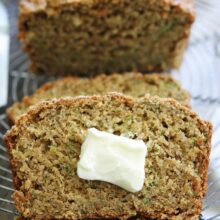 If you like zucchini bread and banana bread, you will LOVE the combination of two! The best of both worlds!
Yield: 1 loaf
Prep Time: 15 minutes
Cook Time: 55-60 minutes
Total Time: 75 minutes
Ingredients:
1 1/2 cups white whole wheat flour
3/4 teaspoon baking powder
3/4 teaspoon baking soda
1/2 teaspoon salt
1 teaspoon ground cinnamon
2 medium ripe bananas, mashed (about 1 cup)
1/4 cup granulated sugar
1/4 cup packed light brown sugar
1 large egg
1/3 cup melted coconut oil, cooled to room temperature (or canola or vegetable oil)
1 teaspoon vanilla extract
3/4 cup shredded zucchini
2 tablespoons turbinado sugar, optional
Directions:
Preheat oven to 350 degrees F. Grease a 8×4-inch loaf pan and set aside.
In a medium bowl, whisk together the flour, baking powder, baking soda, salt, and cinnamon. Set aside.
In a large bowl, combine mashed bananas, granulated sugar, brown sugar, egg, coconut oil, and vanilla. Stir until well combined. Add the flour mixture and stir gently with a rubber spatula until flour is mixed in. Squeeze the zucchini in a paper towel to remove excess liquid. Fold the zucchini into batter.
Pour the batter into prepared loaf pan. Sprinkle top with turbinado sugar, if using. Bake until a toothpick inserted into the center comes out clean, 55-60 minutes. Cool on a wire rack for 15 minutes, then remove the bread from the pan and place on wire rack to cool completely before slicing.
Note-you can use all-purpose flour or regular whole wheat flour instead of white whole wheat flour. Store the bread covered with plastic wrap on the counter for up to 3 days. This bread also freezes well. Wrap in plastic wrap and a freezer bag and freeze for up to one month. Defrost before slicing. If you want to make muffins, line a muffin pan with muffin liners or grease cups. Bake for 20 minutes or until a toothpick comes out clean when inserted into the center. Will make 12 muffins.
All images and text ©
Two Peas & Their Pod
.
Follow twopeasandpod on Instagram and show us what recipes you are making from our blog! Use the hashtag #twopeasandtheirpod! We want to see what you are making in your kitchen!