Biscoff White Chocolate Chip Blondies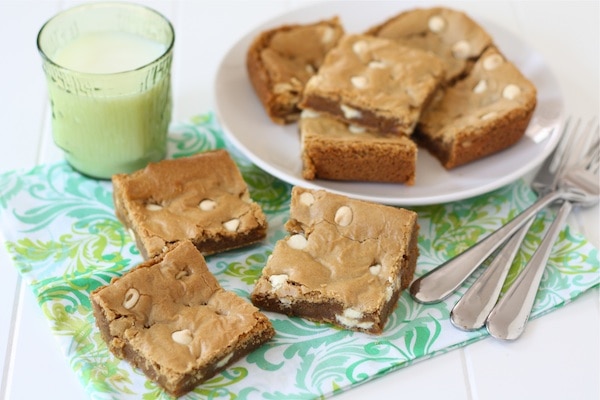 My Biscoff obsession continues with these Biscoff White Chocolate Chip Blondies. I hope some of you went out and bought a jar of Biscoff Spread after I posted the recipe for my Biscoff Oatmeal Cookies. If not, don't worry, there is still time for you to catch up. But please don't waste any more time. I am telling you this Biscoff Spread is amazing-especially in baked goods:)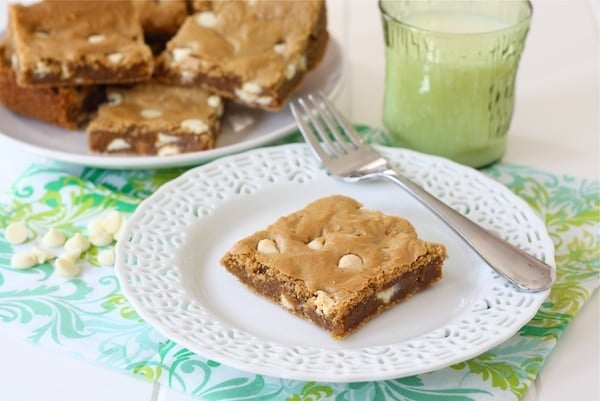 I love making bar treats and blondies are always at the top of my list. I recently made Peanut Butter Chocolate Chip Blondies and decided the Biscoff Spread would be heavenly mixed into my blondie recipe. The Biscoff Spread went perfectly with the brown sugar blondie base. I also added in a hint of cinnamon and white chocolate chips. I made an 8×8 pan, but if you want to double the recipe for a 9×13 pan, go right ahead. You can't go wrong with more of these blondies. Trust me, they are divine!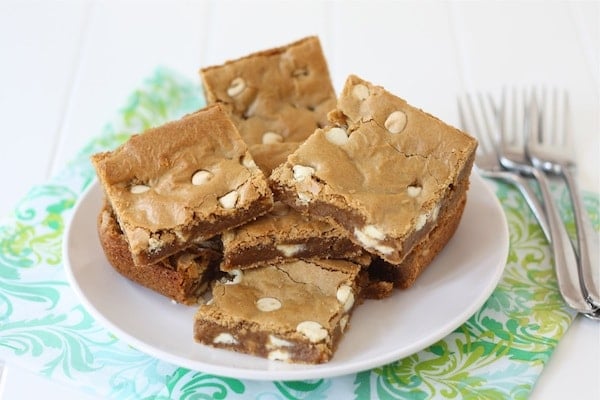 I highly recommend having a glass of cold milk nearby when eating these blondies. The blondies are soft, chewy, and super sweet. If you are wondering where you can find Biscoff Spread, visit Biscoff's website for a list of stores that carry it. You can also order it from Amazon. It is good straight from the jar with a spoon, but why not go all out and make these Biscoff White Chocolate Blondies? They are simple to make and will put an extra big smile on your face:) Enjoy!
Baby update-my due date is tomorrow! We hope our little pea comes right on time:) We shall see! Stay tuned!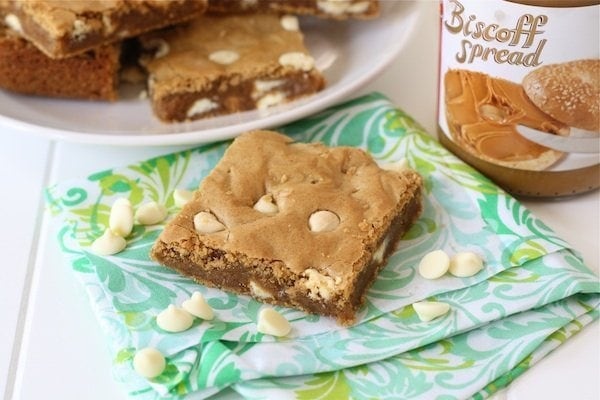 Biscoff White Chocolate Chip Blondies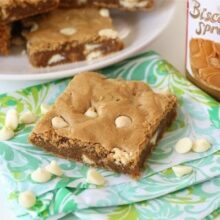 Easy Biscoff blondies dotted with white chocolate chips! These bars are a real treat!
Yield: Serves 12
Cook Time: 25 minutes
Ingredients:
1/4 cup unsalted butter
1 cup light brown sugar
1/4 cup Biscoff Spread
1 large egg
1/2 teaspoon vanilla extract
1 1/4 cup all-purpose flour
1/2 teaspoon baking powder
1/8 teaspoon baking soda
1/4 teaspoon salt
1/4 teaspoon cinnamon
1/2 cup white chocolate chips
Directions:
Preheat the oven to 350°F. Grease an 8×8 pan and set aside.
In a saucepan over medium heat, melt the butter and brown sugar, stirring constantly until smooth. Remove from the heat, and stir in the Biscoff Spread, stir until creamy and combined. Set mixture aside to cool.
In a large bowl, whisk together flour, baking powder, baking soda, salt, and cinnamon.
Add the egg to the Biscoff mixture and stir until smooth. Add the vanilla extract and stir to combine. Pour the mixture into the prepared dry ingredients, and stir until batter is smooth. Fold in white chocolate chips.
Transfer the batter to the prepared pan, spreading the batter evenly to the edges of the pan. Bake for 25 minutes or until the top is golden and the edges are slightly browned and a toothpick comes out clean. Remove blondies from oven and place them on a wire rack to cool. Once cooled, cut into squares and serve.
All images and text ©
Two Peas & Their Pod
.
Follow twopeasandpod on Instagram and show us what recipes you are making from our blog! Use the hashtag #twopeasandtheirpod! We want to see what you are making in your kitchen!
If you like these Biscoff White Chocolate Chip Blondies, you might also like: