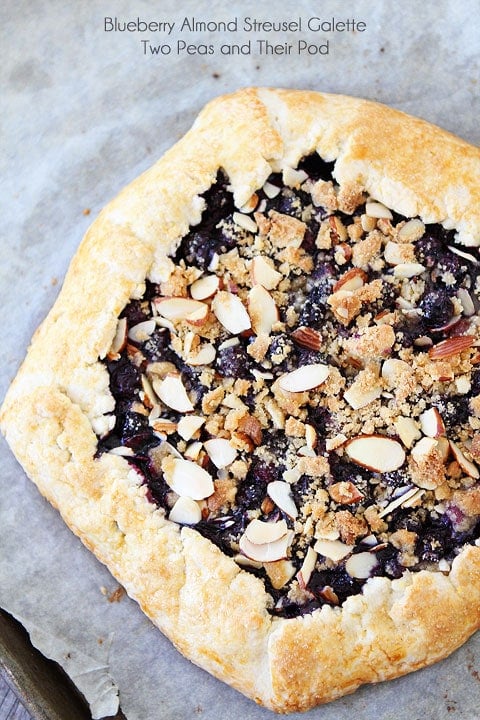 The 4th of July is on Thursday. I really don't like it when holidays fall during the week. Can't they all be on Friday or Monday so we can enjoy extra long weekends? Since I can't change the calendar, I guess I will just take the entire week off and celebrate. You can find me in the pool or eating a big piece of Blueberry Almond Streusel Galette.
Galettes are one of my favorite summer desserts. I don't do pies, but I do galettes and I do them well. Ok, Josh always makes the dough, but I make the filling and do my fair share of the eating. WE do galettes well. And this Blueberry Almond Streusel Galette is off the charts. I give it a perfect 10!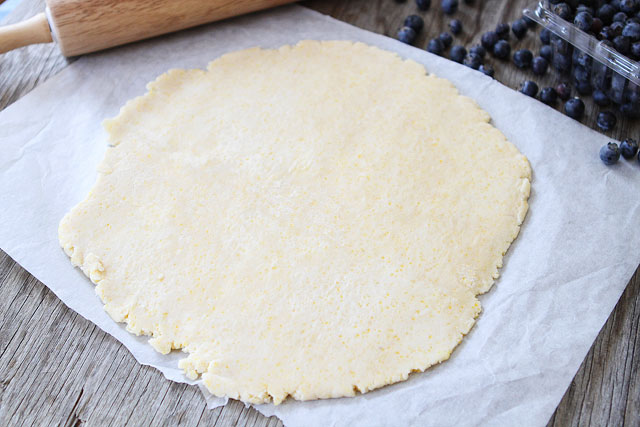 Josh made the galette dough while I worked on the galette filling. The galette dough isn't hard, I just always have my "dough boy" make it for me. Since he doesn't mind and he's good at it, why not? I love this galette dough because it has cornmeal in it. It gives the galette a slight crunch. It's our favorite galette dough recipe. We use it all of the time. A few of our other favorite galettes include: Apple Toffee Galette, Pear Galette, and Mixed Berry Mini Galettes.
I had a huge container of blueberries in the fridge so I made a blueberry filling. Caleb gave me the evil eye when he saw me working with his precious blueberry jewels, but I gave him a few to snack on while I worked and he forgave me. He loves blueberries!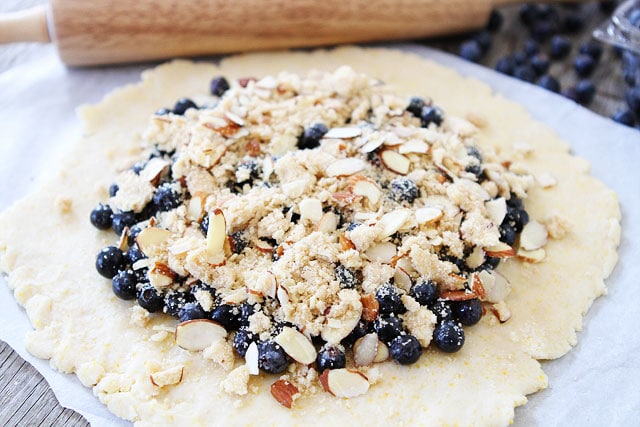 I was going to stop at just the blueberries, but then my mind started dreaming up an almond streusel topping. I knew if I added the almond streusel topping Josh wouldn't be able to eat the galette since he is allergic to nuts. So what did I do? I made the almond streusel topping. It just sounded too good not to make. I know, I was totally being selfish, especially since Josh made the galette dough, but you will understand after you taste this galette. The almond streusel topping is amazing! So I am really not that selfish, I made this galette for all of you, not just me:)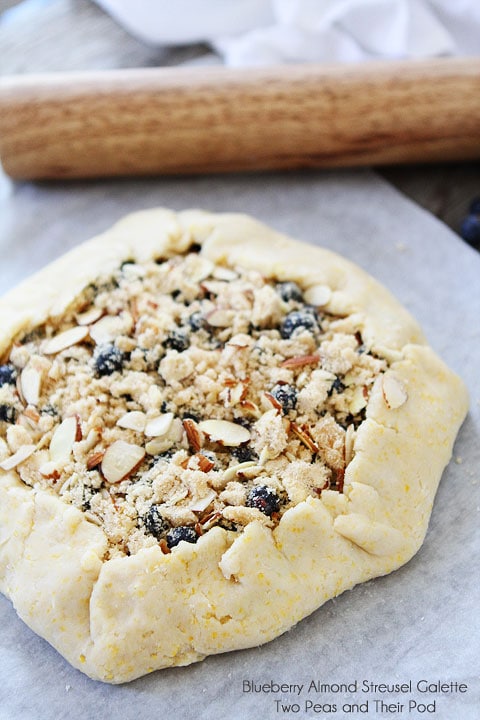 I love galettes because they are easy to make and very forgiving. The rustic look is in! It doesn't matter if the galette is perfectly round or even. You just fold up the sides around the blueberries and streusel and call it good!
When you pull it out of the oven, you will have a masterpiece! A masterpiece that is begging to be eaten.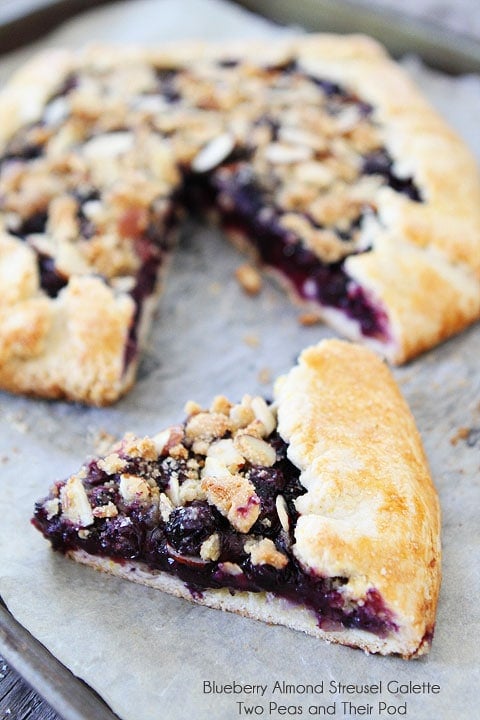 I ate one piece of this galette and knew I was in big trouble. It was TOO good. I knew if it sat and stared at me on our kitchen counter I would eat it all by myself. So, I shared the galette with our neighbors and they loved it. I was trying to redeem myself from being so selfish and making the galette all for me:) I am glad I ended up sharing because they loved it!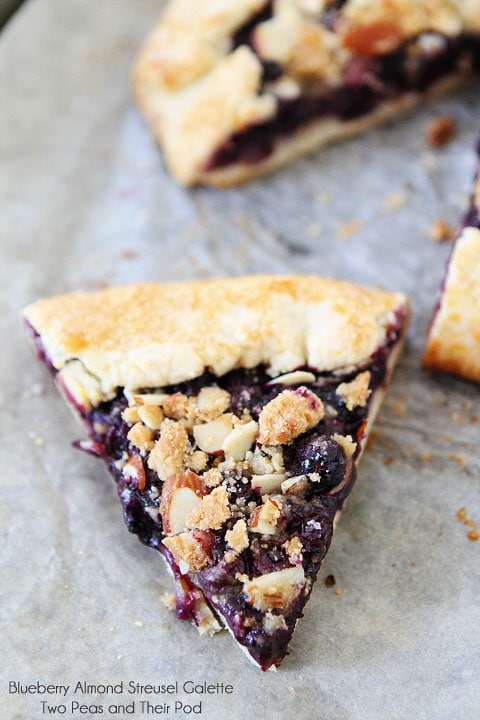 This Blueberry Almond Streusel Galette is a winner! The galette crust is thick, slightly crunchy, buttery, and a great base for the sweet and juicy blueberries. The almond streusel takes the galette over the top. Blueberries and almonds are a match made in heaven!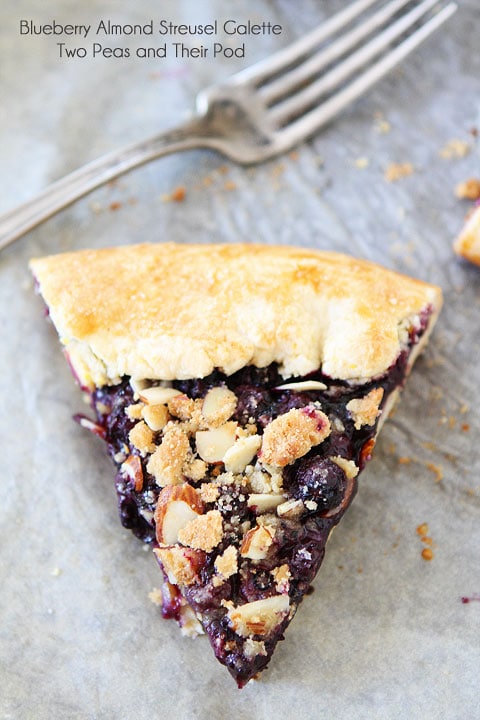 You can serve the galette with ice cream or whipped cream, but I think it is perfect all by itself. I cut a piece on the pan and didn't even take time to get a plate. It's a rustic dessert, so why use a plate? Less dishes to do!
It's a holiday week and I think you should start celebrating by making this Blueberry Almond Streusel Galette. There's no reason to wait until Thursday to start celebrating. But if you want to wait and make this dessert for the 4th of July, your family and friends will thank you, it's fabulous!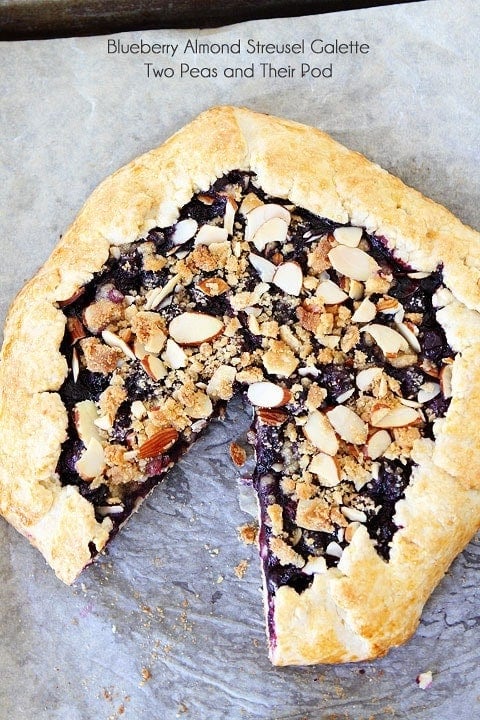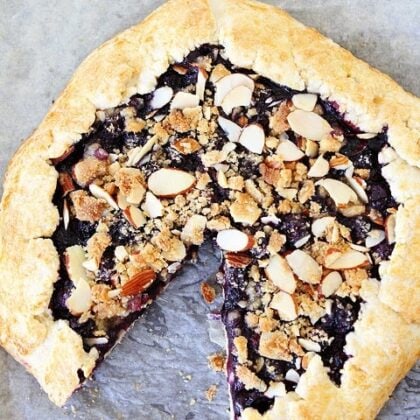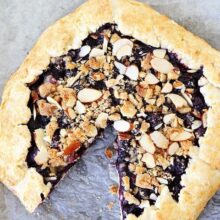 Blueberry Almond Streusel Galette
Blueberry galette with an almond streusel topping. Serve with vanilla ice cream or whipped cream, if desired.
Ingredients
For the streusel topping:
Instructions
To make the dough, combine flour, sugar, cornmeal, and salt in a processor; pulse 2-3 times. Add butter and pulse 4-5 times, or until mixture resembles coarse meal. With the processor running, slowing pour the buttermilk through the chute, processing until the dough forms a ball. Remove the dough ball and adhere any remaining pieces of dough to it, then wrap in plastic wrap or parchment paper. Refrigerate for at least 45 minutes before rolling out.

Center a rack in the oven and preheat to 350 degrees F. In a small bowl, combine the blueberries, 1 tablespoon of sugar, and cornstarch. Set aside.

To make the streusel topping, combine the flour, brown sugar, almond paste, butter, and almonds. Rub together with your fingers until the ingredients come together and form a streusel topping.

Remove the galette dough from the refrigerator and place on a sheet of parchment paper. Starting at the center of the dough, roll out, forming a 14-15-inch wide circle. Place the dough with parchment paper on a baking sheet. Place the blueberries on top of the dough, leaving a 2-inch border. Sprinkle the almond streusel over the blueberries. Fold the dough border over the blueberries, overlapping where necessary and pressing gently to adhere the folds.

Lightly brush the edge of the dough with the egg and sprinkle turbinado sugar over the galette crust.

Bake the galette for 45 minutes, or until the crust is golden brown. Transfer the baking sheet to a wire rack to cool to room temperature before slicing. Slice and serve.

*Note-you can make the galette dough in advance. It will keep in the refrigerator for 3 days. Serve the galette with whipped cream or ice cream, if desired.
Have you tried this recipe?
Leave a comment below and share a photo on Instagram. Tag @twopeasandpod and hashtag it with #twopeasandtheirpod
If you like this Blueberry Almond Streusel Galette, you might also like: