Brown Butter Buttermilk Syrup-the most amazing syrup ever! Pour it over your pancakes, waffles, French toast…or drink it by the gallon!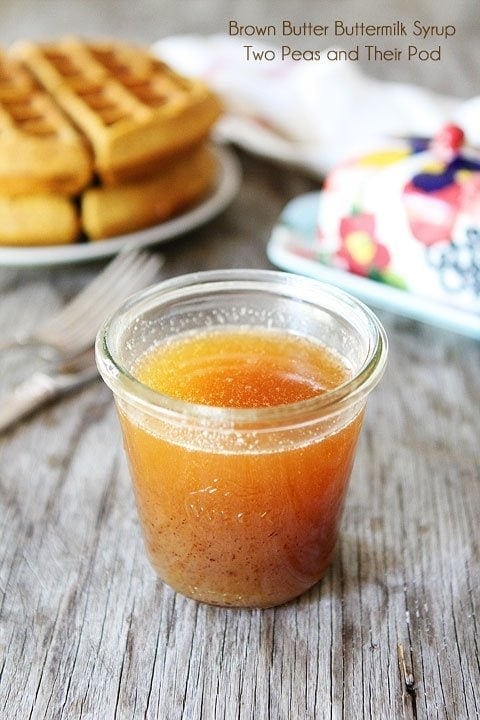 I love the movie Elf. We watch it every holiday season. Buddy is hilarious! I just love him. I know it isn't the holiday season yet, but this Brown Butter Buttermilk Syrup reminds me of Buddy. If you've seen the movie, I really hope you have, then you know Buddy is obsessed with syrup. He puts it on anything and everything. He poured it on his spaghetti and considers syrup one of the four main food groups. "We elves try to stick to the four main food groups: candy, candy canes, candy corns and syrup."
I thought Buddy's syrup obsession was an elf thing, until I made this Brown Butter Buttermilk Syrup. I am now with Buddy! I believe Brown Butter Buttermilk Syrup needs to be one of the four main good groups!

If you've had buttermilk syrup, you know it's heavenly. It is the queen of all syrups. Well, let me introduce you to the KING of all syrups. Brown Butter Buttermilk Syrup is the cream of the crop! It is the the best syrup I have ever had. The brown butter takes it's goodness to a whole new level. It is good poured on waffles, pancakes, French toast…and maybe even spaghetti. I haven't tried it yet, but I now can relate to Buddy. This syrup would be good on anything!
The next time you make a special breakfast with pancakes, waffles, and French toast, include Brown Butter Buttermilk Syrup. It is life changing! It will bring out your inner elf. Don't be surprised if you start drinking it straight from the jar!
And come back on Wednesday for a delicious waffle recipe! The waffles and syrup are a match made in heaven:)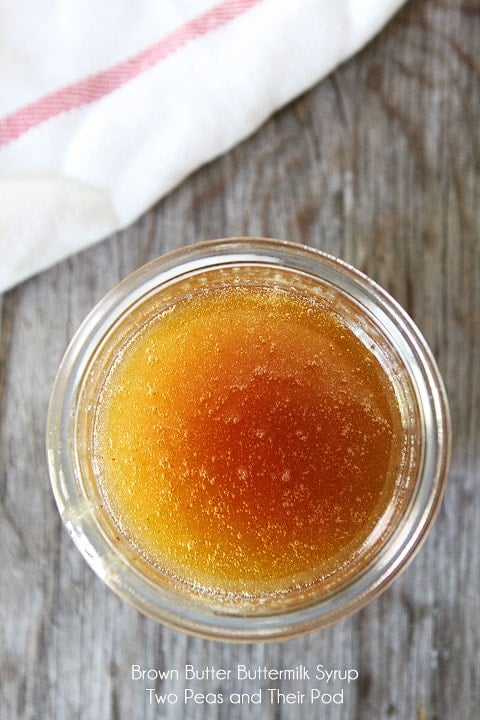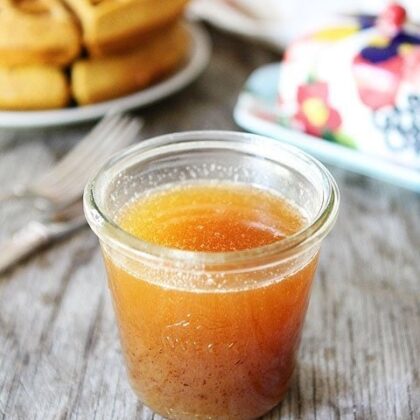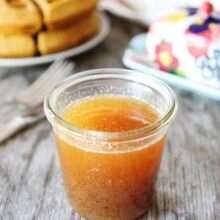 Brown Butter Buttermilk Syrup
Brown Butter Buttermilk Syrup is our family's favorite syrup. It goes great with pancakes, waffles, or French toast!
Instructions
1. In a small saucepan, melt the butter over medium-low heat and continue to cook, swirling occasionally, until butter turns golden brown, Skim foam from top, and remove from heat. Pour into a bowl to stop the cooking, leaving any burned sediment behind.

2. Combine browned butter, sugar, and buttermilk in a large saucepan. Heat over medium heat and whisk together until sugar dissolves. When butter mixture starts to boil, carefully whisk in the baking soda and vanilla. The mixture will bubble up, so make sure you use a large saucepan. Serve with waffles, pancakes, or French toast.

Note-syrup will keep in the refrigerator for up to 2 weeks. Reheat before serving.
Have you tried this recipe?
Leave a comment below and share a photo on Instagram. Tag @twopeasandpod and hashtag it with #twopeasandtheirpod