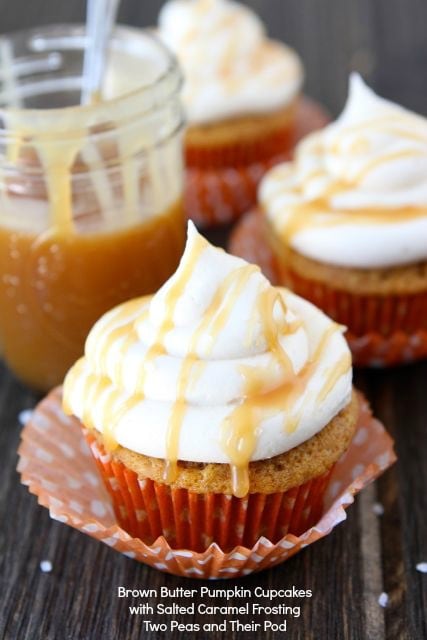 We got home yesterday from a ten day trip with Travel Oregon. We loved every second of our vacation (stay tuned-I will be doing a few posts about our trip), but it is always nice to come home.
I have a travel hangover and was tempted to not write this blog post for today, but I made these Brown Butter Pumpkin Cupcakes with Salted Caramel Frosting before we left on vacation and have been dying to share them with you. They are the BEST pumpkin cupcakes I have ever tasted…and I am not saying that because I made them:) They really are life changing.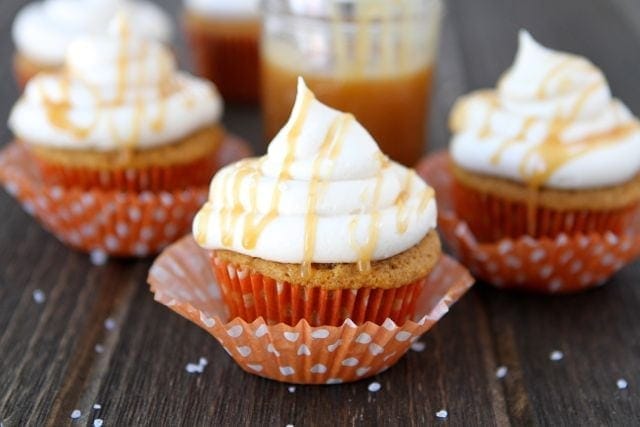 I fell in love with salted caramel sauce when I made Apple Crumb Bars with Salted Caramel. I actually had leftover caramel sauce from the bars and that is what inspired these cupcakes. Making homemade caramel sauce is SO worth the extra effort…and see, you can get two fabulous desserts out of one batch of caramel sauce. Bonus! And the salted caramel sauce is good enough to drink by the gallon, but try to save some to make the frosting:)
The brown butter, pumpkin, and salted caramel frosting come together to create the most heavenly cupcake in the history of cupcakes. I am usually a cookie person and can pass on cupcakes, but if you put one of these Brown Butter Cupcakes with Salted Caramel in front of me I would devour it in a heartbeat. And if you tried to take a bite, I would fight you for it:) There really are no words to describe these cupcakes. They really are pumpkin perfection!
It is officially fall now, so get out the pumpkin and make these Brown Butter Pumpkin Cupcakes with Salted Caramel Frosting. This is the perfect pumpkin recipe to kick-off pumpkin season! And if you are a pumpkin fan, like me, make sure you check out these 50 Pumpkin Recipes for Fall!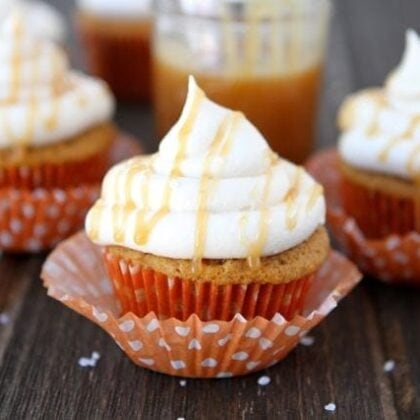 Brown Butter Pumpkin Cupcakes with Salted Caramel Frosting
The best pumpkin cupcakes you will ever eat!
Ingredients
For the Brown Butter Pumpkin Cupcakes:
For the Salted Caramel Frosting:
Instructions
To make the brown butter pumpkin cupcakes: preheat oven to 325 degrees F. Line muffin cups with paper liners and set aside.

In a saucepan, melt the butter over medium-low heat and continue to cook, swirling occasionally, until butter turns golden brown, Skim foam from top, and remove from heat. Pour into a bowl to stop the cooking, leaving any burned sediment behind; let cool.

In a medium bowl, whisk together flour, baking powder, salt, cinnamon, nutmeg, and cloves. In another bowl, whisk together the pumpkin puree, sugars, eggs, vanilla extract, and brown butter. Add the flour mixture, and whisk until just combined.

Divide batter evenly among lined cups, filling each three-quarters full. Bake, rotating tins halfway through, until a cake tester inserted in centers comes out clean, about 20 minutes. Transfer pans to a wire cooling rack and cool completely before removing cupcakes.

While the cupcakes are cooling, make the salted caramel frosting. First, make the salted caramel sauce. Make sure you have all of the ingredients ready. Once you start the caramel sauce you have to pay close attention so you don't burn it. To begin, heat the sugar over medium high-heat in the bottom of a heavy 2-3 quart saucepan. When the sugar starts to melt, start whisking the sugar. The sugar will clump up, but keep whisking. It will continue to melt. When the sugar is melted, stop whisking. You can swirl the pan to move the sugar around.

Continue cooking the sugar until it reaches a deep amber color. Make sure you watch the pan very closely. This is where it is easy to burn the caramel. You want the caramel to reach 350 degrees F. If you are new to making caramel, I suggest using a thermometer.

As soon as the sugar reaches the dark amber color, carefully add the butter. Whisk until butter is melted.

Remove the pan from the heat and carefully pour in the heavy cream. Whisk until cream is incorporated and caramel is smooth. Whisk in the fleur de sel or Maldon sea salt flakes.

Let the caramel sauce cool for about 10 minutes in the pan. Pour the caramel into a large mason jar and cool to room temperature.

To make the frosting: beat the butter in the bowl of a stand mixer fitted with the paddle attachment on medium-high speed until light in color and fluffy, about 3 minutes. Reduce speed to low, add powdered sugar, and mix until completely incorporated. Turn off the mixer, and then add the salted caramel sauce. Beat frosting on low to combine, and then increase to medium-high and beat until airy and thoroughly mixed, about 2 minutes.

Frost the cooled pumpkin cupcakes with the salted caramel frosting and and drizzle cupcakes with extra salted caramel sauce, if desired.

Note-you can use store bought salted caramel sauce, but I highly recommend homemade salted caramel sauce. It is the best. The salted caramel recipe will make about 2 cups so you will have extra. Store the cupcakes in the refrigerator for up to 3 days.
Have you tried this recipe?
Leave a comment below and share a photo on Instagram. Tag @twopeasandpod and hashtag it with #twopeasandtheirpod
If you like these Brown Butter Pumpkin Cupcakes with Salted Caramel Frosting, you might also like: