Caprese Pizza
Caprese Pizza-pizza topped with fresh mozzarella, tomatoes, basil and a balsamic glaze. You can't go wrong with a classic Caprese Pizza!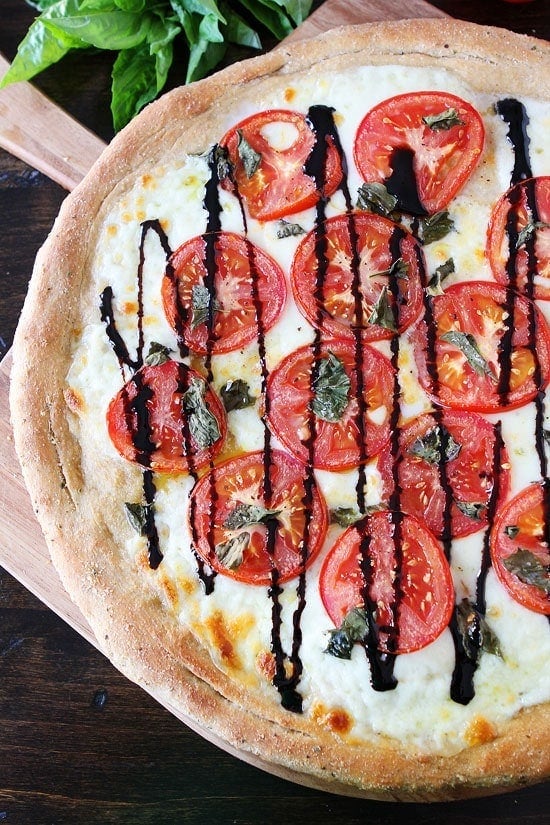 On Wednesday, we shared our favorite Easy Whole Wheat Pizza Dough Recipe and today we are sharing the pizza we made with that special dough. Put your hands up in the air and wave them like you just don't care for Caprese Pizza! That's right, let's get excited because it's Friday and not just any Friday, but PIZZA FRIDAY!
Caprese Pizza is a classic and one of our go to pizza recipes! I could eat Caprese Pizza every day and never get sick of it.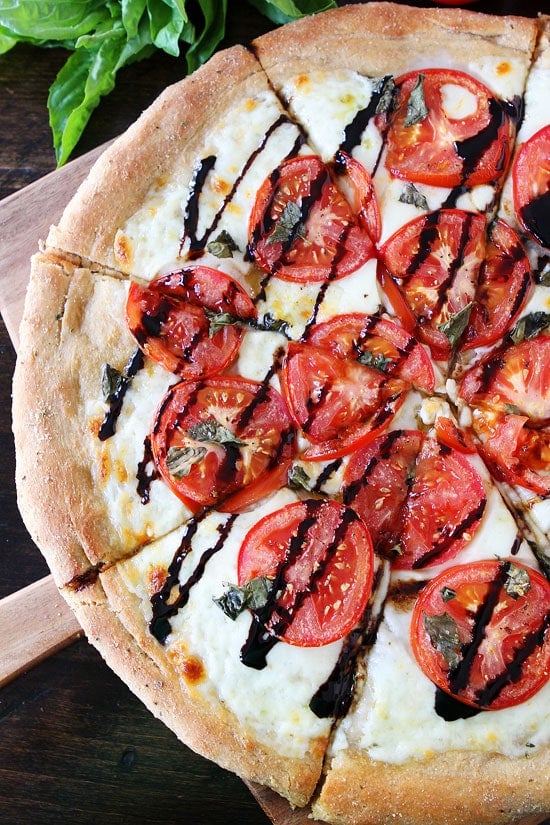 Do you still have tomatoes in your garden? We do! I needed to use some up and Caprese Pizza was the answer! This pizza is SO good with fresh garden tomatoes.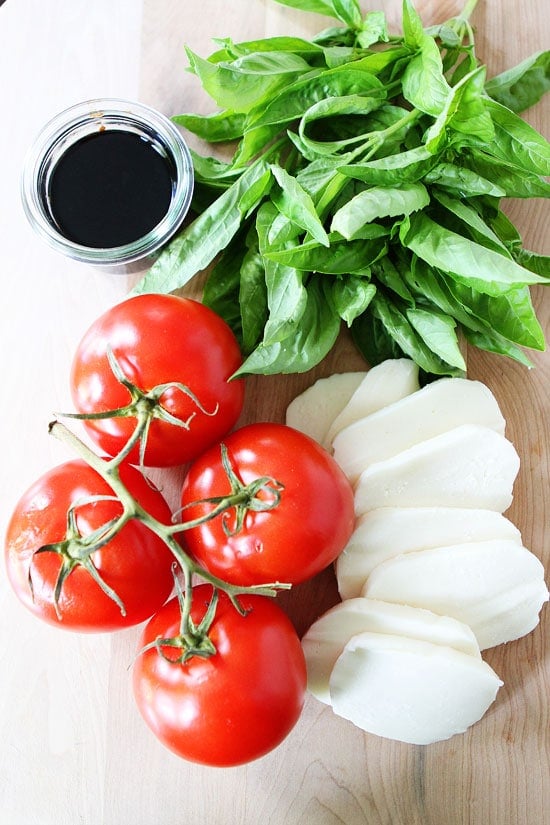 We also put our garden basil to use! I love eating seasonal!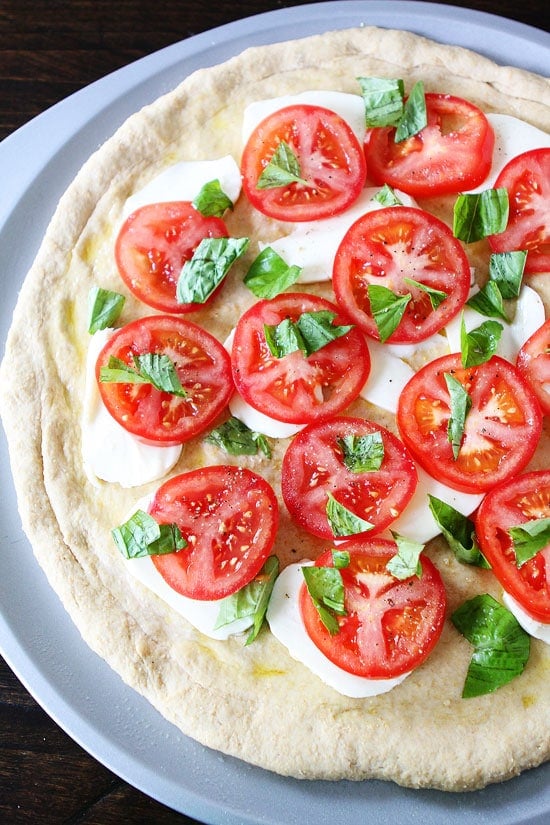 This pizza is a breeze to make. Roll out your pizza dough, I highly recommend you use our Easy Whole Wheat Pizza Dough. If you are in a pinch, you can use store bought dough. Brush the dough with olive oil and top with fresh mozzarella cheese, tomatoes, and basil. Bake until the crust is golden brown and the cheese is melted. Remove from the oven and drizzle with balsamic glaze. We like to use DeLallo's Balsamic Glaze. It is the best and super convenient! You can also make a balsamic reduction. Cut the pizza into slices, take a bite, close your eyes, and pretend you are in Italy!
The flavors are simple, but SO good! You can't go wrong with this classic pizza! It hits the spot every time, especially when you use fresh ingredients!
Make tonight pizza night and make our Caprese Pizza! Enjoy!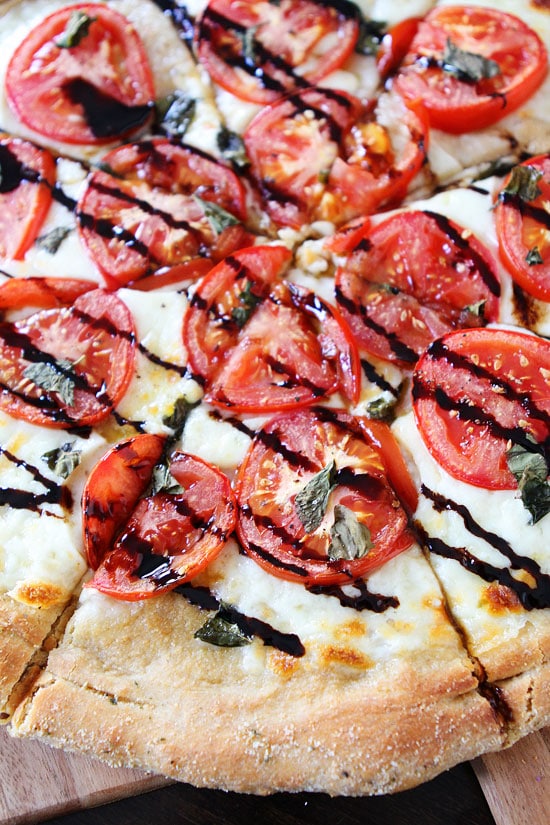 Caprese Pizza
You can't go wrong with this classic pizza! It's a favorite at our house!
Yield: 1 large pizza
Prep Time: 15 minutes
Cook Time: 10-12 minutes
Total Time: 30 minutes
Ingredients:
1 recipe homemade pizza dough or store bought pizza dough
1 tablespoon olive oil
8 oz fresh mozzarella, sliced
2 large ripe tomatoes, sliced
alt and black pepper, to taste
Handful fresh basil, chopped
DeLallo's Balsamic Glaze (you can also make a balsamic reduction)
Directions:
Preheat oven to 450 degrees F. If using refrigerated pizza dough, remove dough from refrigerator and allow dough to come to room temperature while oven preheats.
Place pizza dough on a lightly floured surface. Roll pizza dough out into a circle. Make a thicker crust along edges of pizza. Brush olive oil evenly over the dough. Arrange mozzarella slices evenly over dough and top with sliced tomatoes. Season with salt and pepper, to taste. Sprinkle basil over pizza. Place in preheated oven and bake for 10-12 minutes or until crust is browned and cheese is bubbly.
Remove pizza from oven and drizzle with balsamic glaze. Cut into slices and serve warm.
All images and text ©
Two Peas & Their Pod
.
Follow twopeasandpod on Instagram and show us what recipes you are making from our blog! Use the hashtag #twopeasandtheirpod! We want to see what you are making in your kitchen!